Case Presentation: 46 year old woman presented with 1 week of bilateral lower extremity tingling, numbness, abnormal gait, leg spasms and impaired concentration. Exam revealed a disheveled, confused appearing Caucasian woman with a spastic, unsteady gait. Pupils, cranial nerve testing and upper extremity neurological exam was intact. Muscle tone was spastic; reflexes brisk 3+ and plantar response extensor bilaterally in lower extremities. Muscle strength was 5/5 in all muscle groups in legs except for 4/5 in hip flexors and ankle dorsiflexors. Sensory testing disclosed absent sensation to proprioception and vibration at the toes and ankles and reduced mid-shins. CBC revealed a hemoglobin of 9.4 gm/dL with an MCV of 110 fl. MRI brain and C-T-L Spine showed no cord enhancement or white matter changes. Serum vitamin B 12 was >2000 pg/mL. Serum folate, copper, vitamin E, ESR, RPR, HIV, hepatitis panel, BMP and urine drug screen were within normal limits. Patient later confided inhaling hundreds of "whippits" purchased from a smoke shop for several days as well as chronic weekly use for two years. Serum homocysteine level and methylmalonic acid levels were elevated respectively at 55 mol/L and 0.86 mol/L. She was diagnosed with myeloneuropathy due to chronic nitrous oxide abuse. She was treated with cyanocobalamin injection, folic acid, baclofen and physical therapy with mild improvement.
Discussion: Nitrous oxide(N2O) is increasingly being abused as an inhalant. Popularly called "laughing gas", it is found in household items and legally available for purchase at grocery stores and online. A popular method involves using "whippits" which are small cylindrical metal cartridges that contain compressed N2O, typically used as propellants in whipped cream containers. Abusers instead attach the cartridge to a "cracker" that punctures the end, with the escaping gas captured in an inflatable object, such as a balloon, and ready for inhalation. N2O can have adverse neurologic, hematologic and cardiovascular side effects. It causes oxidation of cobalt ions in B12 resulting in functional inactivation of Vitamin B12. This leads to reduced recycling of homocysteine to methionine which then prevents methylation of myelin proteins, causing demyelination of both the central and peripheral nervous systems. Serum B12 levels may be low or normal as in our patient who was also self-injecting B12. Through the measurement of methylmalonic acid and homocysteine, two substrates of reactions catalyzed by B12, we can diagnose a 'functional' vitamin B12 deficiency. Both methylmalonic acid and homocysteine are expected to be high in N2O toxicity.
Conclusions: Our case highlights 1) Physicians need to be aware of whippit (colloquial term) abuse. 2) N2O neurotoxicity results in a clinical picture mimicking B12 deficiency and should be considered in the differential diagnosis of myeloneuropathy. 3) Neurological deficits are often reversible with early administration of B12 and N2O cessation.
IMAGE 1: Whippits, nitrous oxide and B12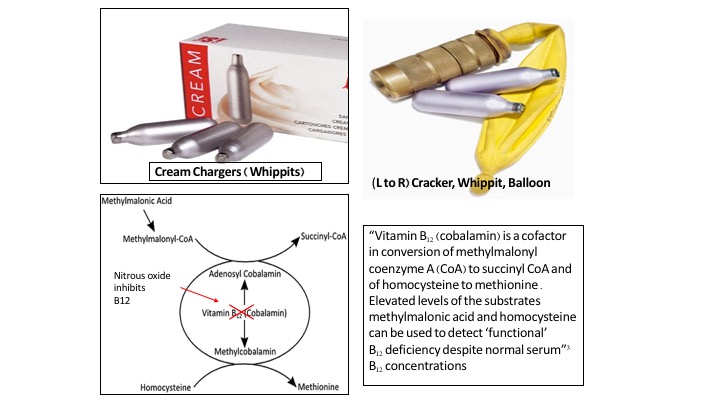 To cite this abstract:
Sutaria, JM; Volosin, A; Garza, JL; Soto, JA; Vyas, MV. WHIPPIT ABUSE: NOT A LAUGHING MATTER. Abstract published at
Hospital Medicine 2018; April 8-11; Orlando, Fla.
Abstract 875. https://www.shmabstracts.com/abstract/whippit-abuse-not-a-laughing-matter/. Accessed April 8, 2020.