"When You Are Old, Have Cancer and a Storm Is Approaching" – the Effects of Hurricane Sandy on Cancer Patients and Proposals on Potential Interventions
1Beth Israel Medical Center, New York, NY
2Bronx Lebanon Hospital, New York, NY
3The University of Texas MD Anderson Cancer Center, Houston, TX
Meeting: Hospital Medicine 2014, March 24-27, Las Vegas, Nev.
Abstract number: 63
Background:
To examine the impact of Hurricane Sandy and the subsequent blackout in southern Manhattan on emergency room (ER) visits of patients with a diagnosis of cancer, as 4 neighboring hospitals (2 private, 1 city and 1 VA center) and most ambulatory facilities were closed during the time frame examined.
Methods:
The records of cancer patients who had visited ER during the week of Hurricane Sandy (10/29/2012 to 11/4/2012) were reviewed and compared with the ER visits of cancer patients of the same dates one year prior (10/29/2011 to 11/4/2011). All data were extracted from the ER and/or inpatient electronic medical records. Collected data included age group, sex, cancer type, chief complaint, ER diagnosis and admission status. The diagnosis of cancer was extracted from the "History of Present Illness" or "Past Medical History" and included solid as well as hematologic malignancies. For patients who were admitted, additional data including metastatic disease, comorbidities, length of stay and mortality were extracted.
Results:
During the week of Sandy, 144 ER visits of cancer patients were identified. 118 were identified the prior year. In patients over age 70, 84 visits were observed during Sandy, while only 41 visited the previous year (p value: 0.000143). The chief complaint of "shortness of breath (SOB) or asthma" was significant, with 21 ER visits in 2012 and only 8 in 2011 (p value: 0.049). Out of the 21 visits of SOB, 10 required continuation of their current therapy (8 requested home oxygen therapy and 2 requested dialysis), while these requests were unobserved the prior year. During the Sandy week, 77 ER visits resulted in admission, while 64 were admitted the year prior (p value: 0.902). Out of 77, 7 expired and from 64, 4 expired (p value: 0.759). The ER admitting diagnoses of the 7 who expired during Sandy included a septic patient with fungating head and neck cancer, a brain cancer patient with respiratory failure, a lung cancer patient with pleural effusion, a sarcoma patient with pneumonia, an ovarian cancer patient with anemia, a melanoma patient with acute coronary syndrome and a lung cancer patient with SOB requesting home oxygen therapy. Corresponding data from the year prior included a lung cancer patient with pancytopenia, a CLL patient with pneumonia, a septic patient with breast cancer and a lung cancer patient with suicidal ideation.
Conclusions:
Although there are limitations to this single‐facility observational study, there were significantly more ER visits in patients over age 70 during the Sandy week compared to the prior year, suggesting increased vulnerability to this cohort of patients. In retrospect, the admission and death of a lung cancer patient with SOB requesting continuation of home oxygen therapy may have been the one potentially preventable. Cancer patients requiring additional medical assistance such as home oxygen therapy and dialysis may benefit from a natural disaster back‐up plan. House calls, early and prioritized evacuation of these patient groups may be some options to minimize the effects of an approaching natural disaster.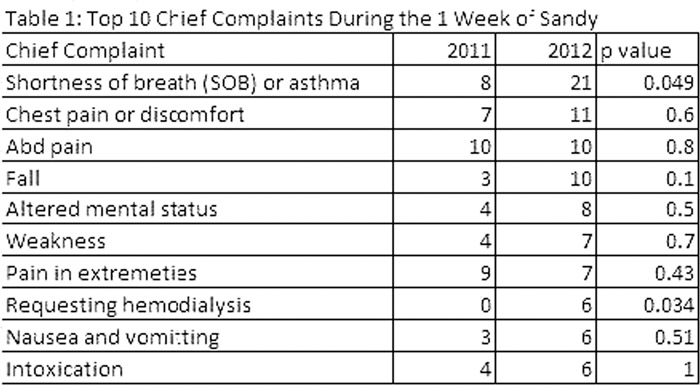 To cite this abstract:
Nagasaka M, Alsabbak H, Aljuboori Z, Sasaki K, Burger A, Levy B. "When You Are Old, Have Cancer and a Storm Is Approaching" – the Effects of Hurricane Sandy on Cancer Patients and Proposals on Potential Interventions. Abstract published at
Hospital Medicine 2014, March 24-27, Las Vegas, Nev.
Abstract 63.
Journal of Hospital Medicine.
2014; 9 (suppl 2). https://www.shmabstracts.com/abstract/when-you-are-old-have-cancer-and-a-storm-is-approaching-the-effects-of-hurricane-sandy-on-cancer-patients-and-proposals-on-potential-interventions/. Accessed April 2, 2020.
« Back to Hospital Medicine 2014, March 24-27, Las Vegas, Nev.