Case Presentation:
An 11 week‐old male born at 37 4/7 weeks gestation with a recent diagnosis of laryngomalacia was transferred to our institution following a four‐minute episode of cyanosis, apnea and limpness following a feed. At the outside hospital, he was noted to have tachypnea, increased respiratory effort with nasal flaring and intermittent desaturations. Upon arrival to our institution, he continued to have increased work of breathing and was admitted for further evaluation of respiratory distress in the setting of an apparent life‐threatening event (ALTE). Prior to this event, the child's mother notes a history of feeding difficulties starting at 3 weeks of age characterized as choking with feeds. This was initially attributed to a viral illness, but a second episode one week later prompted the diagnosis of GERD with initiation of reflux precautions with feeds and numerous formula changes. At age 6 weeks of life, his breathing was noted to become progressively louder, more so while supine. He continued to have intermittent episodes of cyanosis with feeds. He was seen in consultation by pediatric pulmonology where he was noted to have inspiratory stridor. Direct laryngoscopy revealed mild prolapse of the aryepiglottic folds with normal vocal cords.
During this admission, the patient was found to be enterovirus/rhinovirus positive by PCR and required intermittent suctioning. He tolerated feeds without cyanosis. As part of his ALTE evaluation and due to his mother's report of more forceful, almost projectile, vomiting with feeds, he underwent an upper GI series which revealed a posterior impression on the esophagus at T3‐T4 without proximal dilation (Image 1). A subsequent echocardiogram revealed a right aortic arch with aberrant left subclavian artery. A diagnosis of vascular ring was made and the patient's case was discussed at the pediatric cardiothoracic conference with plans for surgical repair following resolution of his viral illness (Image 2). He was discharged home with instructions for frequent pauses during feeds to minimize choking and with maternal CPR instruction should further episodes of apnea and cyanosis occur at home.
Discussion:
Vascular malformations account for 1‐3% of all congenital heart disease with a nearly 2 fold increased risk in male patients. Complete vascular rings are caused either by a double aortic arch or a right‐sided aortic arch with aberrant left subclavian artery, as is seen in our patient. The index of suspicion for these anomalies beyond the neonatal period must remain high as they can present in a variable nature including feeding intolerance, vomiting, breathing difficulties, or apnea, any of which can be the presentations for other more common diagnoses of infancy.
Conclusions:
Pediatric ALTE events can be diagnostically challenging and vigilance must remain for atypical causes such as vascular rings in addition to the more "typical" causes including reflux, viral respiratory infections, or bacterial infections leading to sepsis.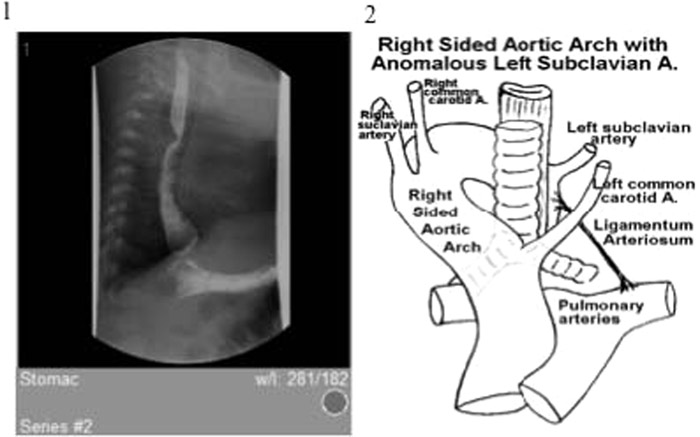 To cite this abstract:
Osborne C, Blatt A, Bottar A. Vascular Ring: An Uncommon Presentation of Alte and Feeding Intolerance in Infancy. Abstract published at
Hospital Medicine 2014, March 24-27, Las Vegas, Nev.
Abstract 275.
Journal of Hospital Medicine.
2014; 9 (suppl 2). https://www.shmabstracts.com/abstract/vascular-ring-an-uncommon-presentation-of-alte-and-feeding-intolerance-in-infancy/. Accessed March 28, 2020.
« Back to Hospital Medicine 2014, March 24-27, Las Vegas, Nev.