Validation of the Caprini Score for Risk Assessment of Venous Thromboembolism in Hospitalized Medical Patients
1University of Michigan, Ann Arbor, MI
2VA Ann Arbor Healthcare System, Ann Arbor, MI
Meeting: Hospital Medicine 2014, March 24-27, Las Vegas, Nev.
Abstract number: 696
Background:
Hospitalized medical patients are known to be at increased risk for venous thromboembolism (VTE) but the ability to ascertain VTE risk in this patient population is limited. Although several risk assessment models (RAMs) exist, their capacity to predict VTE is marginal and many are not validated in medical patients. The Michigan Hospital Medicine Safety Consortium, a statewide collaborative designed to prevent adverse events in hospitalized medical patients, assessed VTE risk using the Caprini RAM in a diverse group of hospitals in Michigan. Although the Caprini RAM has been validated in surgery patients, we sought to determine its predictive value for VTE events in hospitalized medical patients.
Methods:
Using web‐based data entry, a nurse abstractor at each participating hospital (n=40) collected detailed demographic and clinical data, including all known risk factors for VTE and use of pharmacologic prophylaxis. The occurrence of VTE events during hospitalization and 90‐day post‐discharge follow‐up were determined by medical record review and follow‐up phone calls. For this analysis, patients were excluded if they were: <18 years of age; admitted for VTE, surgery, or comfort care; directly admitted to the ICU. Post‐discharge follow‐up was truncated for patients who had a non‐VTE related hospitalization. We used a non‐parametric test for trend across ordered groups and logistic regression to determine if increasing Caprini score values were associated with VTE events. Caprini point scoring system was used to define low (0 ‐1 points), moderate (2‐4 points) and high (5+ points) risk categories.
Results:
Among the 52,989 patients included in this analysis, 299 (0.56%) had a VTE event by 90 days. We observed a significant increase in VTE with incremental increases in Caprini scores (p for trend <0.001) – see Figure. Compared to low risk patients, the odds of having a VTE event was 3‐fold greater among high risk patients (p=0.039). The odds of VTE did not differ between the low and moderate risk groups. Among patients with a Caprini score of 5 or greater, the rate of VTE for patients on pharmacologic prophylaxis (0.72%) did not differ from those not on pharmacologic prophylaxis (0.86%), chi‐squared = 1.29, p = 0.26.
Conclusions:
In a large cohort of hospitalized medical patients, an increasing Caprini score was predictive of a greater risk for VTE. The odds of developing VTE was only significant among high risk patients, however, exposure to pharmacologic prophylaxis did not affect the event rate. Although the Caprini RAM appears to be a valid predictor of VTE risk, it did not effectively discriminate populations for which pharmacologic prophylaxis was useful.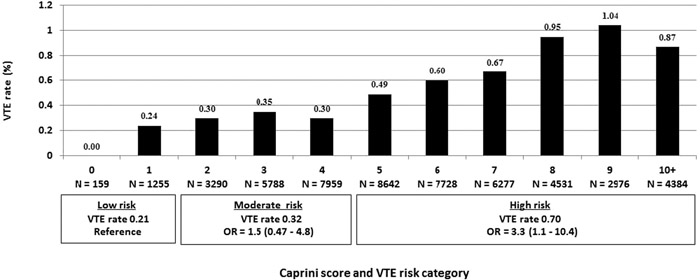 To cite this abstract:
Grant P, Flanders S, Greene M, Bernstein S. Validation of the Caprini Score for Risk Assessment of Venous Thromboembolism in Hospitalized Medical Patients. Abstract published at
Hospital Medicine 2014, March 24-27, Las Vegas, Nev.
Abstract 696.
Journal of Hospital Medicine.
2014; 9 (suppl 2). https://www.shmabstracts.com/abstract/validation-of-the-caprini-score-for-risk-assessment-of-venous-thromboembolism-in-hospitalized-medical-patients/. Accessed April 10, 2020.
« Back to Hospital Medicine 2014, March 24-27, Las Vegas, Nev.