Using Standardized Patients for Work Rounds and Discharge Quality Improvement
1Mount Sinai Medical Center, New York, NY
2Mount Sinai Medical Center, New York, NY
3Mount Sinai Medical Center, New York, NY
4Mount Sinai Medical Center, New York, NY
Meeting: Hospital Medicine 2010, April 8-11, Washington, D.C.
Abstract number: 196
Background:
Work rounds are an established part of internal medicine residency training and an essential component of patient‐centered care. Work rounds provide house staff with the opportunity to review patients' hospital course, test results, treatment pian, and anticipated length of stay. Skillful execution of this interaction improves patient satisfaction. Similady, the hospital discharge process is a patient‐physician encounter that requires substantial skill. At discharge, house staff must reconcile medications, discuss follow‐up tests and appointments, and ask about obstacles tc compliance. These tasks are not a part of medical education but are essential to achieving a safe discharge.
Purpose:
To assess and improve resident competence at essential elements of physician patient communication during work rounds and at discharge through the use of standardized patients (SPs).
Description:
Using a structured assessment tool, our chief residents performed a needs assessment by directly observing house staff during patient interactions. The analysis revealed substantial need for improvement (Table 1). Given Ihts data we sought To supplement and reinforce patient‐centerec communication through the development of standardized patient (SP) encounters. We created 4 SP cases in 2 settings: 2 cases were set during work rounds and 2 at discharge. For each of the 2 cases in the same setting, 1 was a more difficult variation of the other. The clinical elements remained the same in both cases, but the patient's cultural background, demeanor, and need for counseling changed. The cases focused on communication areas, such as symptom control, postdischarge follow‐up, and anticipatory guidance. For each case a behavioral checklist was created to assess resident performance. Thirty internal medicine residents will experience all 4 cases and receive formative feedback from each SP about their interpersonal skills, their clarity of communicalion, and the results of their behavioral checklist. The house staff will also participate in a feedback session to determine if they believed the SP encounters reinforced the intended behaviors. To assess whether the SP encounters can identify residents with strong communication skills, resident performance will be compared with data collected during work rounds by the chief residents. Using The resident rounding data and the Hospital Consumer Assessment of Healthcare Providers and Systems survey data, we will evaluate if there is a change in resident behavior and patient satisfaction after their participation in the standardized patient scenarios.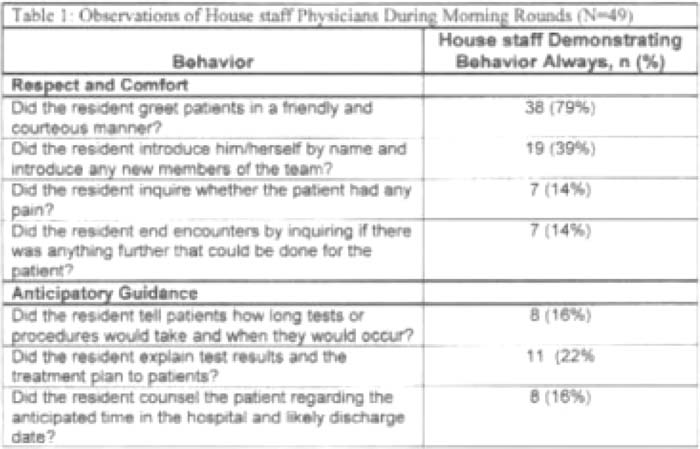 Conclusions:
House staff communication skills were observed to be insufficient using a structured assessment tool. Standardized patients may be an effective method to improve resident's communication skills during work rounds and at discharge.
Author Disclosure:
K. Smith, none; D. Chang, none; T. Sommer, none; E. Friedman, none.
To cite this abstract:
Smith K, Chang D, Friedman E, Sommer T. Using Standardized Patients for Work Rounds and Discharge Quality Improvement. Abstract published at
Hospital Medicine 2010, April 8-11, Washington, D.C.
Abstract 196.
Journal of Hospital Medicine.
2010; 5 (suppl 1). https://www.shmabstracts.com/abstract/using-standardized-patients-for-work-rounds-and-discharge-quality-improvement/. Accessed September 20, 2019.
« Back to Hospital Medicine 2010, April 8-11, Washington, D.C.