Background:
Interns, residents, and hospitalists conduct morning rounds in hospitals to determine the plan of care for the patients and to determine the learning needs of the house staff. At Virginia Mason Medical Center with the introduction of hospitalists, rounds predictably followed the time‐honored pattern of intern prerounds followed by hospitalisMed work rounds. Conceptually, morning rounds can be understood as a "batch‐and‐queue," where the initiarbatch" is prerounds and the subsequent "batch" is attending rounds (Fig. 1).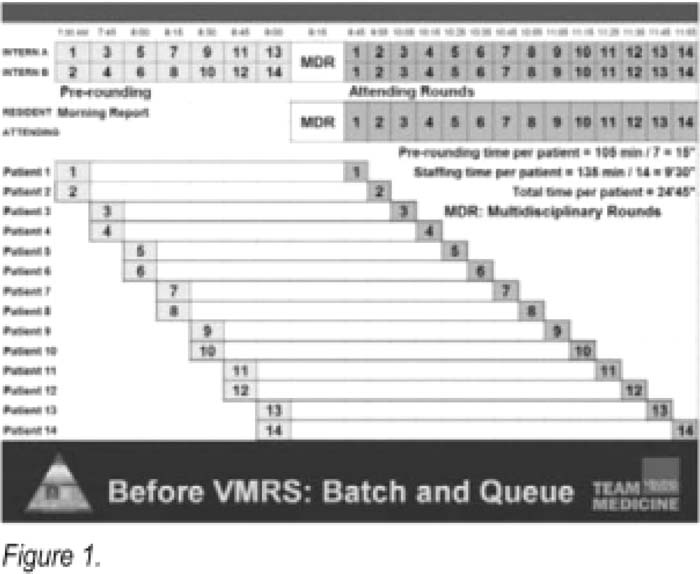 Purpose:
The Virginia Mason Production System (VMPS) applies Lean to all aspects of health care delivery. One of the main Tenets of VMPS is the promotion of flow in processes. In a traditional batch‐and‐queue rounding structure, patients see interns in prerounds, then wait up to 2.5 hours before being seen in attending rounds. Often, decisions regarding the clinical plan of care are delayed until the hospitalist attending has seen the patient. From the perspective of the intern, they preround with their first patients early in the morning then circle back to present their plan to their attending, Wnen interns present their patients To the team, hours may have passed since they prerounded. VMRS shifts the traditional batch‐and‐queue morning rounds closer to a continuous flow process
Description:
With VMRS (Fig. 2), interns preround on 1 or 2 patients at a time. These encounters are followed closely by attending rounds for those patients. Prerounds occur throughout the morning instead of being batched before attending rounds. Although 1 intern is presenting to the team, the other intern is free to preround on their next patients. Attending rounds for a patient occur shortly after prerounds lor the patient, instead of wailing for the completion of prerounds of all the patients. The hospitalist and resident conduct attending rounds by alternating between interns.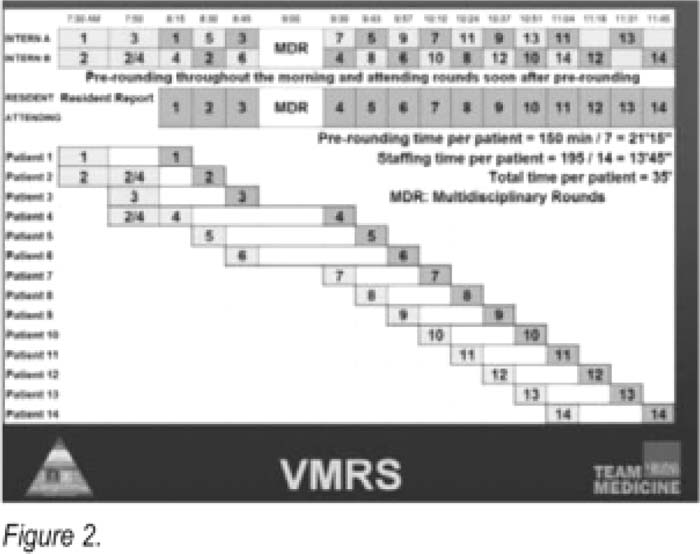 Conclusions:
VMRS establishes an inpatient clinic schedule where interns preround just prior to attending rounds for the patient. From the perspective of the patient, they see the intern, then, shortly afterward, the intern returns with the resident and hospitalist for attending rounds and to establish the plan for the day. VMRS allows us to prioritize the care of sick patients and discharges to eady in the morning and reduces delays in establishing a plan of care for patients. Time saved is used for direct patient care during prerounds and education during attending rounds.
Author Disclosure:
A. Calderon, none.
To cite this abstract:
Calderon A. Using Lean to Design Morning Rounds for Hospitalists and Residents: The Virginia Mason Rounding System (VMRS). Abstract published at
Hospital Medicine 2010, April 8-11, Washington, D.C.
Abstract 157.
Journal of Hospital Medicine.
2010; 5 (suppl 1). https://www.shmabstracts.com/abstract/using-lean-to-design-morning-rounds-for-hospitalists-and-residents-the-virginia-mason-rounding-system-vmrs/. Accessed March 28, 2020.
« Back to Hospital Medicine 2010, April 8-11, Washington, D.C.