Background:
Peripheral intravenous catheter placement is a common procedure in the pediatric inpatient setting and causes anxiety and pain in children. This can lead to anticipatory anxiety, needle phobia, and may lead to avoidance of health care providers. The treatment of painful procedures in children requires special consideration and planning because preventing pain can reduce both short‐term and long‐term anxiety, especially for those who have frequent medical needs. Topical anesthetics prior to venipuncture have been well studied in the pediatric population and have been shown to have high efficacy. However, due to a number of process and systems barriers, they are sometimes infrequently used.
Purpose:
Our goal was to increase the use of topical anesthetics prior to venipuncture on a pediatric floor. Given that this is a mainly nurse‐driven intervention, we also aimed to determine which factors would lead to lasting culture change within bedside nursing practice
Description:
We began by collecting pre‐intervention data at our 24‐bed pediatric medical and surgical floor via random audits. Over a period of 4 months, we found the baseline use of topical anesthetics prior to venipuncture to be 17%. The intervention phase consisted of multiple Plan Do Study Act cycles aimed at increasing the baseline use to 50%. Interventions ranged from the addition of a standing order to the admission order set, to direct nursing education, and the placement of signs in patient rooms. Run charts tracking level of use were posted in the nursing work area. We found the greatest increase in use occurred immediately after the direct nursing education and during a nursing leadership‐determined pain‐focused month. We were able to sustain the increased topical anesthetic use rate at 50% more than 6 months after the initial nurse education.
Conclusions:
Through various interventions we were able to increase use of topical anesthetics prior to venipuncture. We found the intervention with the greatest impact on lasting culture change within bedside nursing to be face to face nurse education, coupled with the support of nursing leadership. Next steps include finding ways to increase patient/family awareness of the availability of topical anesthetics.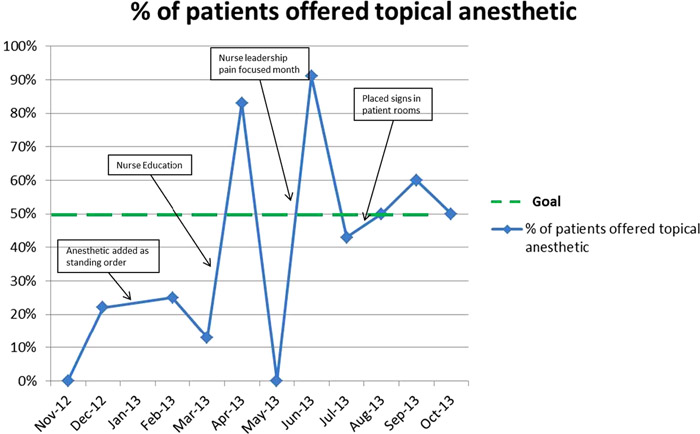 To cite this abstract:
Jones Y, Vijay C. Use of Topical Anesthetics in Improving Pain Control in a Pediatric Inpatient Population. Abstract published at
Hospital Medicine 2014, March 24-27, Las Vegas, Nev.
Abstract 220.
Journal of Hospital Medicine.
2014; 9 (suppl 2). https://www.shmabstracts.com/abstract/use-of-topical-anesthetics-in-improving-pain-control-in-a-pediatric-inpatient-population/. Accessed April 1, 2020.
« Back to Hospital Medicine 2014, March 24-27, Las Vegas, Nev.