Use of Smartphones and Other Mobile Computing Devices in Hospitalized Patients
1University of California, San Francisco, San Francisco, CA
2University of California San Francisco, San Francisco, CA
Meeting: Hospital Medicine 2014, March 24-27, Las Vegas, Nev.
Abstract number: 148
Background:
Ownership of mobile computing devices has been rapidly increasing in the general population prompting increased clinical uses in outpatient settings. To date, however, we know very little about ownership, type of device, and usage of mobile devices in hospitalized patients.
Methods:
A cross‐sectional survey of adult inpatients at our hospital on the following services: Medicine, Surgery, Oncology, Hepatology, Cardiology, and Obstetrics/Gynecology. Exclusion criteria were altered mental status, non‐English‐speaking, or "unavailable" if not in their room after two attempts. Surveys contained 27 questions about mobile device ownership and use during hospitalization. We performed descriptive statistics to explore patterns of mobile device use.
Results:
Total census of services surveyed was 266: 152 patients (63%) met inclusion criteria and response rate among patients approached was 98%. Enrolled patients were 53% male, average age 53 (19‐92), 51% white, 48% privately insured. 62% owned a smartphone and 96% of inpatients who brought their smartphones used it during their stay. Additionally, 25% used a tablet and 16% used a laptop; only 37% used no mobile computing devices during their hospital stay.
Device ownership varies across the 3 largest services (Table 1). Oncology patients had the highest proportion of mobile device usage. Ownership and use was comparatively lower in medicine patients.
Hospital patients used their mobile devices for a wide array of activities (Figure 1). Most patients (90%) who accessed their personal health record (PHR) reported this improved their inpatient experience. The majority of patients (67%) who searched for information about doctors, conditions, or treatments felt this additional information made them more confident in their care.
Conclusions:
Nearly 2 out of 3 hospitalized patients bring one or more mobile computing device with them to the hospital which suggests they are already "wired" for new opportunities to connect with providers and engage in their care through their own devices. Hospitals and providers should explore this potential for engagement but may initially want to target specific service lines and patient populations given current differences in access and use.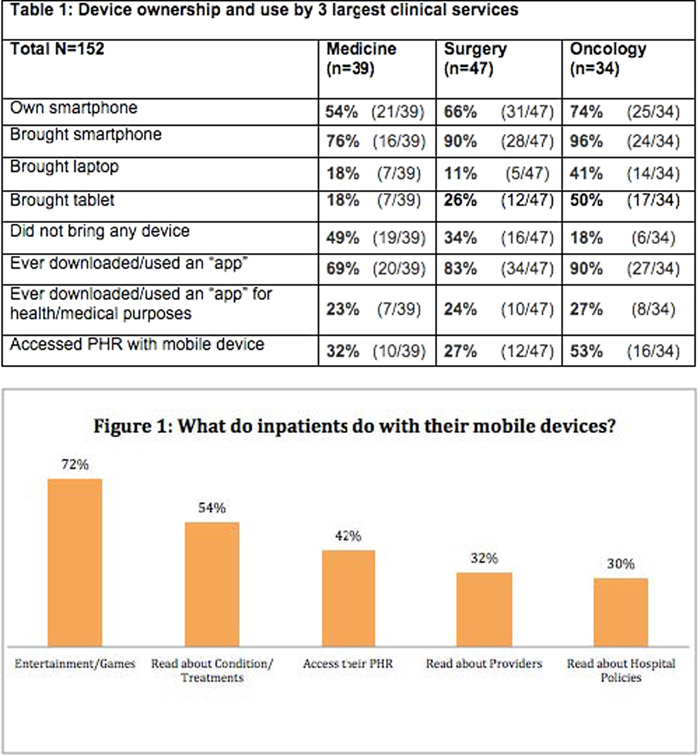 To cite this abstract:
Ludwin S, Gottenborg E, Quist C, Greysen R. Use of Smartphones and Other Mobile Computing Devices in Hospitalized Patients. Abstract published at
Hospital Medicine 2014, March 24-27, Las Vegas, Nev.
Abstract 148.
Journal of Hospital Medicine.
2014; 9 (suppl 2). https://www.shmabstracts.com/abstract/use-of-smartphones-and-other-mobile-computing-devices-in-hospitalized-patients/. Accessed April 7, 2020.
« Back to Hospital Medicine 2014, March 24-27, Las Vegas, Nev.