Case Presentation:
An 11 year old boy with a history of repaired congenital diaphragmatic hernia (CDH) presented with 6 months of intermittent abdominal pain, and non‐bilious emesis. On examination, his abdomen was soft, non‐tender, and bowel sounds were normal. Abdominal plain films showed multiple air levels. He was transferred to a tertiary facility where he was admitted, made NPO, had NG tube inserted and placed on IV fluids and medications. At surgical consultation, symptoms have subsided, examination findings were benign and NG tube was draining clear, non‐bilious fluid. The NG tube was removed, diet advanced, and he was discharged home.
He returned two days later with constant epigastric and left upper quadrant abdominal pain, and emesis. His abdomen was moderately distended, tympanitic to percussion with mild diffuse tenderness, worse in the left upper quadrant. His CT abdomen was reviewed and the possibility of gastric volvulus was entertained.
Operatively, he had dense adhesions between the stomach and the anterior abdominal wall, and between the duodenum, retroperitoneum, and the liver. The stomach was twisted on itself. He had adhesiolysis, placement of a gastrojejunostomy feeding tube and and he was transferred to the PICU. He had a remarkable postoperative recovery, was discharged on post‐operative day 3, and continued to do well on subsequent follow up.
Discussion:
Gastric volvulus (G.V) is an abnormal rotation of the stomach around an axis. It is rare with peak incidence in the fifth decade of life and 10‐20 % of cases occur in pediatrics [1]. G.V. associated with unrepaired CDH has been reported in infants [2]. However, G.V. in a patient with repaired CDH has not. Secondary G.V has been associated with diaphragmatic eventration and gastric pull through procedures [3]. G.V. is classified into 3 types based on the axis of rotation. These are organoaxial(59%), mesentericoaxial (29%) and the combined types [4]. Organoaxial type is associated with diaphragmatic defects and usually presents with acute symptoms while mesentericoaxial presents with chronic intermittent symptoms
Conclusions:
Gastric volvulus is rare in the pediatric age group and may present with intermittent symptoms causing a diagnostic dilemma. Diagnosis requires a high index of suspicion. Radiologic investigations should be done and early surgical consultation obtained.
References
Darani A, Mendoza‐Sagaon M, Reinberg O. Gastric volvulus in children. J Pediatr Surg. 2005; 40, 855‐858.
Cribbs RK, Gow KW, Wulkan ML. Gastric volvulus in infants and children. J Pediatr 2008; 122: e752‐762.
Porcaro F, Mattioli G, Romano C. Pediatric gastric volvulus: diagnostic and clinical approach. Case Rep Gastroenterol 2013; 7:63‐68.
Singleton AC. Chronic gastric volvulus. Radiology. 1940; 34:53‐61.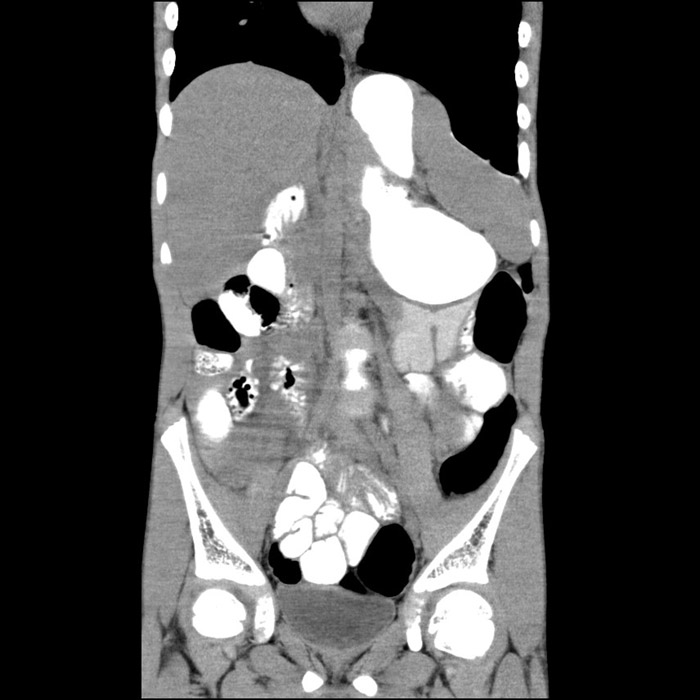 To cite this abstract:
Adepoju O, Almond P, Arnold A. Twisted Tummy: Another Enigma in Pediatric Abdominal Pain. Abstract published at
Hospital Medicine 2014, March 24-27, Las Vegas, Nev.
Abstract 259.
Journal of Hospital Medicine.
2014; 9 (suppl 2). https://www.shmabstracts.com/abstract/twisted-tummy-another-enigma-in-pediatric-abdominal-pain/. Accessed March 31, 2020.
« Back to Hospital Medicine 2014, March 24-27, Las Vegas, Nev.