Background:
An estimated 1 in 5 patients discharged to skilled nursing facilities (SNF) is readmitted within 30‐days. In 2012, the rate was 25‐30% for SNF discharged post‐acute care patients of the Cleveland Clinic Department of Hospital Medicine. The Patient Protection Act and Affordable Care Act had mandated Medicare to enact penalities to hospitals based on readmission rates beginning 2013. This has motivated many healthcare organizations to endorse multifaceted mechanisms aimed at reducing these rates. Thus, the Cleveland Clinic Connected Care Program was borne out of a multidisciplinary workshop in 2012 with the goal improving transitions of care.
Purpose:
To improve the 30‐day readmission rate of patients discharged to the connected care program and to compare our findings to national benchmarks.
Description:
The Connected Care program mechanism puts together a virtual discharge team, consisting of: the hospitalist, the patient and family, the SNF practioner or physician, care management, hospital nurse, SNF nurse, and the pharmacist. The program starts with a morning team huddle at the point of care to set discharge needs and expectations for each patient. All aspects of anticipated transition challenges are addressed in a pro‐active manner through time‐efficient modes of interdisciplinary communication. Cleveland Clinic‐employed practitioners who have access to the shared medical records, staff the embedded Connected Care Units (CCU) within participating SNFs. Observed data from March to October of 2013 demonstrates reduced readmission rates across CCU pilot participants. Medicine Institute patients enrolled in the pilot, who were discharged to a CCU, had a mean readmission rate of 22.10%. Patients who were not enrolled in the pilot had higher rates of readmission, whether they stayed in a CCU (29.5%) or not (27.9%).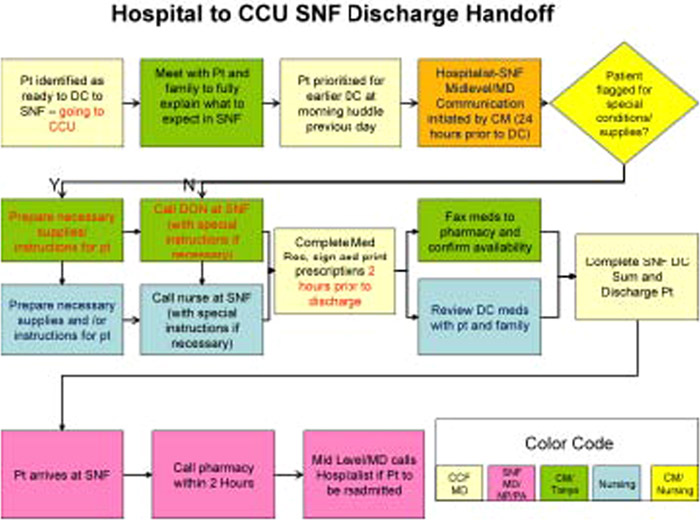 Medicine Institute: March to October 2013 30‐day readmission rates.
Groups
Not Readmitted
Readmitted
Grand Total
Readmit Rate
Pilot CCU
60
17
77
22.10%
Non‐Pilot CCU
153
64
217
29.50%
Non‐Pilot NON‐CCU
323
125
448
27.90%
Conclusions:
Healthcare organizations that employ a multifaceted approach to manage transitions of care may improve interdisciplinary communication, medication reconciliation and patient safety. These may help reduce readmission rates. Further research needs to be conducted to ascertain these hypothesized associations.
To cite this abstract:
Velez V, Martin C, Kim D, Yousef E, Samala R, Felver M, Whinney C. Transitions of Care Models: Connected Care Program Is Associated with Reduced 30‐Day Readmission Rates2. Abstract published at
Hospital Medicine 2014, March 24-27, Las Vegas, Nev.
Abstract 246.
Journal of Hospital Medicine.
2014; 9 (suppl 2). https://www.shmabstracts.com/abstract/transitions-of-care-models-connected-care-program-is-associated-with-reduced-30day-readmission-rates2/. Accessed April 1, 2020.
« Back to Hospital Medicine 2014, March 24-27, Las Vegas, Nev.