Case Presentation: A 49-year-old actively competing male powerlifter presented to our institution for a second opinion of swelling, painful purpura, and necrotic skin ulcerations of the arms and legs. One month prior to presentation, he noticed swelling and discoloration of his right leg, and 10 days prior, he developed a painful ulceration with a central black eschar on his right calf.
Past medical history was significant for peripheral artery disease, multiple deep vein thromboses, smoldering multiple myeloma, chronic kidney disease, chronic thrombocytopenia, and a left below-knee-amputation for compartment syndrome 2 years prior following a similar presentation. Pathologic examination at that time showed moderately occlusive atherosclerosis and multiple small vessel thrombi. His medications were dextroamphetamine, apixaban, testosterone, duloxetine, bumetanide, and losartan. He occasionally smokes cigars.
Physical exam revealed an ulcerated black eschar on the right calf [Figure 1a], violaceous stellate patches with variable central ulceration on the torso and right arm, and reticulated dusky patches on the right hand and anterior torso. Blood counts and chemistries were consistent with the patient's baseline thrombocytopenia and chronic kidney disease. Rheumatologic, coagulopathy, and infectious work up was negative. Serum protein electrophoresis showed an M-spike, however bone marrow biopsy showed no malignancy. Testosterone levels were at the upper limit of normal.
Transcutaneous oximetry and computed tomography angiogram with runoff of the right leg demonstrated severe vascular insufficiency. Multiple biopsies were obtained from the lesions on the leg, torso and arm were positive for diffuse dermal angiomatosis without evidence of vasculopathy, vasculitis, or thrombosis.
Discussion: Diffuse dermal angiomatosis (DDA) is a rare and benign disorder of reactive dermal vascular hyperplasia. Clinically, DDA presents as erythematous to violaceous, livedoid patches which often evolve to areas of central ulceration and necrosis. The pathogenesis of DDA is thought to be driven by an elevation of vascular endothelial growth factor (VEGF) which induces endothelial cell hyperplasia. Biopsy is the key to diagnosis, and the histologic hallmark of DDA is diffuse proliferation of endothelial cells arranged interstitially between collagen bundles of the reticular dermis [Figure 1b]. The condition is most commonly encountered on breast or distal to arteriovenous fistulas, and patients typically have multiple atherosclerotic risk factors, such as chronic kidney disease and smoking as in our patient. Our patient was unique in his presentation, as he had multiple cutaneous findings on his arms, torso, and lower extremity. Surgical revascularization is often successful leading to complete healing of the wounds. Unfortunately, our patient required an above the knee amputation due to the severity and chronicity of his peripheral vascular disease.
Conclusions: Increased hospitalist awareness of non-vasculitic etiologies of cutaneous ulcers is important for the recognition of this condition is important, because early surgical revascularization may be curative.
IMAGE 1: Figure 1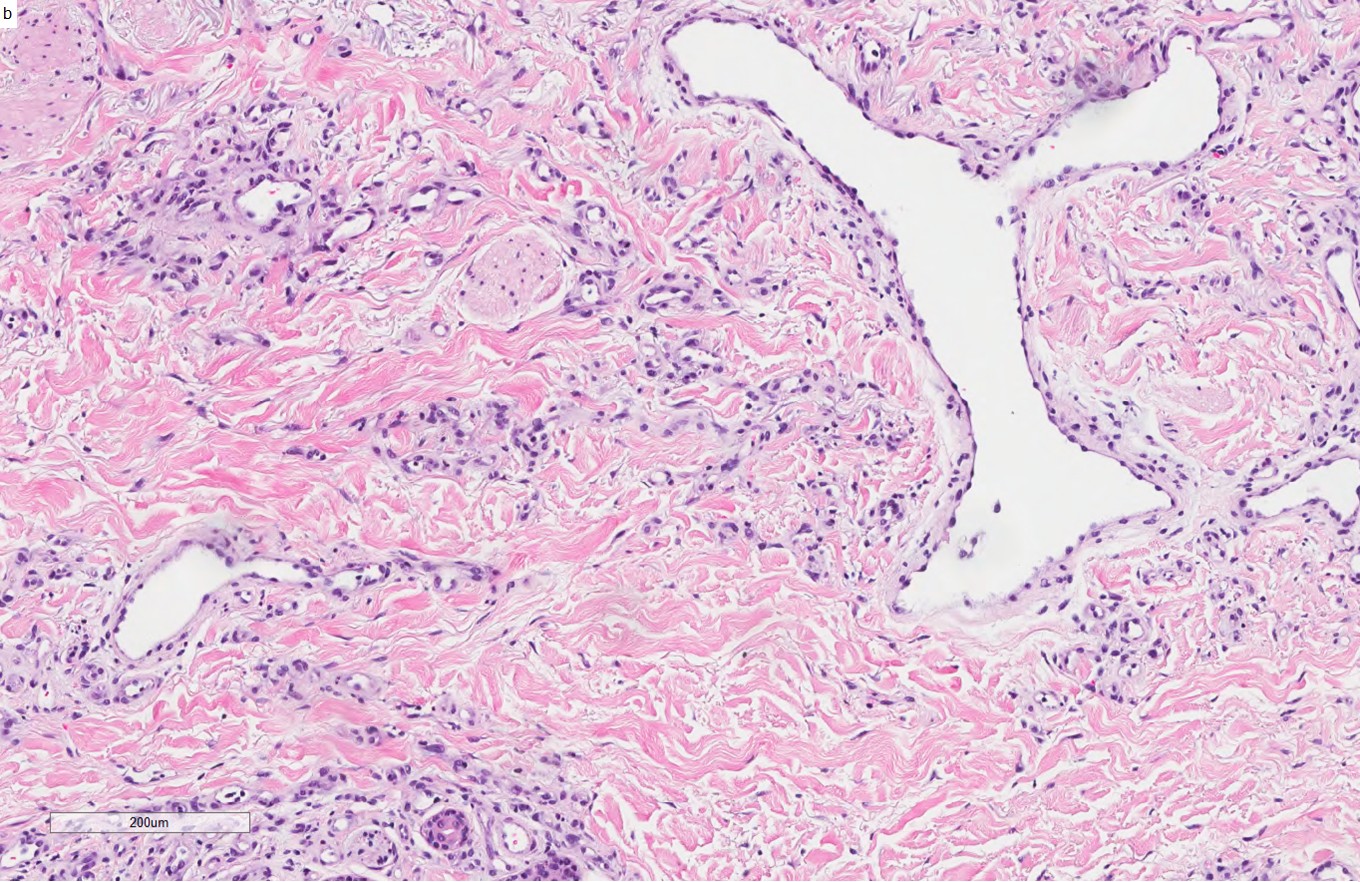 To cite this abstract:
Bryde, R; Cochran, B; Alsaad, A; Cowdell, JC; Phillips, M. TISSUE IS THE ISSUE: A RARE PRESENTATION OF DIFFUSE DERMAL ANGIOMATOSIS IN A BODY BUILDER. Abstract published at
Hospital Medicine 2018; April 8-11; Orlando, Fla.
Abstract 535. https://www.shmabstracts.com/abstract/tissue-is-the-issue-a-rare-presentation-of-diffuse-dermal-angiomatosis-in-a-body-builder/. Accessed April 9, 2020.