Case Presentation:
A 67 year-old man with history of hypertension and hyperlipidemia presented with two weeks history of slurred speech and a transient left facial numbness and twitching for one day. Three months prior he fell of his bike with consequent closed head trauma without loss of consciousness (the helmet broke as well). Head CT at that time was normal. His vital signs and physical exam on the current admission were normal with no neurological deficit. His basic laboratory values showed normal white cell count, erythrocyte sedimentation rate, C-reactive protein and negative HIV. A CT scan of the head showed right frontal hypodense region; a brain MRI showed a 1.7 cm multilobulated ring enhancing concerning for an abscess. Given the fact that the location of the lesion corresponds to the site of previous trauma, along with the lack of inflammatory features in history, exam and laboratory exams it was considered that this was most likely a hematoma and the brain biopsy was deferred and the patient was discharged. Two weeks after, the patient developed loss of fine motor skills in the left hand; a repeat MRI showed increase in the size of the lesion, therefore he underwent craniotomy for biopsy; fluid aspiration showed green pus, finalized as Nocardia abscesuson culture. A PICC line was inserted and long term intravenous trimethoprim-sulfamethoxazole(TMP/SMX) was initiated. He developed neutropenia, for which the antibiotic was changed to Ceftriaxone which he received for two months, followed by oral Doxycycline for additional 3 months. Symptoms resolved and he remained asymptomatic months after stopping the antibiotics.
Discussion:
Nocardia species are aerobic, gram positive, variably acid-fast bacteria part of the Actinomycetes family. Human infection occurs mainly through either inhalation or direct inoculation via the skin. The most common disease sites are the lung, central nervous system (CNS), and skin. The lungs are the primary site of nocardial infection in more than two-thirds of cases. CNS disease accounts for approximately 20 percent of the cases and most commonly results from dissemination of infection from a pulmonary or cutaneous site. The hallmark of CNS nocardiosis is formation of a parenchymal abscess and the diagnosis can be prompted by the finding of multiple conglomerations of lesions. It is typically regarded as an opportunistic infection seen in immunocompromised patients who are defective in cell mediated immunity, around 64 percent of patients with nocardiosis were immunocompromised. Therapy is recommended even in limited cutaneous cases. TMP/SMX is recommended as a first-line therapy for nocardiosis, with a prolonged course for severe disease due to the relapsing nature of Nocardia infection. Treatment duration is usually between 3-12 months and indefinite therapy in the settings of immunosuppression that cannot be reversed.
Conclusions:
We describe a case of a brain abscess due to Nocardia species in an immunocompetent patient, it accounts for 1 to 2% of brain abscesses and results in substantial clinical decline and the rate of mortality from such an infection is three times higher than that seen with other brain abscesses.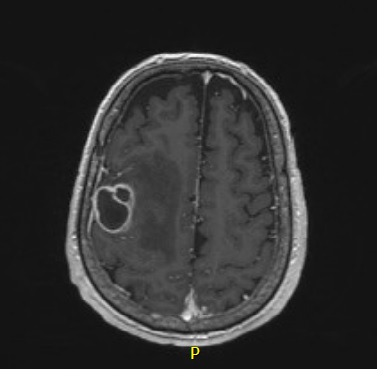 To cite this abstract:
Hazzi R, Auron M, Bhimraj A. Thinking Outside of the Box: Invasive Nocardiosis in an Immunocompetent Patient. Abstract published at
Hospital Medicine 2016, March 6-9, San Diego, Calif.
Abstract 552.
Journal of Hospital Medicine.
2016; 11 (suppl 1). https://www.shmabstracts.com/abstract/thinking-outside-of-the-box-invasive-nocardiosis-in-an-immunocompetent-patient/. Accessed February 24, 2020.
« Back to Hospital Medicine 2016, March 6-9, San Diego, Calif.