Case Presentation:
A 55 year old Moroccan male with no PMH presented with 3 months of a productive cough. Patient had no fevers, chills, weight loss, night sweats or changes in bowel habits. He worked with wood, Corian® and paint, but there were no toxic habits or animal exposures. One week prior to admission, his PCP treated him with mucolytics and 5 days of azithromycin without symptom improvement.
ER vitals: T 100.4°F, BP 130/76, P 111, R 16, Pulse Ox 93%RA. Physical exam was remarkable for bilateral diffuse rhonchi. CXR showed bilateral diffuse ground glass infiltrates. Patient was started on IV ceftriaxone and azithromycin for presumed community acquired pneumonia. CT Chest revealed diffuse bilateral ground glass and solid opacities mostly in airway-centric distribution, interstitial/ peribronchial thickening and intrathoracic/ upper abdominal lymphadenopathy (LAN). Infectious work-up including Chlamydia, Mycoplasma, Histoplasma, Cryptococcal and HIV serologies, along with blood and sputum bacterial, AFB and fungal cultures were all negative. After 3 days of IV antibiotics, the patient had no improvement in his symptoms.
Given the abdominal LAN on imaging, a CT abdomen pelvis was obtained showing extensive abdominal LAN and a circumferential sigmoid mass associated with left hydronephrosis/ hydroureter. Poorly differentiated invasive colon adenocarcinoma was found via colonoscopy. Patient was discharged with oncology referral for metastatic colon cancer treatment planning.
Discussion:
Colorectal Cancer (CRC) remains the third most common cancer among adults in the United States and the third most common cause of death from cancer. CRC most commonly presents with weight loss, change in stool consistency, abdominal pain, bleeding and iron deficiency anemia. While the lung is second only to liver as the most common site of metastatic disease (with approximately 15- 25% of patients having disease in the lung), it is rare as a primary presentation of colon cancer. In one retrospective study only 6.3% (N=252) of patients even had lung metastasis at time of diagnosis.
Conclusions:
This case is a rare presentation of metastatic colon cancer, given the complete lack of abdominal symptoms and a productive cough being the sole complaint. Ground glass opacities on CXR may be a typical radiologic finding of lung metastases from a GI adenocarcinoma, and one's only clue. Although this appeared to be a simple case of community acquired pneumonia, thinking outside the lung led us to pursue extra-pulmonary evaluation that yielded the correct diagnosis.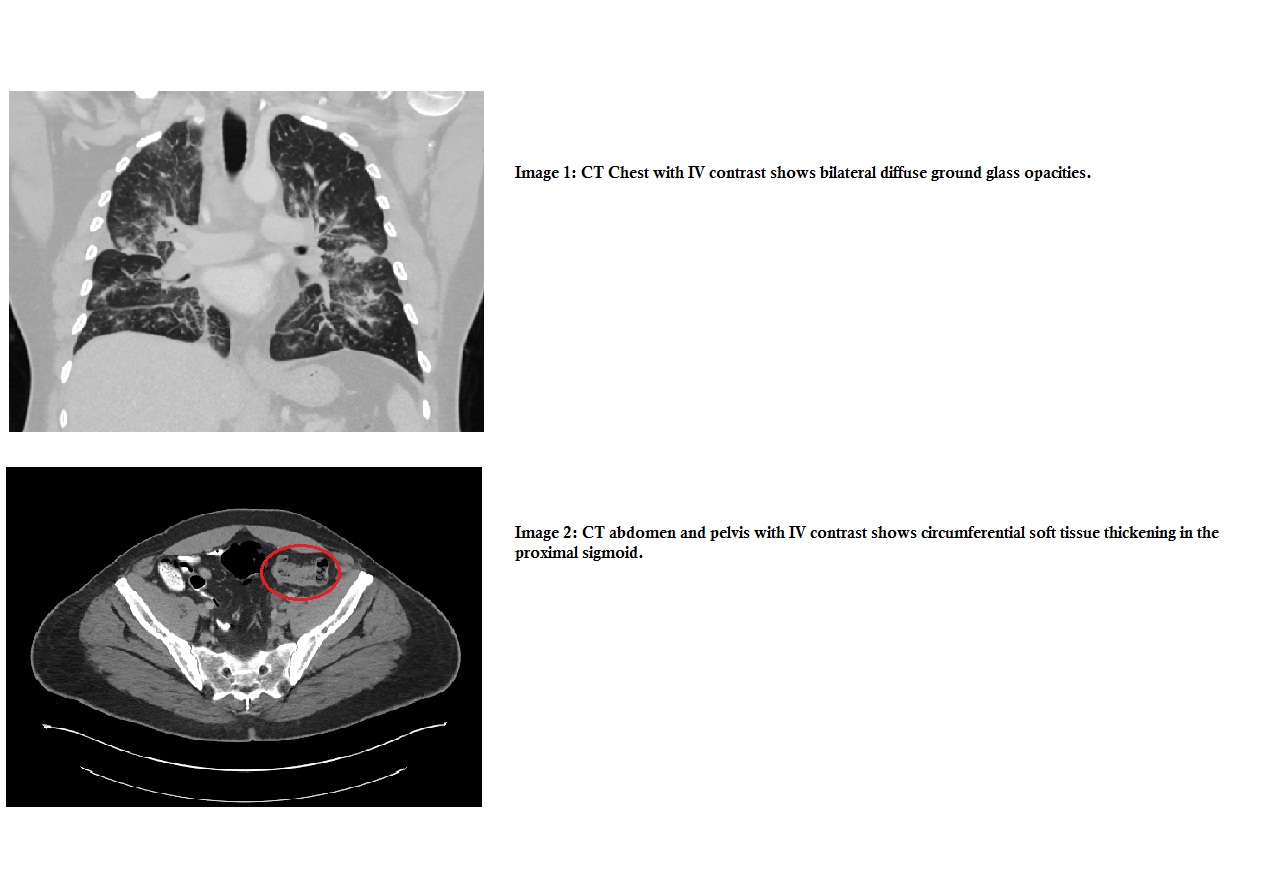 To cite this abstract:
Mercader M, Velazquez AI, Hernandez KT, Rohs N, Grabscheid E. Think Outside the Lung: Colon Cancer Presenting Solely As a Cough. Abstract published at
Hospital Medicine 2016, March 6-9, San Diego, Calif.
Abstract 682.
Journal of Hospital Medicine.
2016; 11 (suppl 1). https://www.shmabstracts.com/abstract/think-outside-the-lung-colon-cancer-presenting-solely-as-a-cough/. Accessed April 4, 2020.
« Back to Hospital Medicine 2016, March 6-9, San Diego, Calif.