The Wells Rule Accurately Excludes Pulmonary Embolus in Hospitalized Patients on Heparin Prophylaxis
1Denver Health Medical Center, Denver, CO
2Denver Health Medical Center, Denver, CO
Meeting: Hospital Medicine 2010, April 8-11, Washington, D.C.
Abstract number: 16
Background:
The Wells rule is commonly used when investigating suspected pulmonary embolism (PE), but its effectiveness when applied to hospitalized patients receiving prophylactic anticoagulation is not known. To explore the utility of the Wells rule in this cohort, we conducted a retrospective, observational study of inpatients who underwent chest computed tomography (CT) for a concern of PE.
Method:
Charts were audited to select patients who were admitted without symptoms suggestive of PE. Those with contraindications to prophylactic anticoagulation or interruptions in prophylaxis were excluded. The modified Wells score was retrospectively calculated by reviewing the history and physical, progress notes, and discharge summaries of each chart. Absence of a D‐dimer request was inferred to mean that there were no alternative diagnoses of equal or greater likelihood than acute pulmonary embolism. According to the modified Wells rule, patients were classified into PE likely (total score < 4) and PE unlikely (total score ≥ 4).
Results:
From January 2006 through December 2007, 776 patients had chest CT exams more than 2 days after admission for concern of PE, 286 of whom met the inclusion criteria. The prevalence of PE diagnosed by CTPE was 7%, markedly lower than primarily outpatient cohorts from which the Wells prediction rule was derived and validated. Patients on the Medicine Service had an even lower prevalence of PE (3%). A D‐dimer was ordered in 70 cases and was positive in 67 (96%), accounting for 23% of all CTPE studies requested, and was falsely positive in 69 (99%). The variables contributing to the total Wells score are summarized in Table 1. The modified Wells rule had a high sensitivity and a correspondingly high negative predictive value (Table 2).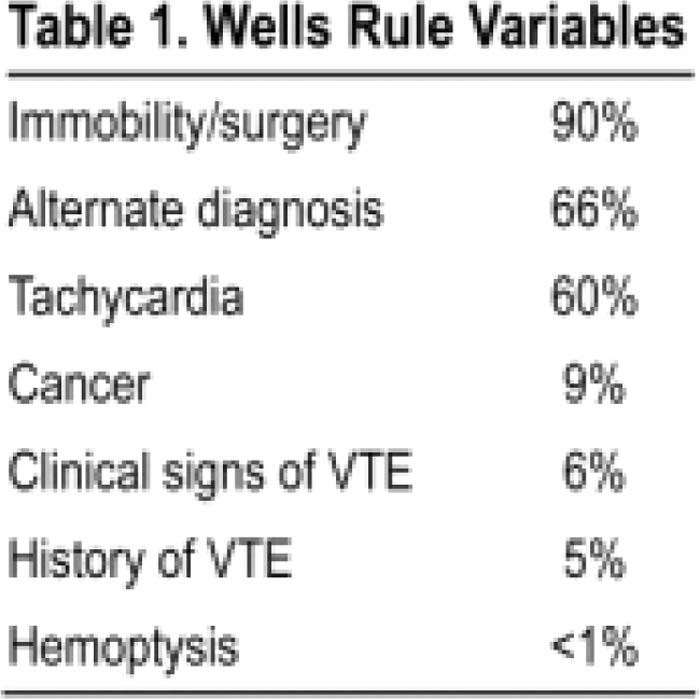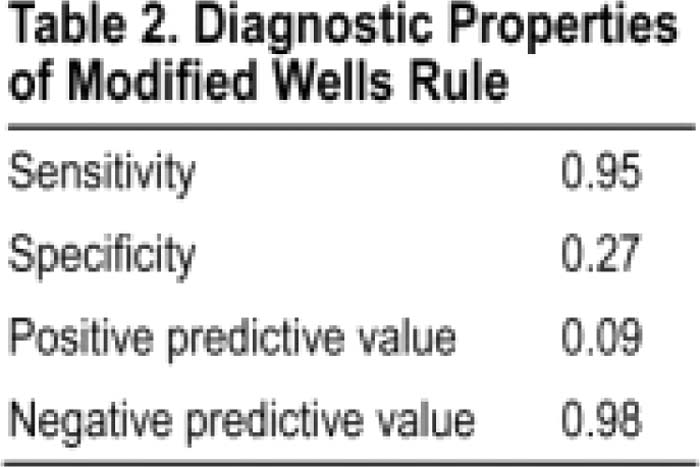 Conclusions:
The prevalence of PE in hospitalized patients receiving prophylactic anticoagulation is very low. As an independent diagnostic test, the dichotomous Wells model can safely exclude PE in such patients. D‐dimer testing adds nothing to the evaluation, as it has an extremely high prevalence and high false‐positive rate.
Author Disclosure:
A. Bahia, none; R. Albert, none.
To cite this abstract:
Bahia A, Albert R. The Wells Rule Accurately Excludes Pulmonary Embolus in Hospitalized Patients on Heparin Prophylaxis. Abstract published at
Hospital Medicine 2010, April 8-11, Washington, D.C.
Abstract 16.
Journal of Hospital Medicine.
2010; 5 (suppl 1). https://www.shmabstracts.com/abstract/the-wells-rule-accurately-excludes-pulmonary-embolus-in-hospitalized-patients-on-heparin-prophylaxis/. Accessed April 6, 2020.
« Back to Hospital Medicine 2010, April 8-11, Washington, D.C.