Case Presentation:
A 72-year-old woman with hypertension, Hodgkin's lymphoma status post one dose of chemotherapy with adriamycin/bleomycin/vinblastine/dacarbazine developed an asymptomatic, erythematous, circular rash on her forehead four days after chemotherapy. Patient first presented to a hospital with severe neutropenia (ANC 460) and received Filgrastim, and vancomycin IV for presumed cellulitis. Two days later the rash did not respond and the patient was transferred to our hospital. Patient denied fever, chills, pruritis, or pain at the site. The rash started spontaneously with no inciting trauma. Physical exam was benign with the exception of the rash on the patient's forehead. The rash was a 2cm circular, purplish, irregular plaque that was circumscribed by 1cm of erythematous, edematous macular region centered midline on the patient's forehead. Dermatology performed a biopsy and sent viral culture, DFA and PCR. On the second day of admission, the rash evolved and developed vesicular lesions at the periphery of the verrucous quarter-sized center. Blood cultures, serum CMV, HSV, EBV were tested and were negative. Specimen was positive only for VZV by PCR, DFA, and culture. Patient was started on acyclovir. Edema and vesicular lesions subsided by discharge.
Discussion:
Varicella-zoster virus (VZV) infection presents in two classical forms – as a primary diffuse, papular exanthem (chickenpox) typically in childhood and as a re-activation during adulthood resulting in a painful, localized rash in the distribution of a dermatome (shingles). A much more rare form, chronic verrucous varicella-zoster virus, largely in HIV patients, typically presents as a painless, non-dermatome distribution of wart-like lesions that can persist for months.
The majority of reported cases of chronic VZV occur in patients with HIV infection, as an adverse effect of immunosuppression. There have been a few case reports in other forms of immunosuppression. This case demonstrates an alternate presentation with chemotherapy as the most feasible etiology of the eruption.
Diagnosis is often made with viral culture, PCR or DFA of a lesion biopsy. First line treatment for chronic VZV is acyclovir for 1-2 weeks. If oral acyclovir fails, either another TK-dependent drug, such as famciclovir, or drugs with alternate mechanisms, namely foscarnet or vidarabine may be tried.
Conclusions:
Chronic VZV is a rare and atypical presentation of varicella-zoster virus infection as it is painless, does not follow a dermatome, and has visually different lesions. Thus, it is important for physicians to not dismiss VZV from the differential when classical findings are absent, as that delays diagnosis, treatment, incurs excess costs in work-up, and can potentially lead to further local damage with development of ulcers or superinfection.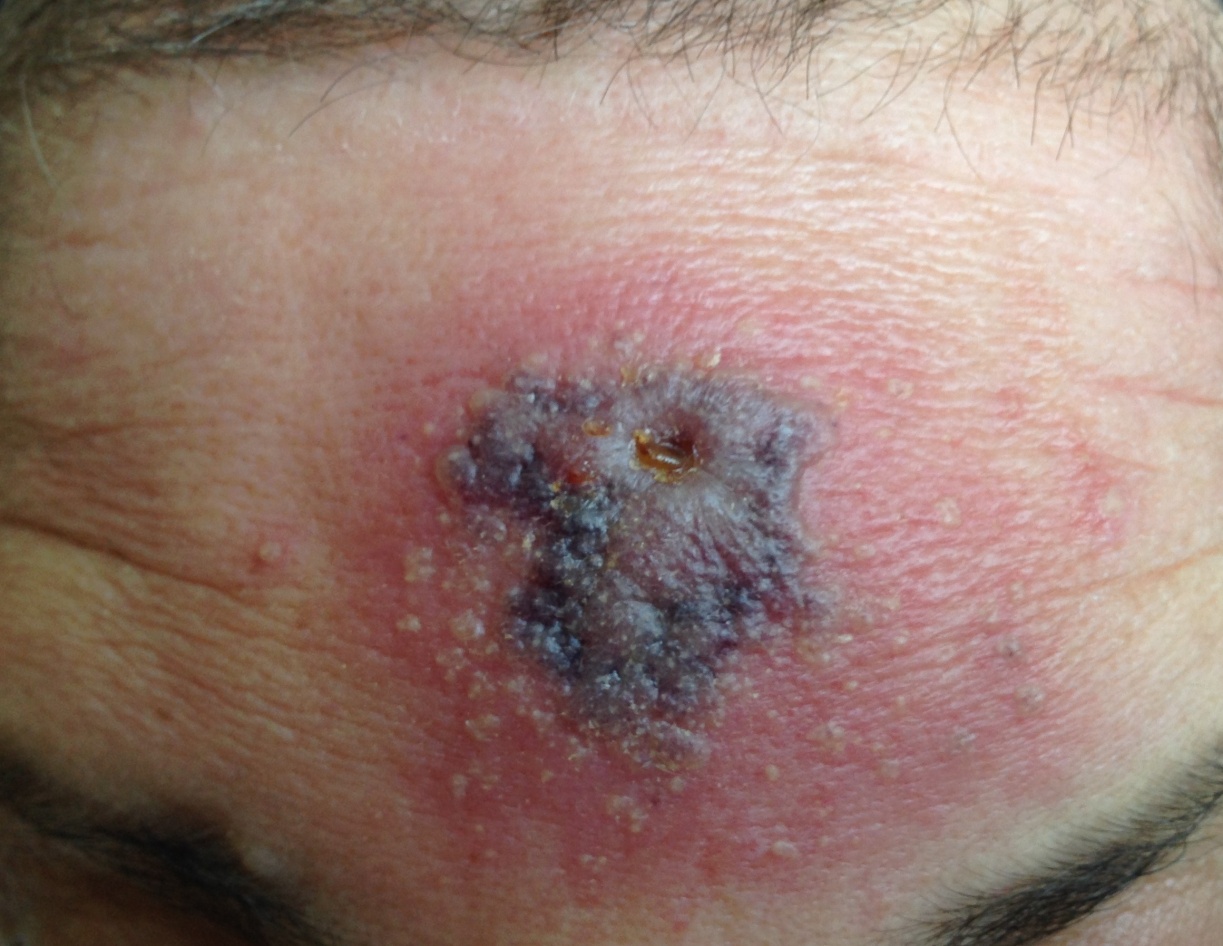 « Back to Hospital Medicine 2015, March 29-April 1, National Harbor, Md.