Case Presentation: A 5 year old boy from Saudi Arabia without past medical history presented with 3 months of fevers, weight loss, and a large abdominal mass. 3 months prior to presentation, while living in Saudi Arabia, the patient developed abdominal pain, emesis, and headaches. After 1 week of symptoms, he received outpatient therapy with ceftriaxone and amoxicillin-clavulanic acid. 2 months prior to presentation, he developed fevers and was found to be have significant eosinophilia, leukocytosis, and antibodies to Echinococcus. The patient was diagnosed with a hydatid cyst and prescribed three 21 day cycles of albendazole. His symptoms improved slightly after 1 cycle, at which time his family moved to America. Despite continuing albendazole therapy, the patient's pain and fevers recrudesced. He had lost 7kg since symptom onset. On presentation to our hospital, he was afebrile but tachycardic with a tender right-sided abdominal mass spanning from the costal margin to his pelvis. Labs demonstrated a leukocytosis of 22,600 with 20% eosinophilia and elevated inflammatory markers (CRP 18.9, ESR 110). Hepatic function was normal, as were coagulation studies. Blood cultures were sterile. CT abdomen demonstrated a right-sided mass which encased the ascending colon without involving the liver or kidneys. He was admitted to oncology due to concern for GI lymphoma, and both the mass and bone marrow were biopsied. Biopsies of the mass then began to grow copious mold. Examination of these specimens revealed inflammation, caseating granulomas, and microorganisms which were 50μ wide with prominent septations, ensheathed by Splendore-Hoeppli material. There was no evidence of lymphoproliferative disorder or metastasis in the bone marrow. Based on the morphology of the fungus in culture and in situ, the patient was diagnosed with gastrointestinal basidiobolomycosis.
Discussion: Gastrointestinal basiodiobolomycosis (GIB) is an emerging infection in arid geographic regions and may be included on the differential for abdominal mass, fever, and weight loss in patients from these areas.
Conclusions: Basidiobolus ranarum is a fungus endemic to dry regions such as Saudi Arabia and Arizona. While Basidiobolus usually causes chronic cutaneous infection, gastrointestinal infection in immunocompetent persons is becoming increasingly common. These patients present with a constellation of symptoms which can mimic GI malignancy or inflammatory bowel disease; in one case series, 59% of patients with GIB were first diagnosed with one of these two entities, with a mean duration from symptom onset to surgery of 83 days.1 Diagnosis is often made by the characteristic pathologic appearance of wide septated hyphae surrounded by eosinophilic Splendore-Hoeppli material. While the management of GIB involves both antifungals and surgical resection, surgery was deferred in this patient due to colonic encasement. He has responded well to six months of itraconazole and may not require resection.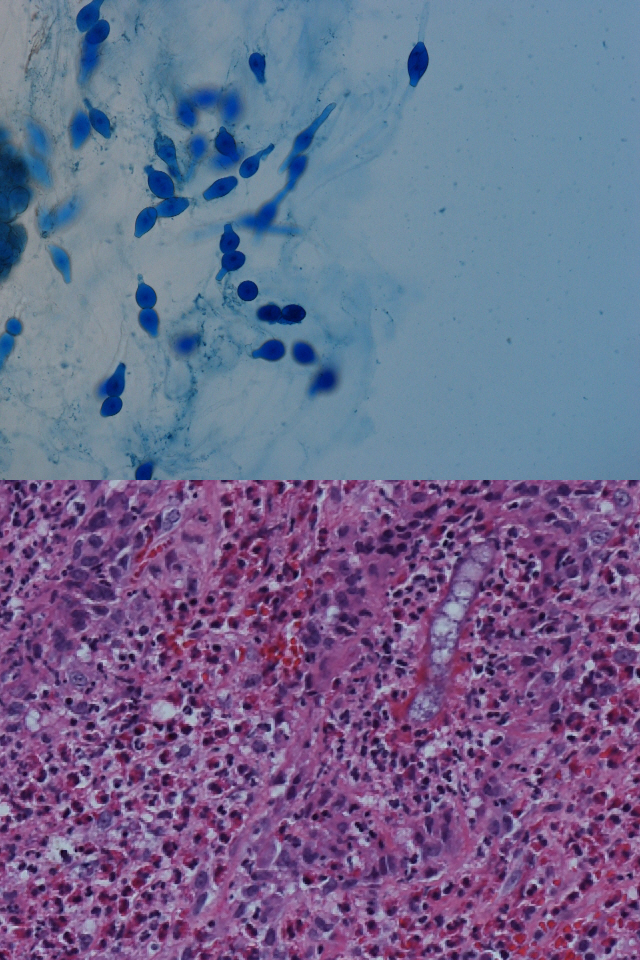 To cite this abstract:
Watkins E, Wedin T. The Unexpected Culprit: A Mass with a Life of Its Own. Abstract published at
Hospital Medicine 2015, March 29-April 1, National Harbor, Md.
Abstract 783.
Journal of Hospital Medicine.
2015; 10 (suppl 2). https://www.shmabstracts.com/abstract/the-unexpected-culprit-a-mass-with-a-life-of-its-own/. Accessed July 21, 2019.
« Back to Hospital Medicine 2015, March 29-April 1, National Harbor, Md.