Background: Health care teams provide patients and families with large amounts of written information during their hospitalization. This includes discharge information that is often provided immediately prior to discharge leaving patients and families with insufficient time to review and ask questions of their team.
Purpose: To create a centralized location to organize information patients and families may need during hospitalization and following discharge, and to provide that information as early as possible during the patients' hospitalization.
Description: We surveyed patients, physicians and nurses on two consecutive days prior to passport design. Physicians and nurses catalogued all information given to patients during their hospitalization and at discharge. Patients and families were asked what written information they would find most useful during their hospitalization. Overall, patients wanted information about the members of their care team, information received about tests and procedures, lists of their inpatient medications, a notepad for questions and a list of suggested questions they might want to ask their care team.
In January 2014, we launched the patient passport pilot on a medicine unit at our academic medical center. The prototype binders cost $6.00 each, were designed to be easy to clean for infection control purposes, and contained informational materials separated with clearly labeled tabs (Text Box 1).
We distributed 250 binders during the pilot phase, and encouraged team members to provide them to patients upon admission. We surveyed a convenience sample of 40 hospitalized medicine patients to determine the patient passport's utility and to gather suggestions for improvement. Data on how patients reported using their passports during their stay, and how they planned on using them post-discharge are shown in Figure 1. 36 patients (90%) 'agreed' or 'strongly agreed' that the patient passport was valuable. 26 patients (65%) 'agreed' or 'strongly agreed' that the suggested questions and notepads were useful when preparing to talk with their doctors, remembering what to ask, and writing down details about their health.
Conclusions: Implementation of patient passports is a relatively low-cost, simple communication tool that enables patients to organize their health information during the hospitalization and in preparation for discharge. Next steps include exploring the use of information technology to strengthen the patient passport intervention and potentially reduce costs.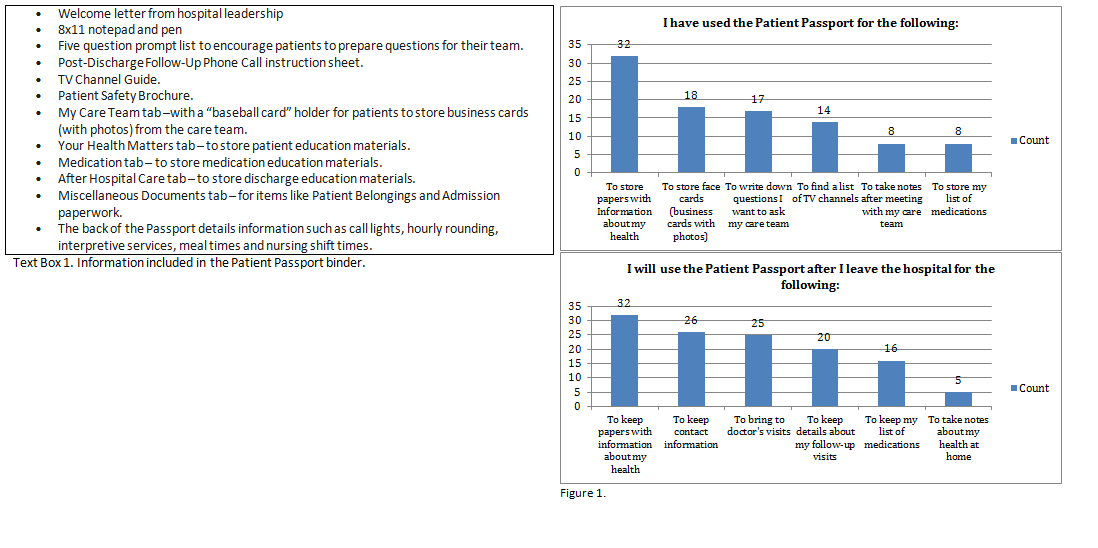 To cite this abstract:
Morduchowicz S, Kynoch E, Harrison J, Mourad M. The Patient Passport: Enabling Patients to Organize Their Health Information and Prepare for Discharge. Abstract published at
Hospital Medicine 2015, March 29-April 1, National Harbor, Md.
Abstract 14.
Journal of Hospital Medicine.
2015; 10 (suppl 2). https://www.shmabstracts.com/abstract/the-patient-passport-enabling-patients-to-organize-their-health-information-and-prepare-for-discharge/. Accessed November 17, 2019.
« Back to Hospital Medicine 2015, March 29-April 1, National Harbor, Md.