Case Presentation:
A 73 year old woman presented to an Arizona hospital with a 3 month history of weight loss with nausea and vomiting and a 6 week history of progressive "shaking" all over her body that comprised of intermittent brief involuntary movements of the trunk and extremities. There was no loss of consciousness, incontinence, or tongue biting. Physical and neurological examination revealed saccadic intrusions of smooth eye movements, severe truncal ataxia and frequent abdominal myoclonus with occasional limb involvement consistent with the opsoclonus myoclonus ataxia syndrome (OMAS). Brain MRI, EEG, and CA19‐9 were normal. She was euthyroid but thyroperoxidase antibodies were elevated. Cerebrospinal fluid (CSF) examination revealed a lymphocytic pleocytosis and her paraneoplastic autoantibody panel revealed the presence of voltage gated potassium channel (VGKC) antibodies. Abdominal MRI showed an abrupt change in the caliber of her biliary duct suggestive of a mass in the body of the pancreas that was subsequently confirmed by ultrasound guided ERCP (Picture 1 — Yellow Arrow). Fine needle aspiration revealed adenocarcinoma. Her symptoms improved after pancreatectomy, chemotherapy, pulsed weekly steroids, clonazepam, and levetiracetam.
Discussion:
We report the first documented case of OMAS with VGKC antibodies from pancreatic adenocarcinoma. OMAS classically consists of involuntary multidirectional saccades with myoclonic jerks in the limbs and trunk, tremor, cerebellar ataxia, and encephalopathy. Although the pathophysiology has not been fully elucidated, pathological and functional MRI studies suggest disinhibition of the fastigial nucleus of the cerebellum. Although OMAS can occur with infections and toxic metabolic disorders, it can also represent a paraneoplastic syndrome whose recognition should prompt the search for an underlying malignancy. Paraneoplastic autoantibodies that have been associated with adult onset OMAS are anti‐Ri and anti‐Hu, which are related to breast/ovary, and small cell lung cancer respectively. Management involves treatment of the primary tumor. Intravenous immunoglobulin, steroids, immunosuppressants, and plasma exchange have also been used. Myoclonus can be treated with clonazepam or levetiracetam. When the presenting sign of such a malignancy is a paraneoplastic syndrome, there is a good chance that the tumor will be in its earliest stages and more susceptible to therapeutic intervention as in our patient.
Conclusions:
OMAS in our patient was the presenting sign of pancreatic adenocarcinoma facilitating its early diagnosis and possible surgical cure. Although not previously reported in patients with pancreatic cancer OMAS has been associated in adults with anti‐Ri and anti‐Hu antibodies from breast, ovarian and lung cancer. Early stage cancers may produce very subtle radiological abnormalities whose detection is facilitated by a high level of suspicion and whose prognosis is improved by such early detection and intervention.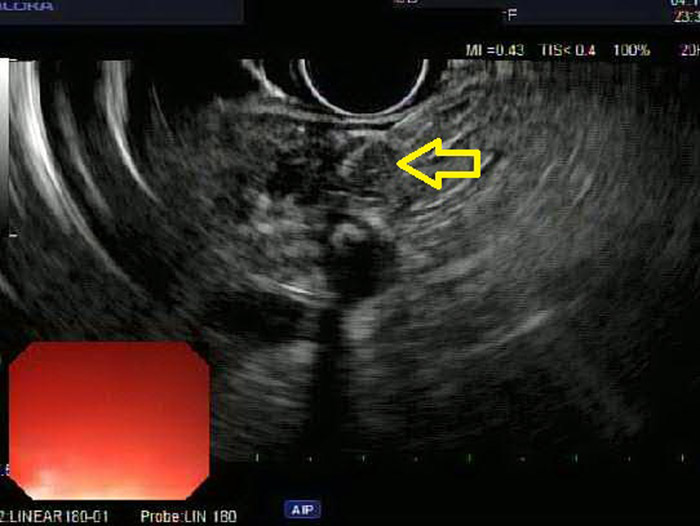 To cite this abstract:
Capampangan D, Caselli R, Ianotti J, Grill M, Yancy H, Mehta S, Collins J, Adcock A. The Pancreas Can Be a Jerk!. Abstract published at
Hospital Medicine 2014, March 24-27, Las Vegas, Nev.
Abstract 364.
Journal of Hospital Medicine.
2014; 9 (suppl 2). https://www.shmabstracts.com/abstract/the-pancreas-can-be-a-jerk/. Accessed April 1, 2020.
« Back to Hospital Medicine 2014, March 24-27, Las Vegas, Nev.