Background: Emergency Department (ED) boarding, which occurs when admitted patients do not have an available bed in the hospital, has been associated with adverse patient outcomes. In 2014, 13,109 patients waited greater than 2 hours for a medicine inpatient bed at our large urban academic center. In July 2016, we deployed a 24-hour hospital medicine team, called the ED Boarder team, composed of both physicians and advanced practice clinicians physically located in the ED and dedicated to the care of medical patients.
Purpose: The goals of the ED boarder team were to improve patient satisfaction and outcomes; provide inpatient level of medical care to advance the patient's hospitalization; and to offload ED clinicians so they could see new patients.
Description: The service included 2-4 clinicians during the day and 1-2 clinicians overnight. Boarder patients were defined as >2 hours post request for an inpatient bed. Working in collaboration with the ED team, the ED Boarder team would identify eligible medical boarder patients and assume primary coverage of the patient while the patient was still in the ED. The ED Boarder team handed off responsibility to the inpatient team once the patient obtained an inpatient bed. ICU, cardiology, and oncology patients were excluded from coverage by the ED Boarder team.
Between 7/1/16-6/30/17, 14,018 patients were admitted to the medical service from the ED and 6,938 were eligible for medicine boarder coverage. The ED Boarder team covered 3,972 patients (57.3% of eligible patients) during this time. The median census of patients eligible for coverage fluctuated by hour of the day between 4.3 to 10.0 with a peak between 9am-1pm (Figure 1). The ED Boarder team covered a median census of 1.4 to 7.7 patients with a similar peak time. Patients covered by the ED Boarder team spent a median of 9.8 (IQR 5.4-14.7) hours under the care of the ED Boarder team. Most patients (97.2% of covered patients) were admitted to an inpatient unit, while the remainder were discharged from the ED or left against medical advice. The median ED length of stay was longer for covered ED boarder patients compared to non-covered patients (20.6 hours vs 10.2 hours, respectively). The overall median hospital length of stay was similar between covered and non-covered ED Boarder patients (5.00 days vs 5.08 days, respectively).
Conclusions: At our large, urban academic medical center, we implemented a full-time hospital medicine ED Boarder team. The service cared for a fluctuating number of patients awaiting inpatient beds. Many unanswered questions and future areas of research exist. Defining metrics for success, developing optimal staffing models, and understanding impacts on patient outcomes will all need future investigation.
IMAGE 1: Figure 1. Patient Census by Time of Day for the ED Boarder Team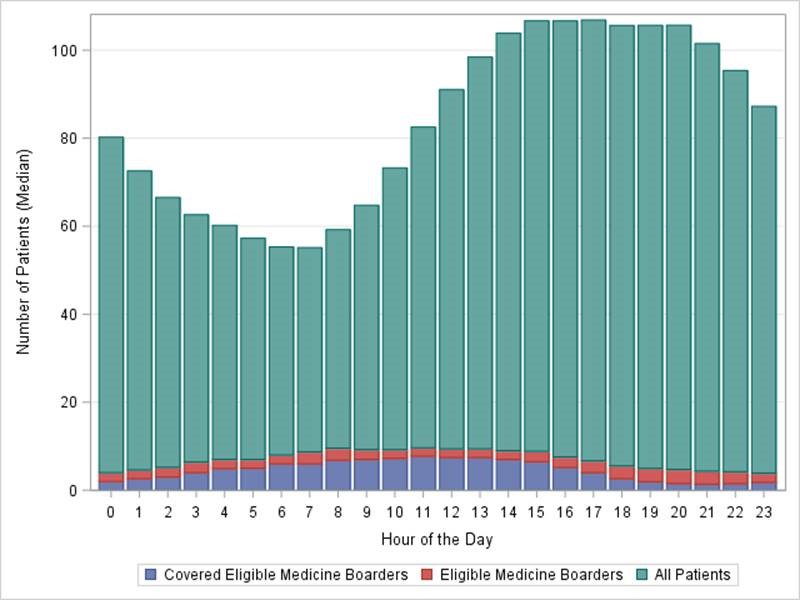 To cite this abstract:
Kobayashi, KJ; Knuesel, SJ; Bravard, MA; White, BA; Mattison, ML; Chang, Y; Metlay, JP; Raja, AS. THE CREATION OF A DEDICATED HOSPITAL MEDICINE TEAM TO CARE FOR MEDICAL PATIENTS BOARDING IN THE EMERGENCY DEPARTMENT. Abstract published at
Hospital Medicine 2018; April 8-11; Orlando, Fla.
Abstract 240. https://www.shmabstracts.com/abstract/the-creation-of-a-dedicated-hospital-medicine-team-to-care-for-medical-patients-boarding-in-the-emergency-department/. Accessed April 4, 2020.