The Boost 7P Screening TooI for Transitions as a Predictor of Read mission
1University of Pennsylvania School of Medicine, Philadelphia, PA
2University of Pennsylvania School of Medicine, Philadelphia, PA
3Hospital of the University of Pennsylvania, Philadelphia, PA
4University of Pennsylvania School of Medicine, Philadelphia, PA
Meeting: Hospital Medicine 2010, April 8-11, Washington, D.C.
Abstract number: 78
Background:
Project BOOST (Better Outcomes for Older Adults Through Safe Transitions) is a SHM‐mentored quality improvement program targeted at improving the discharge transition process and now has 30 participating sites. Our hospital, one of the first sites, has adopted many elements of BOOST'S discharge planning tool kit on our nonleaching, nurse‐practitioner (NP)–supported hospitalist unit. The 7P Screening Tool for Transitions (7P tool) is used on admission to systematically assess a patient's risk for readmission to the hospital by taking into consideration 7 common clinical risk factors (polypharmacy, poor health literacy, prior admission in the last 30 days, problem medications such as insulin or warfarin, lack of patient support structure, principal diagnosis, and "punk," or depression). To our knowledge, there has not been a formal analysis of the prognostic value of the 7P tool to predict subsequent readmission. Our specifc aim was to analyze whether the 7P tool predicts readmission among patients on our service.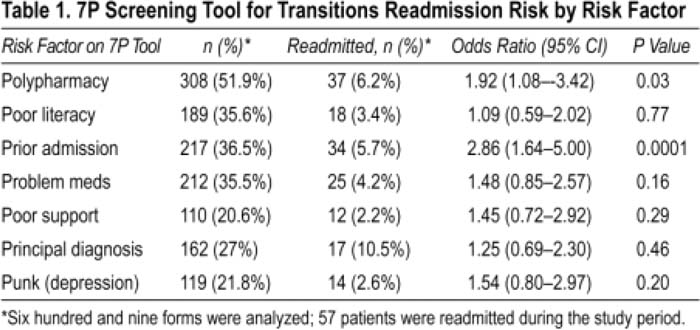 Methods:
All consecutive discharges from our general medicine service over a 6‐month period were analyzed. The 7P tool was completed al the time of admission, entered into a study datebase and merged with hospital administrative data. The primary outcome of interest was an unplanned readmission to our hospital within 30 days of the initial discharge. We used chi‐square statistics to examine the association between individual BOOST risk factors and readmission and a chi‐square test for trend to assess the association between total 7P score and readmission. We also examined the association between the presence of 4 high‐risk principal diagnoses (coronary artery disease, congestive heart failure, chronic obstructive pulmonary disease, diabetes; we chose not to screen for 2 other diagnoses on the template tool, cancer and stroke) and risk of readmission.
Results:
A total of 609 7P tools (of 633 consecutive discharges) were filled out completely and available for analysis. The risk of readmission was significantly associated with increasing 7P score, rising from a 2.6% risk of readmission at 7P = 0 to a 25% risk at 7P = 7 (P = 0.005 for linear trend). Polypharmacy (OR 1.92, 95% Cl 1.08–3.42, P = 0.03) and prior admission (OR 2.86,95% Cl 1.64–5.00, P = 0.0001) were the only individual factors in the 7P tool significantly associated with increased risk of readmission. There was no significant correlation between the presence of any of the 4 high‐risk conditions and risk for readmission.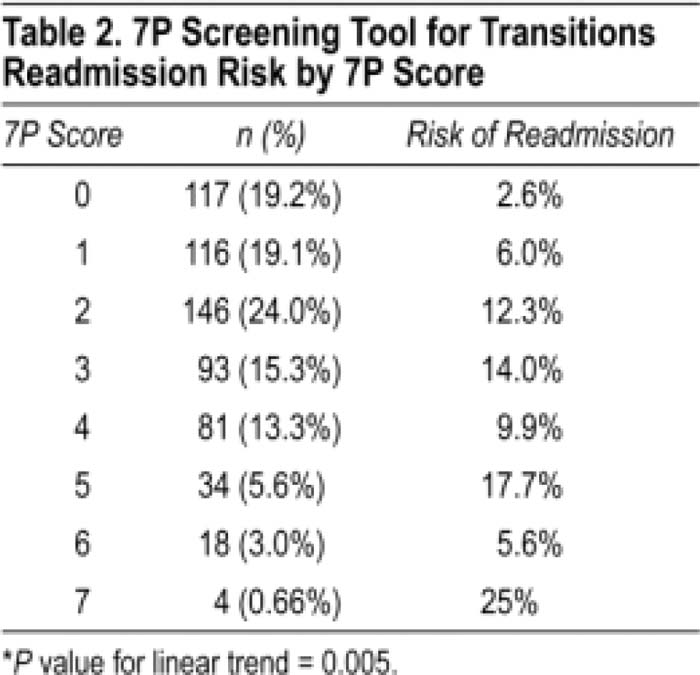 Conclusions:
The total 7P score appears to be a valid marker of increased readmission risk. However, among individual factors, only polypharmacy and history of prior admission had a statistically significant association with elevated risk of read mission. Further work is needed to determine if this tool can predict other unplanned events like emergency department visits or adverse drug events.
Author Disclosure:
E. King, University of Pennsylvania School of Medicine, faculty/none; S. Kasi, University of Pennsylvania School of Medicine, student/none; S. Hoffman, Hospital of the University of Pennsylvania, employee/none; J. Metlay, University of Pennsylvania School of Medicine, faculty/none.
To cite this abstract:
King E, Kasi S, Hoffman S, Metlay J. The Boost 7P Screening TooI for Transitions as a Predictor of Read mission. Abstract published at
Hospital Medicine 2010, April 8-11, Washington, D.C.
Abstract 78.
Journal of Hospital Medicine.
2010; 5 (suppl 1). https://www.shmabstracts.com/abstract/the-boost-7p-screening-tooi-for-transitions-as-a-predictor-of-read-mission/. Accessed March 30, 2020.
« Back to Hospital Medicine 2010, April 8-11, Washington, D.C.