Case Presentation: A 25-year-old African American female presented with a 1-month history of recurrent fevers, sweats, myalgias, arthralgias, and fatigue accompanied by the development of small, tender, indurated plaques occurring on both arms and legs (more marked in lower extremities). She had been treated for multiple episodes of mycoplasma pneumonia and had recently completed a course of doxycycline at the time of rash development. Skin biopsy of the aforementioned rash revealed evidence of medium vessel vasculitis consistent with PAN. Laboratory studies were notable only for mild leukocytosis, marginally elevated acute phase reactants & rheumatoid factor, and mild microcytic anemia but no evidence of renal or hepatic dysfunction was detected. Hepatitis B & C panel, HIV, RPR, antinuclear antibodies, cryoglobulins, serum complement components C3 & C4, antineutrophil cytoplasmic antibodies, aldolase, and serum & urine immunofixation electrophoresis for monoclonal gammopathy were not detected. Iron panel was suggestive of combination of iron deficient anemia and anemia of chronic disease and hemoglobinopathy panel was unremarkable. The patient also reported having abdominal discomfort so CT angiography of the abdomen and pelvis was attained, without evidence of microaneurysmal changes of renal, hepatic, or mesenteric circulations. She was treated with glucocorticoids for mild disease severity with isolated cutaneous involvement. She was not given further immunosuppression therapy given her lack of systemic disease.
Discussion: Polyarteritis nodosa (PAN) is a systemic necrotizing vasculitis that typically affects medium-sized muscular arteries with occasional involvement of small muscular arteries. Adults with PAN typically present as middle aged, predominantly men with systemic complaints (fatigue, weight loss, weakness, fevers, myalgias) as well as signs of systemic involvement (skin lesions, hypertension, renal insufficiency, neurologic dysfunction, and abdominal pain). Most cases are idiopathic, although some cases have been associated with hepatitis B, hepatitis C, and hairy cell leukoplakia.
Conclusions: The diagnosis of PAN is typically a clinical picture based on the presence of characteristic symptoms, physical findings, and compatible laboratory results. Our patient lacked many of the typical diagnostic markers. They key finding were her tender, purpuric/palpable skin lesions that led us towards a skin biopsy. However, the diagnosis should be confirmed by biopsy whenever possible. Treatment is contingent on the level of disease of severity, degree of organ dysfunction, and/or the presence of concomitant viral hepatitis infection. Accordingly, treatment regimens consist of steroid, immunomodulatory, or antiviral therapy as indicated.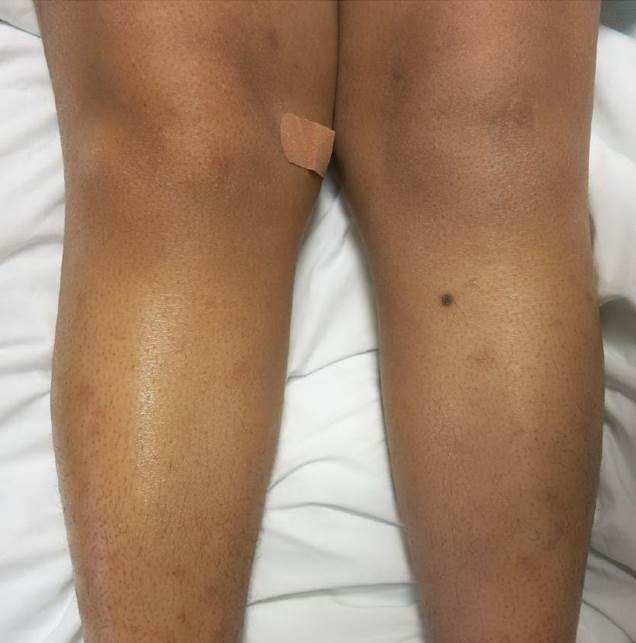 To cite this abstract:
Koerner KD, Quinn B. Tender Skin Macules: Case of Early Cutaneous Polyarteritis Nodosa. Abstract published at
Hospital Medicine 2016, March 6-9, San Diego, Calif.
Abstract 745.
Journal of Hospital Medicine.
2016; 11 (suppl 1). https://www.shmabstracts.com/abstract/tender-skin-macules-case-of-early-cutaneous-polyarteritis-nodosa/. Accessed March 29, 2020.
« Back to Hospital Medicine 2016, March 6-9, San Diego, Calif.