Taking the Pain Out of Quality Improvement: Improving Pain in Patients Seen by an Inpatient Palliative Care Service
1University of California at San Francisco, San Francisco, CA
Meeting: Hospital Medicine 2014, March 24-27, Las Vegas, Nev.
Abstract number: 211
Background:
The prevalence of pain in hospitalized adults is high and has been associated with reduced quality of life, lower patient satisfaction, and longer length of stay. Refractory pain is a common reason for hospitalization and for palliative care consultation. Effective pain control is a core competency for hospital medicine, a requirement for Joint Commission certification, and a central goal of palliative care teams.
Purpose:
We sought to improve pain management in patients seen by a Palliative Care Service (PCS). We selected a goal of increasing the proportion of patients who experienced an improvement in their pain within 1 day of PCS consultation by 25% during at least 3 of 4 quarters of the year.
Description:
We record patients' self‐reported pain level on a 4‐point scale (none, mild, moderate, severe) each day. During a baseline period from January to June 2013, an average of 46% of patients with pain on the day of initial PCS consultation had at least a 1‐point improvement in their pain by the next day. Our goal is a 25% increase, to 57% of patients.
During the first three months of the project, we created a process map of the steps involved in assessing and treating pain in a hospitalized patient. We analyzed cases where pain had not improved to identify steps in the process with quality gaps that the PCS could directly impact. We shared our data and process map with our PCS and those at other hospitals in California to solicit suggestions for process improvement.
We formulated a 3‐part intervention to address quality gaps. First, we made educational cards for patients that emphasized key concepts of pain control including the appropriate use of "as needed" medications and the importance of treating pain before it becomes severe. Second, when we saw a patient with uncontrolled pain, we immediately discussed our concern with the patient's nurse and solicited the nurse's help with assessment and treatment of pain. Third, we communicated recommendations for pain management with primary teams immediately after seeing a patient with pain, prior to seeing other patients.
Since enacting our 3‐part intervention, our rate of pain control has improved to 64%. We found that patients who had severe pain on the day of initial PCS consultation were more likely to have an improvement in their pain (86%) than were patients with mild pain (0%). We are currently monitoring for balancing measures.
Conclusions:
We identified modifiable gaps in quality at the patient, nurse, and physician level and implement a targeted plan for improvement. To date, we have seen a higher percentage of patients experience pain relief within 1 day of PCS consultation. We continue to monitor progress and seek additional opportunities to improve practice.
Through the selection of specific quality improvement goals, routine data collection, process mapping, and targeting of quality gaps through multifaceted interventions, we can achieve improvements in quality of care.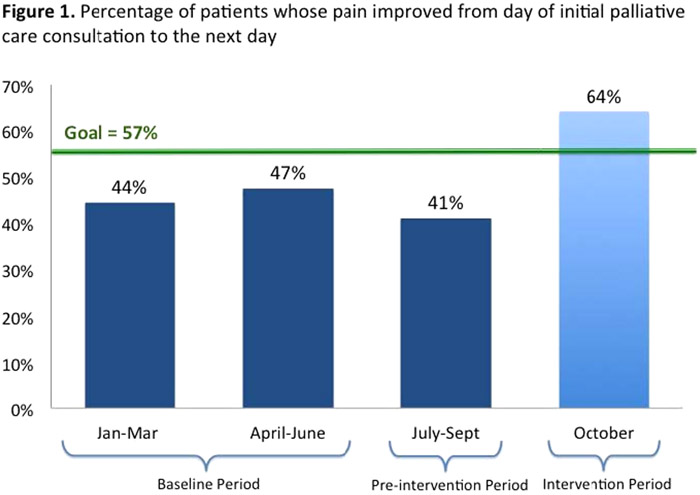 To cite this abstract:
Bischoff K, Ruskin R, Koehn L, Dzul‐Church V, Beretta F, Anderson W, Pantilat S. Taking the Pain Out of Quality Improvement: Improving Pain in Patients Seen by an Inpatient Palliative Care Service. Abstract published at
Hospital Medicine 2014, March 24-27, Las Vegas, Nev.
Abstract 211.
Journal of Hospital Medicine.
2014; 9 (suppl 2). https://www.shmabstracts.com/abstract/taking-the-pain-out-of-quality-improvement-improving-pain-in-patients-seen-by-an-inpatient-palliative-care-service/. Accessed April 1, 2020.
« Back to Hospital Medicine 2014, March 24-27, Las Vegas, Nev.