Taking It from the Top — a Case of Apical Hypertrophic Cardiomyopathy
1Inova Fairfax Hospital, Falls Church, VA
2Inova Fairfax Hospital, Falls Church, VA
3Inova Fairfax Hospital, Falls Church, VA
Meeting: Hospital Medicine 2013, May 16-19, National Harbor, Md.
Abstract number: 429
Case Presentation:
A 30‐year‐old man originally from New Guinea presented to the hospital with two hours of palpitations associated with lightheadedness and diaphoresis. He had a similar presentation 10 years prior and was told there was an "abnormal bump in his heart" which required treatment with antibiotics. Since that hospitalization, the patient experienced brief episodes of palpitations without associated symptoms. Of note, his brother died of a "rapid heart rate" at the age of 35 years old. On physical examination, his heart rate was 85 and irregularly irregular. Blood pressure was 110/70, and he appeared well. Cardiac examination revealed a nondisplaced PMI without murmurs or heaves. EKG (Fig. 1) demonstrated atrial fibrillation and T‐wave inversions in leads V3–V6. Transthoracic echocardiography (TTE; Fig. 2) demonstrated apical inferior and apical septal wall hypertrophy with an associated calcified fixed mass on the apical wall. The differential diagnosis included a thrombus, thickened false LV chord, or apical hypertrophic cardiomyopathy (AHCM). In preparation for electrical cardioversion, transesophageal echocardiography was performed. During Doppler examination, no color flow was seen within the mass in the apex, solidifying the diagnosis of AHCM. Cardioversion was performed and sinus rhythm was restored. Because of the family history of sudden cardiac death, a defibrillator was implanted. The patient was discharged in stable condition to complete one month of warfarin. At 5‐year follow‐up, the patient continues to do well without any symptoms while taking aspirin.
Discussion:
AHCM is an uncommon variant of hypertrophic cardiomyopathy. Compared with the obstructive variant, AHCM is not associated with left ventricular outflow tract obstruction and typically follows a more benign course. However, some patients may be at high risk for sudden cardiac death (SCD). EKG findings such as T. wave inversion in precordial leads can support the diagnosis. Echocardiographic findings can mimic apical thrombus, but lack of color flow can exclude a thrombus.
Conclusions:
Hospitalists should consider the diagnosis of AHCM in patients without risk factors (such as apical akinesis or aneurysm) for apical thrombus. Careful consideration will help to avoid unnecessary anticoagulation and prompt questioning for family history of SCD. If a concerning family history is revealed, defibrillator therapy should be considered.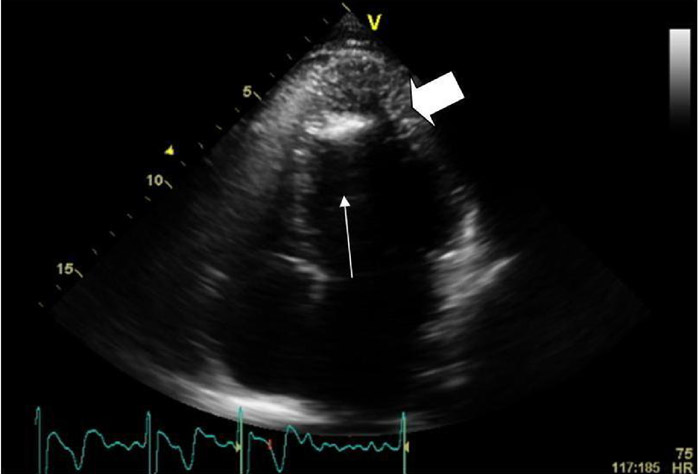 Figure 2.Images from transthoracic echocardiography demonstrating apical hypertrophy (block arrow) as well as associated calcified mass (thin arrow).
To cite this abstract:
Venkatesan C, Haddad T, Sodhi G. Taking It from the Top — a Case of Apical Hypertrophic Cardiomyopathy. Abstract published at
Hospital Medicine 2013, May 16-19, National Harbor, Md.
Abstract 429.
Journal of Hospital Medicine.
2013; 8 (suppl 2). https://www.shmabstracts.com/abstract/taking-it-from-the-top-a-case-of-apical-hypertrophic-cardiomyopathy/. Accessed April 10, 2020.
« Back to Hospital Medicine 2013, May 16-19, National Harbor, Md.