Case Presentation:
A 28-year-old female with a history of hypertension presented with difficult to control hypertension after sustaining a motor vehicle accident. She initially developed asymptomatic hypertension at age 21 denying paroxysms of headache, sweating, or tachycardia. Her blood pressure was controlled on atenolol. Patient denied illicit drug use. She had a family history of hypertension, but no history of malignancy.
Her initial blood pressure was 190/135 mm Hg and heart rate was 104/min, neither improved after adequate pain control or administration of atenolol. Physical exam was normal and did not disclose any S4 gallop, moon facies, central adiposity, abdominal striae, abdominal bruits, or pulsatile abdominal masses.
CT scan revealed multiple rib fractures, bilateral pubic rami fractures, and two para-aortic masses that did not resemble hematomas or bowel. No adrenal masses were observed, and renal arteries were patent. Urine drug screen was unrevealing. Plasma normetanephrines were >1000 pg/ml (reference range: 0-145 pg/ml) and plasma metanephrines were 96 pg/ml (reference range: 0-62 pg/ml). I-123 MIBG scan demonstrated uptake in both para-aortic masses.
Phenoxybenzamine was administered and her blood pressure normalized rapidly.
Discussion:
Sympathetic paragangliomas are unusual causes of secondary hypertension. They are rare tumors derived from neural crest cells that secrete catecholamines. The prevalence is thought to range from one in 2,500 to 6,500. Pheochromocytomas may be considered as intra-adrenal paragangliomas, but extra-adrenal sympathetic paragangliomas make up only 15% of these tumors. Most paragangliomas are sporadic may be inherited as part of familial paragangliomas that involve mutations in succinyl dehydrogenase subunits. Other heritable syndromes include MEN2, NF type 1, Carney-Stratakis dyad, and VHL syndrome. Most tumors are benign, but can metastasize. Diagnosis is made by biochemical testing and nuclear imaging utilizing MIBG, PET, or octreotide. Treatment involves alpha adrenergic blockers to mitigate the effect of catecholamine excess prior to surgery. Secondary causes of hypertension should be considered in young females.
Conclusions:
Sympathetic paragangliomas are uncommon causes of secondary hypertension and should be included in the differential diagnosis of intractable hypertension, especially when presenting with an extra-adrenal abdominal mass.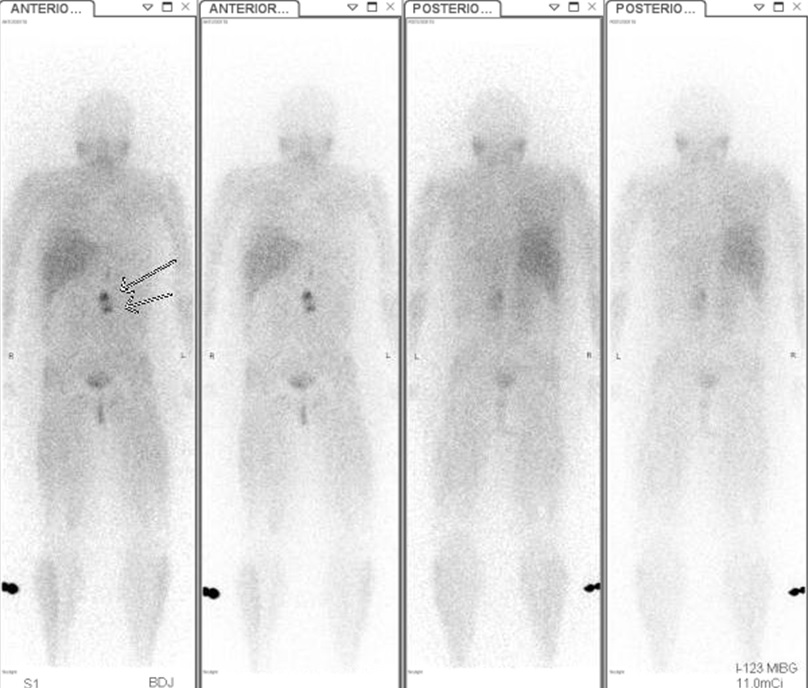 To cite this abstract:
Auyeung W, Shah M. Sympathetic Paraganglioma As an Uncommon Cause of Secondary Hypertension. Abstract published at
Hospital Medicine 2015, March 29-April 1, National Harbor, Md.
Abstract 442.
Journal of Hospital Medicine.
2015; 10 (suppl 2). https://www.shmabstracts.com/abstract/sympathetic-paraganglioma-as-an-uncommon-cause-of-secondary-hypertension/. Accessed April 9, 2020.
« Back to Hospital Medicine 2015, March 29-April 1, National Harbor, Md.