Sweet'n Low: Fever, Diffuse Rash, Anemia, and Thrombocytopenia
1University Of Michigan, Ann Arbor, MI
2 University of Michigan Medical School, Ann Arbor, MI
Meeting: Hospital Medicine 2015, March 29-April 1, National Harbor, Md.
Abstract number: 658
Keywords: Clinical Vignette Abstracts — Adult
Case Presentation: A 39-year-old man with no past medical history presented to an outside hospital with several weeks of fevers, chills, night sweats, vomiting, diffuse abdominal pain and a 7 kg weight loss.
Vital signs were T 104.6, HR 125, and RR 27, with a normal blood pressure and oxygen saturation. Examination was notable for hepatosplenomegaly and anterior cervical lymphadenopathy. Laboratory values were remarkable for hemoglobin of 4.7 g/dL, platelets of 65,000, LDH of 357 U/L, and white blood cells of 11,500. Peripheral smear showed schistocytes, spherocytes, teardrop cells, and Howell-Jolly bodies. Direct Coomb's was negative. He underwent a bone marrow biopsy on hospital day 1, which showed refractory cytopenia with multilineage dysplasia consistent with myelodysplastic syndrome. On hospital day 3, he developed pruritic, small erythematous patches on the chest and distal extremities, which rapidly progressed.
On hospital day 7, he was transferred to our hospital for further management. Upon arrival he met SIRS criteria and was started on vancomycin, cefepime, and azithromycin. Examination showed a diffusely distributed rash of erythematous papules and plaques studded with <1 mm vesicles, as well as disorientation to place and date. For presumed disseminated zoster, he was started on acyclovir 10 mg/kg. A broad infectious workup for bacterial, viral and fungal causes returned negative. CT chest, abdomen, and pelvis was unremarkable for an etiology of SIRS.
Punch biopsy was performed, showing neutrophilic dermatosis most consistent with Sweet's syndrome. One mg/kg of prednisone was started with dramatic improvement in his mental status, fevers, sinus tachycardia, malaise, and rash.
Discussion: The major criteria for Sweet's syndrome include rapid progression of erythematous plaques and histologic evidence of neutrophilic infiltrate without leukocytoclastic vasculitis. Minor criteria are fever >38°C; association with malignancy, inflammatory disease, or preceded by infection or vaccination; excellent response to steroids; and abnormal laboratory values: ESR >20, positive CRP, WBC >8000, and >70% neutrophils. In malignancy-associated Sweet's syndrome, symptoms may begin before, after, or concurrent with onset of malignancy. Sweet's syndrome may also herald the relapse or progression of malignancy, which should prompt clinicians to reevaluate malignancy-related diagnostic testing.
Conclusions: Hospitalists must be able to recognize the clinical presentation and promptly diagnose Sweet's syndrome to avoid further unnecessary diagnostic testing, inappropriate antimicrobial use, and to search for potentially related conditions.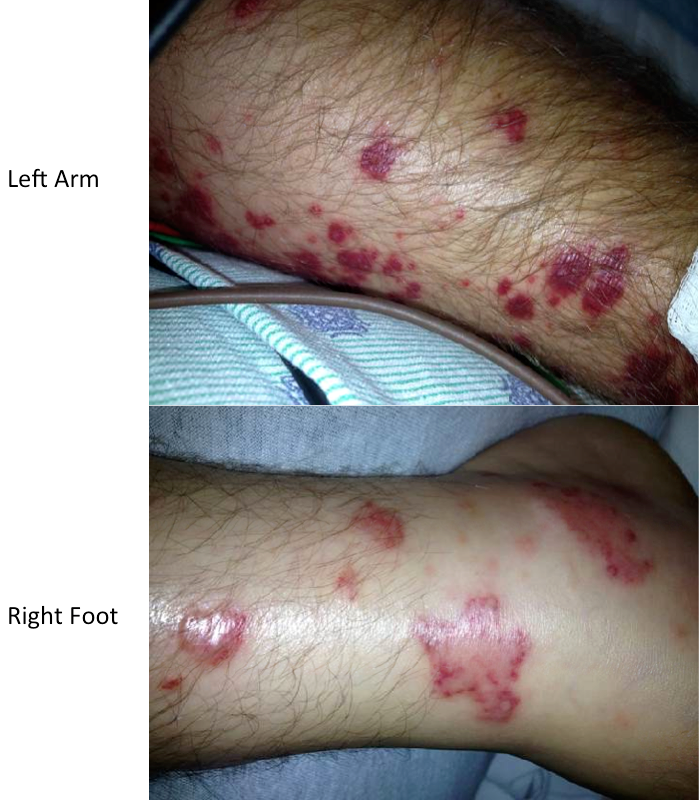 To cite this abstract:
Pristoop R, Mack M. Sweet'n Low: Fever, Diffuse Rash, Anemia, and Thrombocytopenia. Abstract published at
Hospital Medicine 2015, March 29-April 1, National Harbor, Md.
Abstract 658.
Journal of Hospital Medicine.
2015; 10 (suppl 2). https://www.shmabstracts.com/abstract/sweetn-low-fever-diffuse-rash-anemia-and-thrombocytopenia/. Accessed March 28, 2020.
« Back to Hospital Medicine 2015, March 29-April 1, National Harbor, Md.