Sustained Reductions in Inappropriate Packed Red Blood Cell Utilization Through Mandatory Transfusion Order Set and Complementary Educational Campaign
1Emory University, Atlanta, GA
2Emory Johns Creek Hospital, Johns Creek, GA
Meeting: Hospital Medicine 2011, May 10-13, Dallas, Texas.
Abstract number: 107
Background:
Five million patients receive packed red blood cell (PRBC) transfusions annually in the United States and Canada, and 43,000 units of PRBCs are transfused daily. Although PRBCs augment oxygen delivery, they also increase the risk of infectious and ischemic morbidity and mortality, prolong length of stay, and increase hospital costs. Despite substantial evidence to support restrictive transfusion practices, providers retaining liberal hemoglobin triggers (HTs) create preventable patient risk while inflating costs and overutilization of a scare resource. We hypothesized that a mandatory order set containing clear indications for PRBC transfusion could reduce the proportion of inappropriate PRBC transfusions in a community teaching hospital.
Methods:
A consensus‐building phase preceded the intervention with physician representatives from hematology, hospital medicine, and general surgery collaborating with blood bank personnel and nursing staff to create a list of approved transfusion indications and suggested HTs. Appropriateness of PRBC transfusions for hospitalized patients was determined for a 7‐month baseline and 13‐month postintervention period through chart review by 2 or more physicians for every patient receiving a PRBC transfusion. A mandatory paper‐based transfusion order set, incorporating the approved indications and HTs, was launched as the only way to order PRBCs. Nurses, blood bank staff, and physicians were informed and educated about the new program.
Results:
During the 7‐month baseline period, 21% of all inpatient PRBC transfusion orders were deemed inappropriate. Postintervention, 8% of all PRBC transfusion orders were deemed inappropriate (P < 0.01); see the statistical process control chart in Figure 1. Results continue to be sustained for 13 months.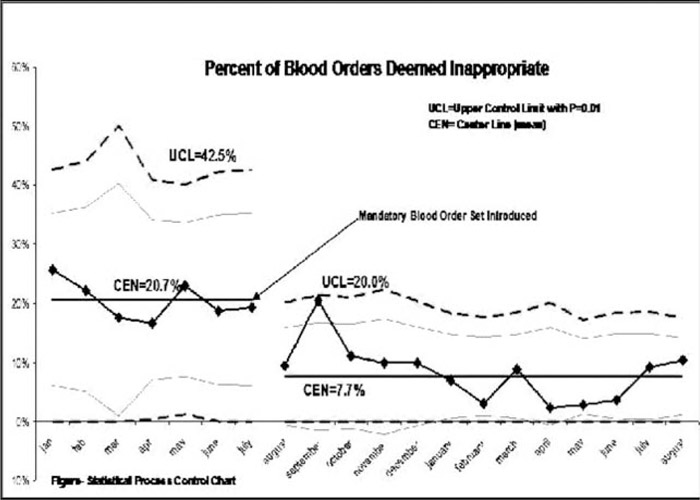 FIGURE 1. Statistical process control chart showing percent of blood transfusion orders deemed inappropriate.
Conclusions:
A mandatory transfusion order set reduced inappropriate PRBC transfusions by more than half at a community teaching hospital. Important cofactors included staff education and consensus building among local opinion leaders regarding HTs and PRBC use.
Disclosures:
H. Shabbir ‐ none; S. Ponnamballum ‐ none; M. Botha ‐ none; J. Stein ‐ none
To cite this abstract:
Shabbir H, Ponnambalam S, Botha M, Stein J. Sustained Reductions in Inappropriate Packed Red Blood Cell Utilization Through Mandatory Transfusion Order Set and Complementary Educational Campaign. Abstract published at
Hospital Medicine 2011, May 10-13, Dallas, Texas.
Abstract 107.
Journal of Hospital Medicine.
2011; 6 (suppl 2). https://www.shmabstracts.com/abstract/sustained-reductions-in-inappropriate-packed-red-blood-cell-utilization-through-mandatory-transfusion-order-set-and-complementary-educational-campaign/. Accessed April 1, 2020.