Case Presentation:
This is a 66‐year‐old woman with no diagnoses of any pulmonary diseases or any occupational exposures but with ulcerative colitis diagnosed 9 months prior to admission for which she was started on sulfasalazine, who was admitted to the internal medicine service for fever of 39°C at home, nonproductive cough and dyspnea. Patient had normal physical exam, no leukocytosis, no infiltrates on chest x‐ray, and symptomatic improvement with cough suppressants so was discharged within 24 hours with a diagnosis of viral URI. Patient was readmitted 5 days later after having worsening cough and higher fevers to 40°C at home. Still with normal physical exam and without leukocytosis or eosinophilia, however, subsequent chest xray revealed bilateral interstitial markings and small bilateral pleural effusions. Patient was started on ceftriaxone and azithromycin for community acquired pneumonia but without clinical improvement by hospital day 3. HRCT chest was ordered subsequently to evaluate for interstitial lung disease which showed coarse interstitial markings anteriorly as well as in the dependent portions bilaterally and small pleural effusions bilaterally but without honeycombing. Sulfasalazine toxicity was suspected and thus sulfasalazine was discontinued and patient was started on intravenous methylprednisolone. Within 48 hours patient had dramatic improvement in symptoms of cough and dyspnea. At 72 hours patient had repeat HRCT chest, which showed near‐complete resolution of interstitial disease and pleural effusions. Subsequent PFTs were completely normal.
Discussion:
Sulfasalazine is not uncommonly used for inflammatory bowel disease and rheumatoid arthritis, but pulmonary disease from sulfasalazine is an uncommon entity. Case reports document myriad histopathologic diagnoses but most commonly with interstitial/alveolar inflammation and eosinophilia. Fever, dyspnea, and cough are the most common symptoms, making it difficult to distinguish from pneumonia without a higher index of suspicion. Due to the rarity of the condition, there are not consensus guidelines on management. Management in case reports have in common cessation of the drug but is inconsistent about initiation of corticosteroids. No known case reports have documented with HRCT the rapid improvement of pulmonary disease that can occur before and after treatment with corticosteroids and drug cessation, as was shown here, thus suggesting the optimal management strategy and indicating favorable prognosis
Conclusions:
Early diagnosis and treatment of sulfasalazine‐induced pulmonary disease can result in marked and rapid improvement of signs and symptoms.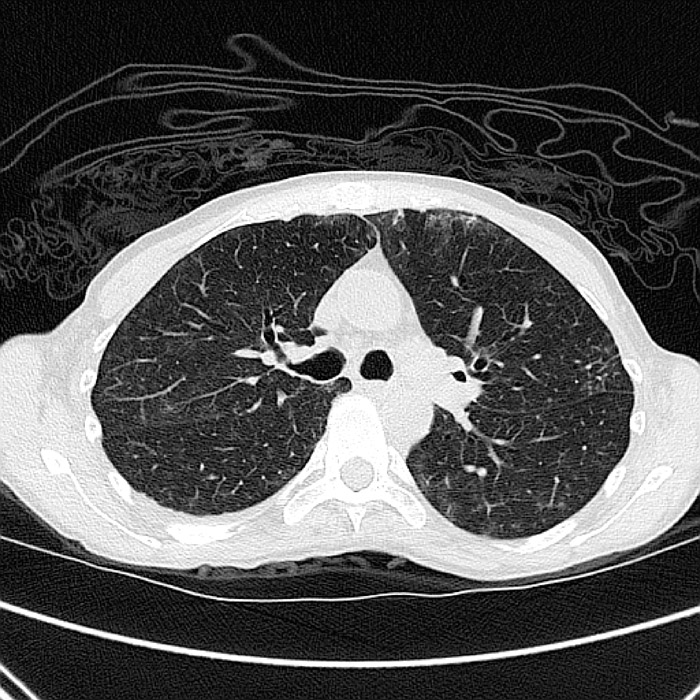 Subsequent high‐resolution CT chest done 72 hours after initial CT documenting near resolution of infiltrates.
To cite this abstract:
Sebastian C. Sulfasalazine‐Induced Pulmonary Disease: A Case Report and Review of the Literature. Abstract published at
Hospital Medicine 2013, May 16-19, National Harbor, Md.
Abstract 481.
Journal of Hospital Medicine.
2013; 8 (suppl 2). https://www.shmabstracts.com/abstract/sulfasalazineinduced-pulmonary-disease-a-case-report-and-review-of-the-literature/. Accessed April 10, 2020.
« Back to Hospital Medicine 2013, May 16-19, National Harbor, Md.