Case Presentation:
A 77 year old male with COPD and 25 pack year tobacco use presented with dyspnea associated with a productive white cough for 3 days. Patient denied any recent travel, but was born in Puerto Rico and moved to New York at age 19. He was admitted 2 months prior for similar complaints and was found to have chronic obstructive pulmonary disease (COPD) (newly diagnosed) complicated by community acquired pneumonia, for which the patient received Levofloxacin and a steroid taper.
On this admission, vital signs: T 97°F, HR 99, BP 147/79, R 16, SaO2 98% RA. Physical exam revealed diffuse inspiratory and expiratory wheezing. Initial labs: WBC 10.0 K/uL with marked eosinophilia of 25%. CXR demonstrated bilateral perihilar fullness. CT Chest showed perihilar calcified lymphadenopathy and scattered pulmonary granulomas.
There was clinical suspicion for sarcoidosis, however, bronchoscopy was postponed as per patient's request. Stool ova and parasite studies returned negative, but IgE levels were elevated (5947 KU/L) and ELISA for Strongyloides IgG antibody was positive. Steroids (for possible sarcoidosis) were held due to concern for parasitic infection. Patient was diagnosed with Strongyloides-induced pneumonitis and discharged after Ivermectin treatment.
1 month follow-up labs: IgE 15,564 KU/L and WBC 8.0 K/uL with uptrending eosinophilia of 31.4%. Repeat ova and parasite was again negative. Given the uptrending IgE, patient received a second dose of Ivermectin. 2 month follow-up labs showed IgE 4479 KU/L and WBC 6.8 K/uL with eosinophils of 6.2%. Outpatient bronchoscopy later showed cytology findings consistent with sarcoidosis. Patient underwent monitored pulse steroid doses with tapering, and thereafter, achieved resolution of respiratory symptoms.
Discussion:
Strongyloidiasis is an infection caused by the parasitic nematode Strongyloides. This parasite has the distinctive ability to replicate within a host for decades, producing minimal symptoms. Because of its subclinical course in immunocompetent individuals, the incidence of Strongyloidiasis is often underestimated. Our case illustrates a misdiagnosis of COPD, diagnosing a coinfection of Stronglyoides and sarcoidosis, successfully treating the Stronglyoides first and then, treating the sarcoidosis.
Conclusions:
Strongyloidiasis may mimic other illnesses like COPD, or may even coexist with diseases such as sarcoidosis (both of which typically require steroids as treatment). One must be discerning regarding systemic corticosteroids as they may trigger fatal Stronglyloides hyperinfections.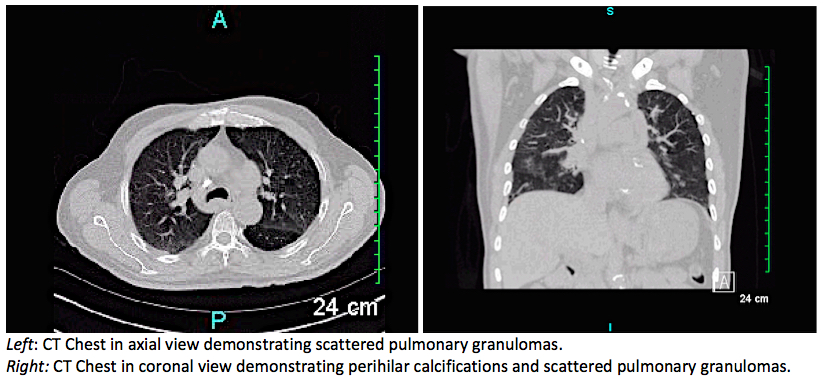 To cite this abstract:
Gao X, Joshi V, Thomas S, Grabscheid E. Strongyloidiasis with Coexisting Sarcoidosis: Steroids Can Be Tricky. Abstract published at
Hospital Medicine 2016, March 6-9, San Diego, Calif.
Abstract 511.
Journal of Hospital Medicine.
2016; 11 (suppl 1). https://www.shmabstracts.com/abstract/strongyloidiasis-with-coexisting-sarcoidosis-steroids-can-be-tricky/. Accessed April 5, 2020.
« Back to Hospital Medicine 2016, March 6-9, San Diego, Calif.