Case Presentation:
A 57‐year‐old man presented to the emergency room with complaints of dysphagia and midsternal chest discomfort after he ate a big lump of steak and felt it stuck in his throat. Chest discomfort was nonradiating with no aggravating or relieving factors. He complained of nausea and 2 episodes of nonbloody vomiting consisting of food and water. He was having retained salivary secretions and was repeatedly spitting. He had no shortness of breath, palpitations, cough, dizziness, or loss of consciousness. The patient had a fluoroscopy of the esophagus in the emergency room, which showed ingested and retained steak within the distal esophagus (esophageal food bolus obstruction, also known as steakhouse syndrome)
Discussion:
Steakhouse syndrome patients develop symptoms immediately after swallowing a large mouthful, usually of inadequately chewed meat, the result of intoxication, wearing dentures, or being too embarrassed to spit out a large piece of gristle. The patient often develops substernal chest pain that may mimic the pain of a myocardial infarction. This discomfort increases with swallowing and is followed by retained salivary secretions which, unlike myocardial infarction, leads to drooling. The patient usually arrives with a receptacle under his mouth into which he is repeatedly spitting. At times these secretions will cause paroxysms of coughing, gagging, or choking. It is usually associated with diseases that narrow the lumen of the esophagus such as eosinophilic esophagitis, Schatzki rings, peptic strictures, webs, cancers of the esophagus, and nutcracker esophagus. Standard treatment involves the use of endoscopy and removal of the foreign body with a basket or snare. Intravenous glucagon to decrease the lower esophageal sphincter pressure may sometimes allow for passage of the bolus. Use of sublingual nitroglycerin or nifedipine to relax the lower esophageal sphincter is usually not as effective.
Conclusions:
Patients who experience a food bolus obstruction of the esophagus are usually older than 60 years and often have an underlying structural lesion. Esophagogastroduodenoscopy should be performed to relieve obstruction and to find out the underlying pathology.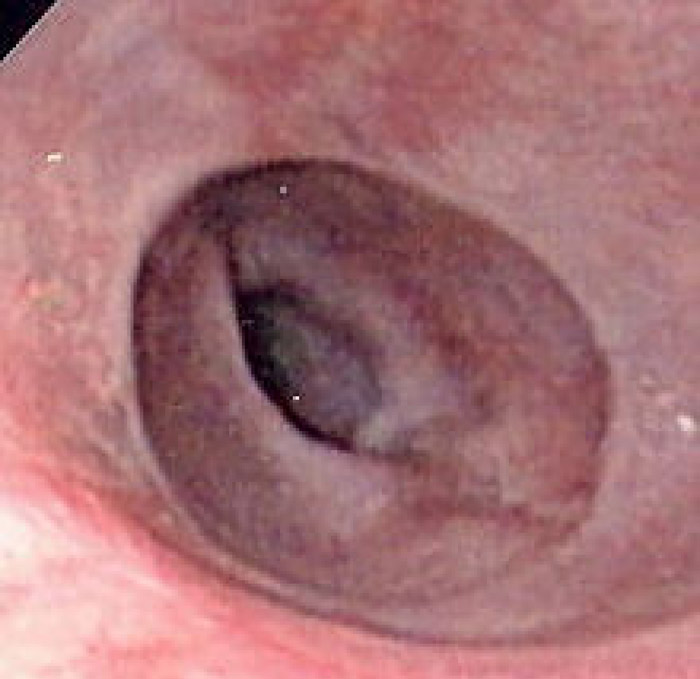 To cite this abstract:
Ohri H, Pakanati A, Thomas S. Steakhouse Syndrome. Abstract published at
Hospital Medicine 2013, May 16-19, National Harbor, Md.
Abstract 301.
Journal of Hospital Medicine.
2013; 8 (suppl 2). https://www.shmabstracts.com/abstract/steakhouse-syndrome/. Accessed April 2, 2020.
« Back to Hospital Medicine 2013, May 16-19, National Harbor, Md.