Background: Advanced practice providers (APPs) such as nurse practitioners and physician assistants have become an important addition to the hospital medicine team with the growing demand for physician providers. As APPs experience variable exposure to hospital medicine during training, the Society of Hospital Medicine and other governing bodies such as the American Academy of Physician Assistants highlight the need for effective onboarding programs for successful integration into the hospitalist model. Prior to the initiation of this project, the Section of Hospital Medicine at our institution lacked a formal onboarding process for APP hospitalists. This lack of structure resulted in significant discrepancies in knowledge and variability in confidence at onboarding completion.
Purpose: The aim of this project is to improve the APP hospitalist onboarding process by developing and implementing a standardized checklist and schedule.
Description: To initially identify opportunities for improvement, a survey was created to elicit feedback on the previous APP onboarding process. Survey results highlighted a lack of education on practices unique to our medical system as a barrier to effective onboarding. A multidisciplinary team was created to process map the ideal onboarding period (Figure 1). Based on the team's review of the process map and prior new hire feedback, a 30-day onboarding schedule and a checklist tool was developed. This document identifies key areas of competency required prior to assuming the role of primary provider on clinical service (Table 1). In order to mentor the new hire through completion of this checklist, we recruited and trained a primary preceptor from within the hospitalist section. The preceptor reviews the checklist requirements with the new clinician each week and gives educational talks on assigned checklist topics. Following the onboarding process, a satisfaction survey is administered to collect feedback. We anticipate that the checklist will be built upon and modified throughout onboarding cycles as individual needs of new hires are identified. Preliminary survey data shows that our efforts to improve this process for our most recent new hires has improved employee satisfaction and knowledge acquisition.
Conclusions: Newly hired APPs working in hospital medicine require structured onboarding in order to quickly and properly orient them to hospital systems and clinical operating procedures. A checklist-based system paired with strong mentorship allows each department to identify key areas of competency and ensure consistency in training new hires.
IMAGE 1: Figure 1: Hospitalist APP Onboarding Process Map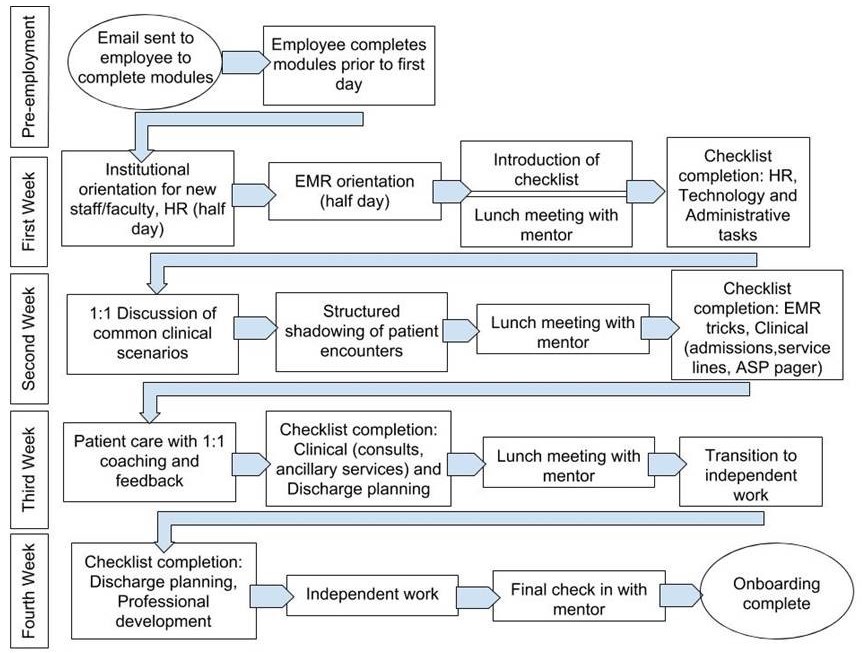 IMAGE 2: Table 1: Examples of Key Competencies for Hospitalist APP Onboarding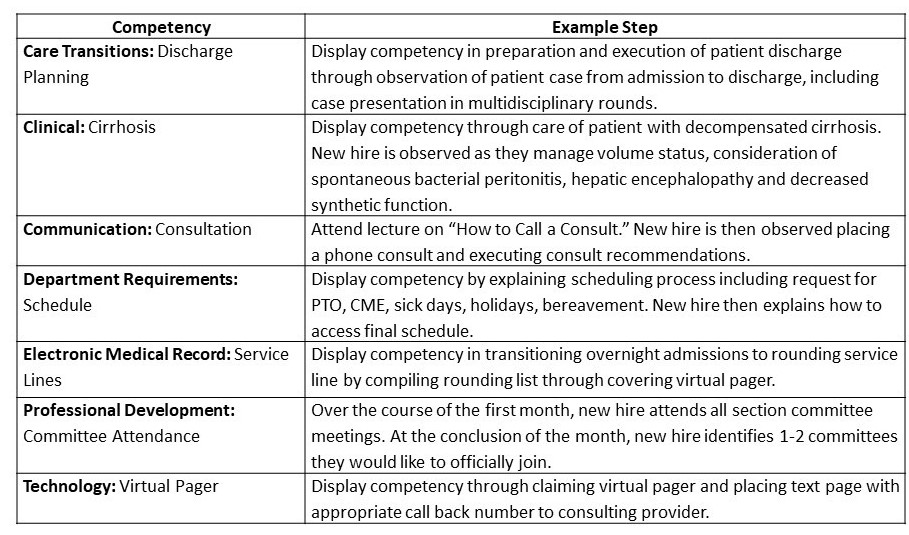 To cite this abstract:
McGrath, B; Konold, VJ; Forbes, M; Cerasale, MT; Schram, AW. STANDARDIZATION OF ADVANCED PRACTICE PROVIDER HOSPITAL MEDICINE ONBOARDING: DEVELOPMENT OF A NEW HIRE ONBOARDING CHECKLIST. Abstract published at
Hospital Medicine 2019, March 24-27, National Harbor, Md.
Abstract 84. https://www.shmabstracts.com/abstract/standardization-of-advanced-practice-provider-hospital-medicine-onboarding-development-of-a-new-hire-onboarding-checklist/. Accessed December 6, 2019.
« Back to Hospital Medicine 2019, March 24-27, National Harbor, Md.