Case Presentation: A 68 year old Egyptian male came with complaints of nausea, non-bilious, non-bloody vomiting, mild right lower quadrant abdominal pain and generalized weakness for one week associated with decreased appetite and 15 pounds weight loss in 2-3 months. He denied any fever or chills. His reviewer of systems was unremarkable otherwise. His past medical history was significant for ESRD for which he underwent allogenic renal transplant from his wife around 15 years ago and essential hypertension. His medications included metoprolol, tacrolimus, mycophenolate mofetil and prednisone. His physical examination was only significant for mild right lower quadrant around transplanted kidney. There was no lymphadenopathy appreciated. His laboratory examination was significant for normocytic anemia with Hb of 8, bicarbonate of 7, BUN of 78 and creatinine of 7.3 which was worse than his baseline creatinine of around 2.0. The urine analysis showed positive leukocyte esterase, protein of 500 and numerous RBC but no cast. Based on the available data the differential diagnoses included acute kidney injury, UTI, post-obtructive uropathy and chronic allograft rejection. The ultrasound of kidney was ordered which revealed 8.5 cm X 8-cm solid mass in superior poll of transplanted kidney. To further evaluate the mass CT scan of the abdomen and pelvis with intravenous contrast was obtained which showed an ill defined 10.7 X 7.2 X 9.1cm heterogeneously enhancing mass at the superior border of transplanted kidney(FIGURE 1 and 2) and a centrally necrotic enlarged aortocaval lymph node. Based on imaging there was a suspicious for renal cell carcinoma with lymph node metastasis. The patient underwent nephrectomy of transplant kidney. The metastatic workup did not reveal any distant metastasis. The pathology report showed squamous cell carcinoma of renal pelvis of transplanted kidney. Also the fact that patient was from Egypt and was found to have squamous cell carcinoma, he underwent cystoscopy with biopsy which was negative for Schistosomiasis or bladder cancer. Retrospectively efforts were made to find any skin lesion suspicious for cancer but it was negative. The patient remained disease free for 2 months and was planned for cisplatin based adjuvant chemotherapy.
Discussion: Characteristics of de novo kidney allograft SCC is currently unknown. The largest study including 41806 renal transplant patients showed an incidence of 0.19% out of which most of them were papillary carcinomas. Review of literature suggested current primary treatment of renal SCC is nephrectomy. Adjuvant chemotherapy or radiotherapy is indicated in metastatic disease.
Conclusions: Although an asymptomatic kidney graft can be safely left in place, there is a risk of malignancy developing within the graft in the long term. Therefore, the possibility of a malignancy developing within a failed allograft should always be considered in unusual post-transplant settings.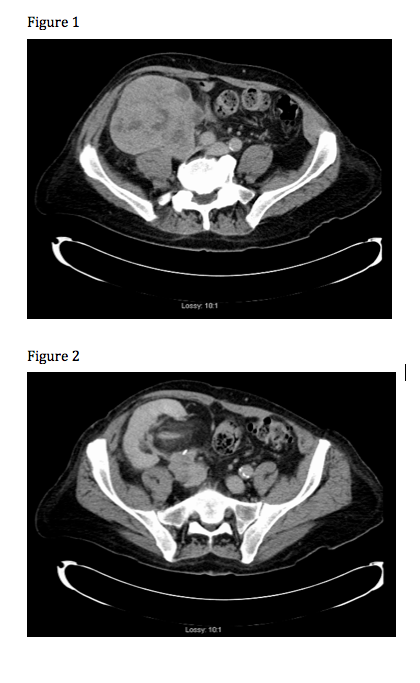 To cite this abstract:
Chevli P, Dogra P, Kelash F, Badin S, Patel E, Haddad D. Squamous Cell Carcinoma of De Novo Kidney Allograft: An Extremely Rare Tumor. Abstract published at
Hospital Medicine 2015, March 29-April 1, National Harbor, Md.
Abstract 484.
Journal of Hospital Medicine.
2015; 10 (suppl 2). https://www.shmabstracts.com/abstract/squamous-cell-carcinoma-of-de-novo-kidney-allograft-an-extremely-rare-tumor/. Accessed April 2, 2020.
« Back to Hospital Medicine 2015, March 29-April 1, National Harbor, Md.