Case Presentation:
A 63 year old male with 40-pack-year of smoking history presented with complaints of sudden onset left sided flank pain which radiated to left upper quadrant, constant, sharp, 10/10 and was getting worse with movement. He also had nausea and vomiting. This was preceded by weakness for 2 weeks. He denied any lightheadedness, hemoptysis, hematuria or weight loss. Rest of the review of system was negative. He had no significant past medical history. On examination, his BP was 162/76 mmHg; rest of the vitals were within normal limits. He had tenderness over left costovertebral angle. Lab work showed leucosytosis at 15.86 x 103/mm3. The bleed was self-limited and patient remained hemodynamically stable. Blood samples including serum cortisol, ACTH levels and 24 hours urine metanephrines, were all in the normal reference range. CT abdomen revealed a 5.5 cm left adrenal hemorrhage. Further work up revealed right upper lung mass on chest Xray suspicious for malignancy. CT chest showed 8.4 X 6.2 X 9 cm pleural-based spiculated right upper lobe mass consistent with pulmonary neoplasm. He underwent blind trans-bronchial biopsy via bronchoscopy. Histopathology was consistent with invasive poorly differentiated non-small cell lung cancer. Currently he is undergoing outpatient staging lung malignancy workup: MRI brain, whole body PET/CT scan. PET scan revealed probable metastatic adenopathy in the right hilum, right paratracheal and anterior mediastinal lymph nodes.
Discussion:
Spontaneous Adrenal Hemorrhage (AH) is an uncommon condition which may be unilateral or bilateral. AH is usually seen after anticoagulation therapy, trauma, sepsis, Waterhouse-Friderichsen syndrome and tumors. Primary adrenal cortical neoplasm rarely presents with spontaneous retroperitoneal hemorrhage. It's uncommon to find secondary metastatic tumors to present as spontaneous adrenal bleed as a presenting problem like in our case.
The possibility of AH should be kept in mind for acute abdominal pain, especially in patients with a diagnosis of a perirenal hematoma upon imaging. The primary sites associated with metastatic involvement of the adrenal glands are cancers of the lung, gastrointestinal tract, breast, and kidney. In clinically stable patients, preoperative investigation and diagnosis for Adrenal Hemorrhage should be performed in detail with a conservative approach. Transcatheter embolization can be used to control active bleeding. If adrenalectomy is not feasible, combination chemotherapy should be applied as in metastatic disease.
Conclusions:
Adrenal metastases are usually clinically silent and are most often diagnosed during staging procedures. Occasionally they present with acute abdominal pain from spontaneous adrenal hemorrhage.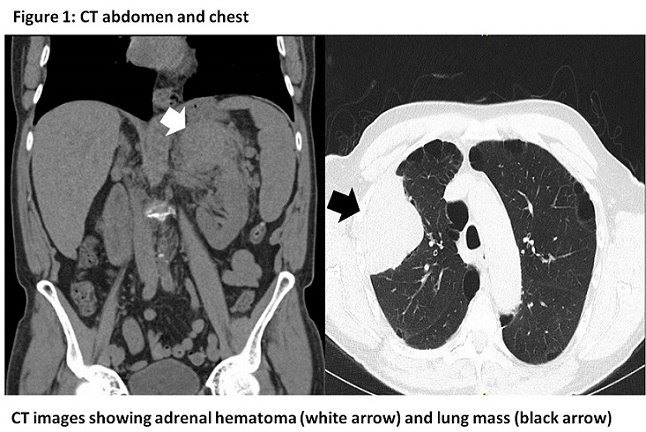 To cite this abstract:
Mohapatra S, Pietrangelo L, Alghamdi A. Spontaneous Unilateral Adrenal Hemorrhage in an Elderly. Abstract published at
Hospital Medicine 2016, March 6-9, San Diego, Calif.
Abstract 695.
Journal of Hospital Medicine.
2016; 11 (suppl 1). https://www.shmabstracts.com/abstract/spontaneous-unilateral-adrenal-hemorrhage-in-an-elderly/. Accessed April 4, 2020.
« Back to Hospital Medicine 2016, March 6-9, San Diego, Calif.