Case Presentation:
A 34‐year‐old African American male with sickle cell trait and Gilbert's syndrome presented To Ihe emergency room with left‐sided, throbbing flank pain that radiated To the ipsilateral testicle. Four months ago, he underwent emergency splenectomy for a splenic hematoma after a trivial abdominal injury. There is no family history of bleeding diathesis. Pertinent physical exam findings included tachycardia, bilateral subconjunctival hemorrhage, scleral icterus, and left flank tenderness. Laboratory tests showed a hemoglobin of 7.5 gm/dL, normal platelet count, and elevations of both PT and aPTT. An abdominal CT scan showed a large left‐sided perinephric hematoma An emergency selective renal arteriogram showed active bleeding in the lower pole of the left kidney that was treated with gelatin sponge and coil embolization. A PT mixing study corrected with the addition of normal plasma essentially ruling out an inhibitor of the extrinsic and common pathway. Table 1 shows Ihe coagulation factor levels of the patient. Monoclonal protein analysis of serum and urine confirmed the presence of free lambda light chains. Serum beta‐2 microglobulin was elevated. An abdominal fat pad biopsy showed benign fibroadipose Tissue. He subsequently developed hematemesis. An upper gastrointestinal endoscopy showed erythematous mucosa found in the gastric cardia. Random biopsies of the duodenum and gastric cardia revealed the presence of amyloid deposits. Amyloidosis was also discovered in the bone marrow biopsy specimens.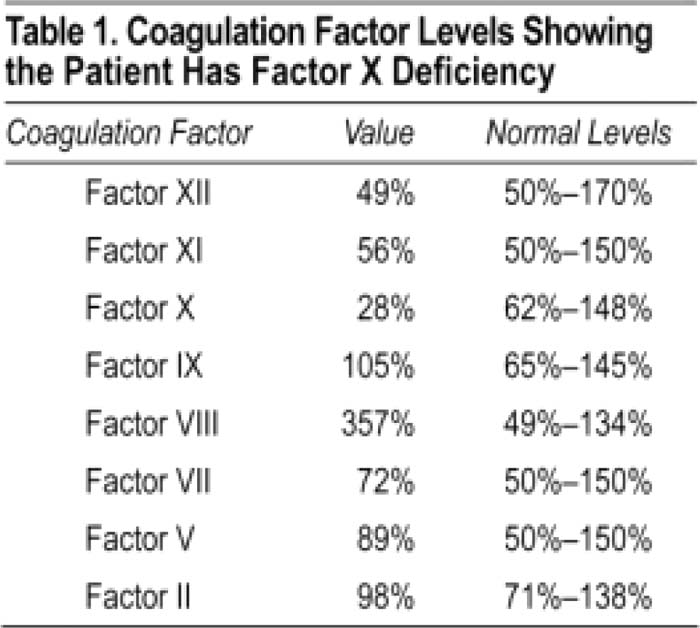 Discussion:
The incidence of acquired factor X deficiency with primary amyloidosis is estimated at 8.7%. The deficiency results from The binding of factor X to the amyloid fibrils. Other mechanisms of hemorrhage include capillary fragility because of amyloid deposition in the vessel walls, dysfibrinogenemia, and abnormal platelet aggregation. Treatment is hematopoietic cell transplantation (HCT). For patients with contraindication to HCT, treatment with melphalan/dexamethasone regimen is used.
Conclusions:
In patients with unexplained spontaneous hemorrhages, a thorough search for disorders of hemostasis should be conducted for appropriate treatment. Abnormally prolonged coagulation tests should prompt for the investigation of coagulation factor deficiencies or inhibitors.
Author Disclosure:
T. Catacutan, Cleveland Clinic Foundation, employee; A. Lichtin, Cleveland Clinic Foundation, employee, none.
To cite this abstract:
Catacutan T, Lichtin A. Spontaneous Intra‐Abdominal Hemorrhage: A Case Report. Abstract published at
Hospital Medicine 2010, April 8-11, Washington, D.C.
Abstract 231.
Journal of Hospital Medicine.
2010; 5 (suppl 1). https://www.shmabstracts.com/abstract/spontaneous-intraabdominal-hemorrhage-a-case-report/. Accessed January 28, 2020.
« Back to Hospital Medicine 2010, April 8-11, Washington, D.C.