Case Presentation:
Three previously healthy premenopausal women with negative past medical history presented with chest pain. The patients had positive biochemical cardiac markers and ECG changes showing acute cardiac injury. An emergent cardiac catheterization was done, and the angiographic appearance was that of a diffusely diseased left anterior descending artery (LAD) artery with the proximal vessel appearing uncompromised (Fig. 1). Intra vascular ultrasound was done on 2 of the 3 patients to confirm the diagnosis of spontaneous coronary artery dissection (SCAD).
Discussion:
SCAD customarily presents as either unstable angina or an acute myocardial infarction in women in the peripartum period of life. Any coronary artery can be affected, and the dissection usually begins within 2 cm of the aortic ostium. The presence of SCAD is typically established by coronary angiography. On angiography. SCAD is established by the presence of extraluminal radiolucent contrast after dye washout from the remainder of the vessel.
Conclusions:
SCAD must be considered the leading possibility to explain an acute ischemic event in a woman in the peripartum period, particularly if she is multiparous and has no risk factor for atherosclerosis. The focus of this report is to define another presentation of this condition, where the dissection occurs distally rather than proximally. that if unrecognized might result in an incorrect diagnosis and inappropriate therapy.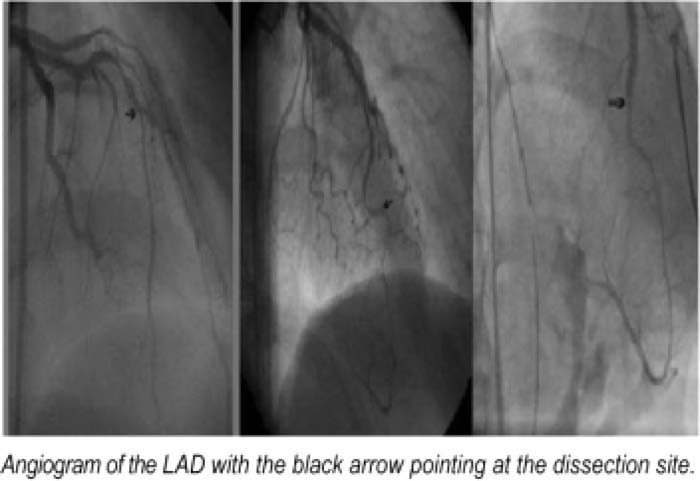 Author Disclosure:
A. Yehya, Emory University Hospital, no conflict of interest; Douglas Morris, Emory University Hospital, no conflict of interest.
To cite this abstract:
Yehya A, Morris D. Spontaneous Coronary Artery Dissection: Distal Rather Than Proximal. Abstract published at
Hospital Medicine 2010, April 8-11, Washington, D.C.
Abstract 388.
Journal of Hospital Medicine.
2010; 5 (suppl 1). https://www.shmabstracts.com/abstract/spontaneous-coronary-artery-dissection-distal-rather-than-proximal/. Accessed October 17, 2019.
« Back to Hospital Medicine 2010, April 8-11, Washington, D.C.