Small B‐Cell Lymphoma Manifesting Solely as Nephrotic Range Proteinuria: A Case Report
1Jewish Hospital, Cincinnati, OH
2Jewish Hospital, Cincinnati, OH
3Jewish Hospital, Cincinnati, OH
Meeting: Hospital Medicine 2010, April 8-11, Washington, D.C.
Abstract number: 207
Case Presentation:
A 45‐year‐old white female with no significant past medical history presented with bilateral lower‐extremitiy edema for 6 months. Physical examination was unremarkable except for pitting edema. Initial workup showed hypoalbuminemia and 24‐hour urinary proteinuria of around 7 g. Further lab work was negative for hepatitis profile, antistreptolysin 0 titer (ASO), antineutro‐philic antibody (ANA), antineutrophilic cytoplasmic antibodies (ANCA). Quantitative immunoglobulin showed low levels of IgG without M peak. Serum uric acid and LDH were normal; however, complement levels (C3, C4) were low. Renal biopsy showed a pattern of membranoproliferative glomerulonephritis (MPGN) type I but interestingly also showed atypical interstitial infiltration composed of B cells positive for CD2Q. A bone marrow biopsy and flow cytometry revealed monoclonal lambda B cells marked positively for CD19 and CD20, confirming the diagnosis of low‐grade B‐cell lymphoma. CT scans of the neck, chest, abdomen, and pelvis were unremarkable. PET scan was also negative. The patient then received chemotherapy with a CHOP/Rituxan regimen for 8 cycles with complete remission of lymphoma, confirmed by repeat bone marrow biopsy, and quite interestingly, her proteinuria also resolved completely.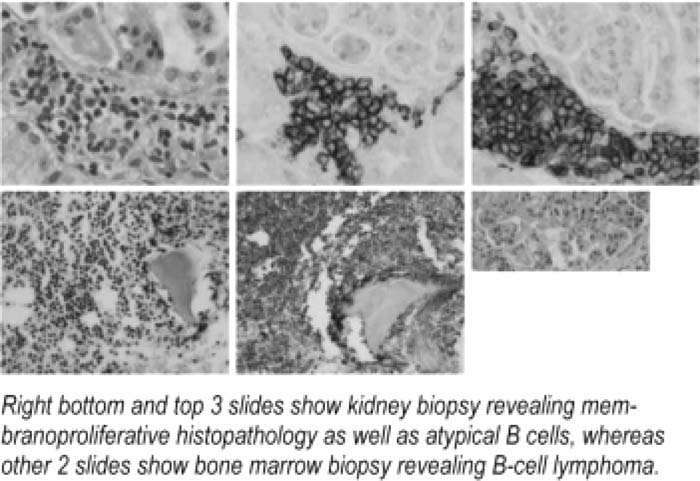 Discussion:
Renal involvement in lymphomatoid malignancy is a well‐known phenomenon, and renal manifestations include acute renal failure, chronic renal failure, and proteinuria with or without nephrotic syndrome. These renal manifestations, however, usually develop in later stages ot lymphomas after other manifestations, whereas in our reported case, This patient developed MPGN as a complication of primary B‐cell lymphoma, and it was the only extranodal manifestation of lymphoma, which is very rare but fortunately led to the primary diagnosis. Its pathogenesis involves cryoglobulin and/or immunoglobulin synthesis by a secretory B‐cell clone.
Conclusions:
The possibility of lymphoma should be taken into consideration in patients with unexplained proteinuria, and renal biopsy is a good tool with which to make an early diagnosis.
Author Disclosure:
W. Ahmed, none; N. Khan, none; M. Gowda, none; P. Bains, none.
To cite this abstract:
Ahmed W, Khan N, Gowda M. Small B‐Cell Lymphoma Manifesting Solely as Nephrotic Range Proteinuria: A Case Report. Abstract published at
Hospital Medicine 2010, April 8-11, Washington, D.C.
Abstract 207.
Journal of Hospital Medicine.
2010; 5 (suppl 1). https://www.shmabstracts.com/abstract/small-bcell-lymphoma-manifesting-solely-as-nephrotic-range-proteinuria-a-case-report/. Accessed April 6, 2020.
« Back to Hospital Medicine 2010, April 8-11, Washington, D.C.