Skin Deep: Investigations Beyond the Diaper Rash
1George Washington University School of Medicine and Health Sciences, Washington, DC
2Children's National Medical Center, Washington, DC
3Medstar Washington Hospital Center, Washington, DC
Meeting: Hospital Medicine 2015
Abstract number: 758
Keywords: Clinical Vignette Abstracts — Pediatric
Case Presentation:
AR is a 3-week-old full term, previously healthy girl, who presented to the Emergency Department (ED) with a rash involving the perianal skin and gluteal crease. The rash began at 1 week of life. The primary care provider (PCP) presumed it was a typical diaper dermatitis, and prescribed oral amoxicillin and mupirocin ointment.
The rash expanded and became more red, and soon developed shallow perianal erosions, at which point the PCP started topical nystatin. The erosions worsened and were associated with pain during defecation and diaper changes. The patient was afebrile and a review of systems was otherwise negative. The birth history was negative for complications.
On physical examination, a bright red blanching patch covered the perianal skin and the medial parts of both buttocks. Within this patch was a 1cm ulcer on the right buttock and several erosions on the left. There were no vesicles, pustules, or satellite lesions and the inguinal folds were uninvolved.
The differential diagnosis included irritant contact dermatitis, candidiasis, or another infectious process such as impetiginized dermatitis. The Dermatology Service was consulted, and the differential diagnosis was expanded to include infantile hemangioma (IH), herpes simplex virus infection and pyoderma gangrenosum.
In the ED, an ultrasound of the affected area showed mild subcutaneous inflammation deep to the skin lesions. Bacterial cultures were obtained. The parent was advised to continue the course of amoxicillin prescribed by the PCP, with use of a zinc oxide barrier cream.
AR was seen the next day in the Dermatology Clinic, where a punch biopsy was performed. The result was diagnostic for IH. Given the patient's age, she was admitted to the hospital for initiation of treatment with oral propranolol.
Discussion:
Infantile hemangiomas are the most common benign tumor of infancy; only 10% occurring in the perineal region. This location seems prone to ulceration, perhaps because of stooling and hygienic friction.1 Our patient's initial presentation resembled a typical diaper dermatitis, but the lack of response to customary therapy prompted further investigation. Similar cases of non-healing perineal eruptions have been described in the literature as hemangiomas.1,2,3 A punch biopsy is not necessary to diagnose most IHs, but can be helpful with subtle, flat, patch-like hemangiomas. Perineal hemangiomas can be associated with congenital anomalies, and should prompt the physician to consider LUMBAR syndrome, which is associated with urogenital abnormalites and spinal dyraphism.3
Conclusions:
Infantile hemangiomas can occur in the perineal region as large, flat, blanching red patches. IH should be considered when cases of presumed diaper dermatitis are refractory to treatment.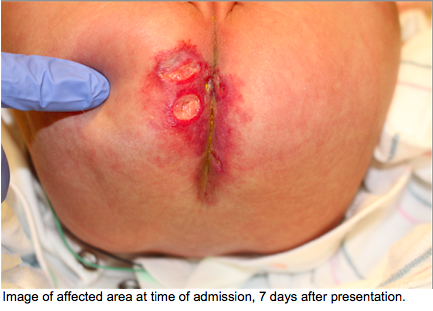 To cite this abstract:
Kaviany P, Jones E, Wenk K, Marathe K, Kirkorian A, Norton S, Parikh K. Skin Deep: Investigations Beyond the Diaper Rash [abstract].
Journal of Hospital Medicine.
2015; 10 (suppl 2). https://www.shmabstracts.com/abstract/skin-deep-investigations-beyond-the-diaper-rash/. Accessed February 25, 2018.
« Back to Hospital Medicine 2015