Background:
An individual's risk of atrial fibrillation‐related stroke can be estimated with the use of a CHADS2 score with higher scores correlating with a greater risk of cardioembolic stroke. Current clinical guidelines recommend the use of no anticoagulation or antiplatelet agents for a CHADS2 score of 0 and either an antiplatelet agent or full dose anticoagulation for a score of 1. Patients with a score greater than 1 should receive full anticoagulation. This study assessed the rates of stroke prophylaxis at a large tertiary academic medical center and correlated the results with a CHADS2 score.
Methods:
All patients discharged with a primary or any secondary diagnosis of atrial fibrillation were evaluated for the use of antiplatelet or antithrombotic medications which included warfarin, dabigatran, rivaroxaban, apixaban or aspirin. 16,106 patients discharged between 1/1/11 and 10/31/13 were included in this study. Each patient's CHADS2 score was also calculated. If patients were on an antiplatelet agent along with an antithrombotic agent, they were counted as having antithrombotic therapy. Patients who were exclusively on antiplatelet agents were counted in another category. The use of these medications within 48 hours of hospital discharge was used as a proxy measure for likely continuation of the agents upon discharge.
Results:
Please see that attached figures for results. Of all patients, those who received no antiplatelet or antithrombotic stroke prophylaxis based on CHADS2 score were as follows: 40.3% of patients with a score of 1, 38.8% of patients with as score of 2, 35.9% of patients with a score of 3, 36.8% of patients with a score of 4, 36% of patients with a score of 5, and 41.2% of patients with a score of 6.
Conclusions:
The severity of CHADS2 score is known to correlate with stroke risk but those with higher CHADS2 score had no significantly greater proportion of stroke prophylaxis use than those with lower scores. Thus, objective stroke risk does not correlate with increased use of prophylaxis and a large percentage of patients at highest risk are given no prophylaxis of any kind. Current barriers to prophylaxis may be the lack of everyday use of objective risk tools, the expectation that treatment will be started on an outpatient basis or the lack of time needed for hospitalists to discuss the anticoagulation decision with patients. Systems reminders should be generated to encourage the use of risk stratification tools and hospitalists should start prophylaxis during hospitalization or communicate stroke risk on handoff to outpatient physicians at time of discharge.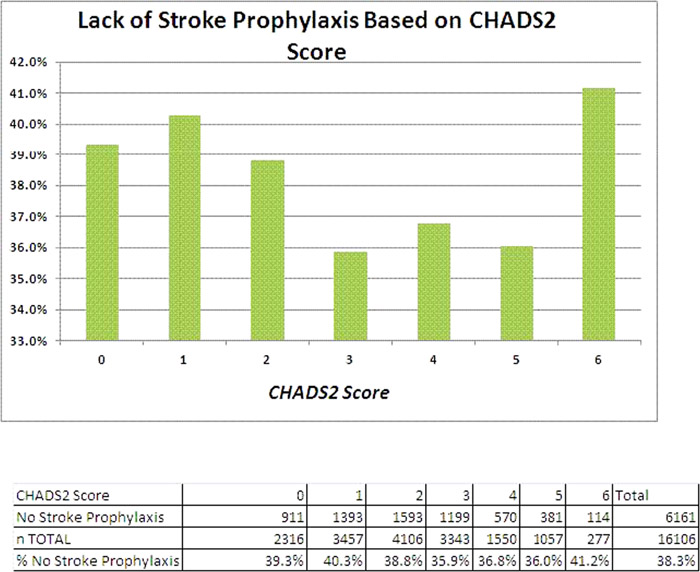 To cite this abstract:
Shah H, Christensen N. Severity of Stroke Risk in Atrial Fibrillation Does Not Correlate with the Use of Stroke Prophylaxis. Abstract published at
Hospital Medicine 2014, March 24-27, Las Vegas, Nev.
Abstract 71. https://www.shmabstracts.com/abstract/severity-of-stroke-risk-in-atrial-fibrillation-does-not-correlate-with-the-use-of-stroke-prophylaxis/. Accessed February 18, 2019.
« Back to Hospital Medicine 2014, March 24-27, Las Vegas, Nev.