Severe Headache, Scotomata, and Brain Imaging Abnormalities: A Case of Reversible Cerebral Vasoconstriction Syndrome (RCVS) Associated with Sertraline Use
1Massachusetts General Hospital, Boston, MA
2Massachusetts General Hospital, Boston, MA
3Massachusetts General Hospital, Boston, MA
Meeting: Hospital Medicine 2009, May 14-17, Chicago, Ill.
Abstract number: 160
Case Presentation:
A 62‐year woman was admitted for evaluation of recent‐onset, moderate‐intensity headaches. The headaches began 2 weeks prior, shortly after starting sertraline (a selective serotonin reuptake inhibitor) to treat depression. Waxing‐waning headaches persisted, accompanied by nausea, vomiting, dizziness, photophobia, and visual scotomas. Her admission neurological examination and head CT were normal. On hospital day 7 she developed sudden headache exacerbation (10/10 pain within seconds). A repeat head CT with CT angiography (CTA) showed a left frontal parenchymal hemorrhage and multifocal cerebral arterial vasoconstriction (Figure 1) consistent with RCVS. Sertraline was discontinued. Amlodipine was initiated for presumed cerebral "vasospasm." Her symptoms improved, and she was discharged on hospital day 12, Two weeks later, a CT/CTA showed resolution of the hemorrhage and segmental vasoconstriction (Figure 2).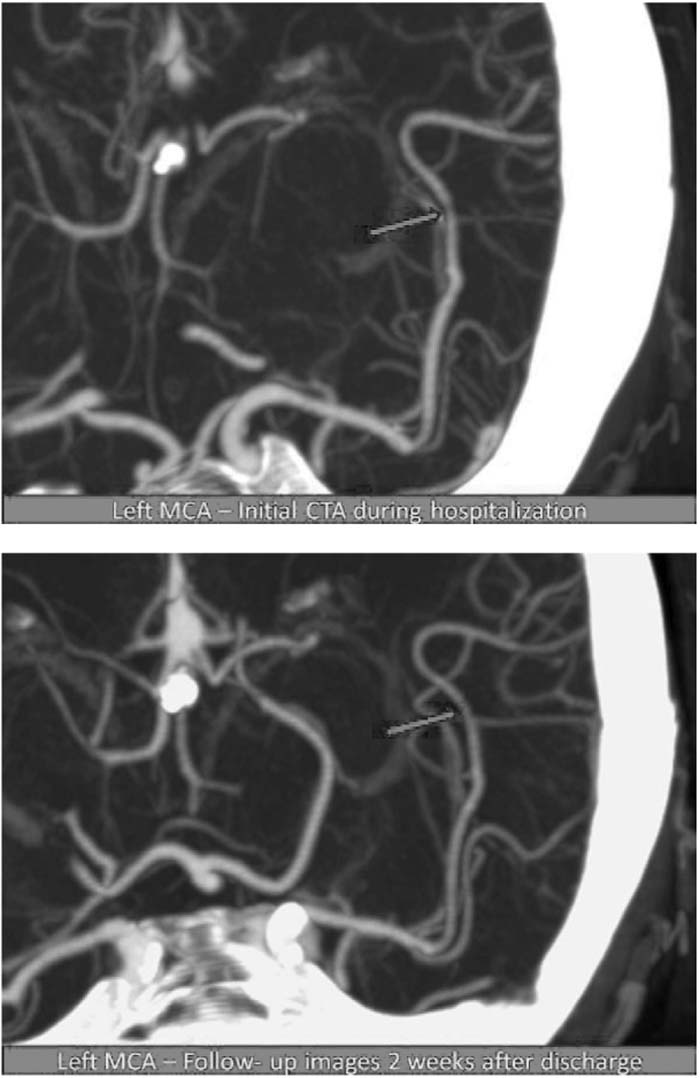 Discussion:
RCVS is a clinical‐angiographic syndrome characterized by severe headaches, reversible multifocal cerebral arterial vasoconstriction, and the absence of underlying causes such as vasculitis or aneurysmal subarachnoid hemorrhage to explain the arterial irregularities. RCVS is often heralded by "thunderclap" headaches, one of the most worrisome symptoms in the field of hospital medicine. The pathophysiology of RCVS is unknown; serotonin‐mediated vasoconstriction is implicated because serotonin is a potent vasoconstrictive amine, a history of migraine and depression is common, and up to 40% patients with RCVS report recent exposure to serotoner‐gic medications. Most patients have resolution of symptoms and angiographic abnormalities within weeks, however, some develop ischemic or hemorrhagic strokes and brain edema, which can be fatal. Although there are no proven treatments, calcium channel blockers are advocated to relieve headache and "vasospasm." Offending vasoconstrictive agents should be discontinued and avoided in the future.
Conclusions:
We describe a case of RCVS possibly precipitated by sertraline, a widely prescribed medication. Patients with thunderclap headache often warrant inpatient admission, and evaluation for RCVS with cerebral vascular imaging should be considered. A history of exposure to vasoconstrictive medications should be elicited and such agents discontinued promptly in order to minimize the risk of stroke from progressive cerebral vasoconstriction.
Author Disclosure:
M. Hellmann, none; A. B. Singhal, none; C. Lyasere, none.
To cite this abstract:
Hellmann M, Singhal A, lyasere C. Severe Headache, Scotomata, and Brain Imaging Abnormalities: A Case of Reversible Cerebral Vasoconstriction Syndrome (RCVS) Associated with Sertraline Use. Abstract published at
Hospital Medicine 2009, May 14-17, Chicago, Ill.
Abstract 160.
Journal of Hospital Medicine.
2009; 4 (suppl 1). https://www.shmabstracts.com/abstract/severe-headache-scotomata-and-brain-imaging-abnormalities-a-case-of-reversible-cerebral-vasoconstriction-syndrome-rcvs-associated-with-sertraline-use/. Accessed March 30, 2020.