Case Presentation:
Ms. S is a 64 year old woman recently diagnosed with multiple myeloma following a hip fracture and repair, who was transferred from an outside hospital for hematochezia. She was admitted to the outside hospital from a skilled nursing facility for presumed post-operative ileus complicated by nausea and vomiting. During that stay, she developed significant hematochezia and a hemoglobin drop from 10.2 g/dl to 7.9 g/dl. CT showed dilatation of small bowel though no wall thickening. The patient was transferred due to concern for gastrointestinal bleed.
The patient was tachycardic but normotensive on arrival. Her exam was positive for gross blood per rectum with infrequent bowel sounds, but otherwise unremarkable. Endoscopy showed friable, congested mucosa of the second part of the duodenum with oozing but no ulcers or visible vessels. The duodenum was subsequently biopsied. The colonoscopy showed maroon colored stools, without obvious source of bleeding. These procedures were complicated by hypotension and further blood loss, necessitating multiple transfusions and transfer to the ICU.
After the patient was stabilized, she was transferred to the medicine service. She was placed on a proton pump inhibitor and showed no further signs of gastrointestinal bleeding. The biopsy from the duodenum stained positive for Congo red in both the mucosal lamina propria and submucosal vessel walls, consistent with amyloidosis. She was later discharged to follow up with the oncology service for discussion of outpatient chemotherapy treatment.
Discussion:
AL Amyloidosis is a known association with multiple myeloma. It commonly presents with renal or cardiac symptoms. Gastrointestinal involvement is seen in only 1-8% of AL amyloidosis cases with 25-45% of these presenting with bleeding. Other complications include malabsorption, dysmotlility, pseudo-obstruction, and mesenteric ischemia.
Initial management involves controlling the source of the bleeding. In order to control the underlying disease, this patient could undergo a course of melphalan followed by autologous hematopoietic cell transplantation. A case series of patients treated with high dose melphalan followed by autologous hematopoietic cell transplant showed complete response in 34% of patients. Those with a complete response have a median event-free survival of 8.3 years versus 2 years for those who do not.
Conclusions:
In patients with multiple myeloma and new onset gastrointestinal bleeding, amyloidosis should be considered as part of the differential diagnosis. Definitive diagnosis requires a tissue biopsy with positive Congo red staining. Currently, one treatment option involves melphalan and autologous hematopoietic cell transplantation, which can be effective in reversing amyloid deposition in the gastrointestinal tract.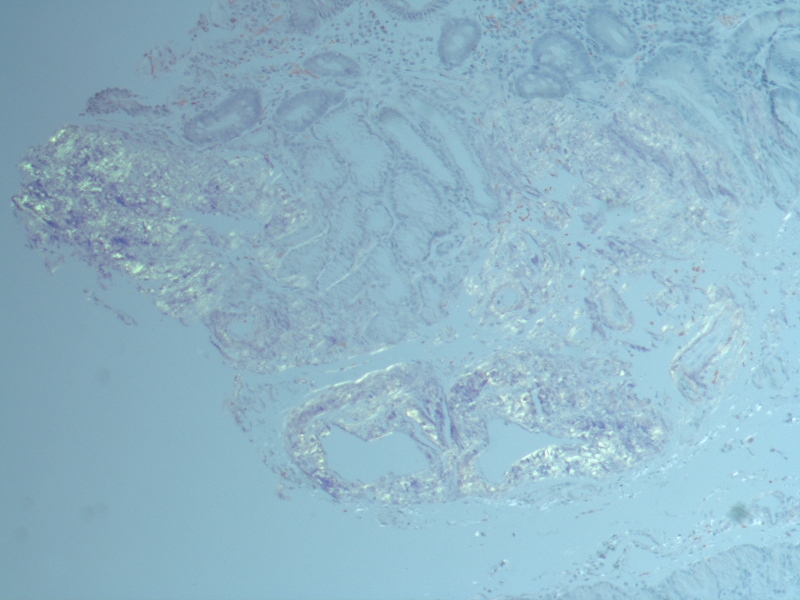 To cite this abstract:
Chang W, Ren B, McAdams D. Seeing Red Everywhere: Amyloidosis Associated Gastrointestinal Bleeding in a Patient with Multiple Myeloma. Abstract published at
Hospital Medicine 2016, March 6-9, San Diego, Calif.
Abstract 461.
Journal of Hospital Medicine.
2016; 11 (suppl 1). https://www.shmabstracts.com/abstract/seeing-red-everywhere-amyloidosis-associated-gastrointestinal-bleeding-in-a-patient-with-multiple-myeloma/. Accessed April 4, 2020.
« Back to Hospital Medicine 2016, March 6-9, San Diego, Calif.