Safety and Tolerability of Subcutaneous Administration of Morphine + Human Recombinant Hyaluronidase (rHuPH20): Pooled Data from 3 Pharmacokinetic Studies
1San Diego Hospice &
Palliative Care, San Diego, CA
2Halozyme Therapeutics, Inc., San Diego, CA
3San Diego Hospice &
Palliative Care, San Diego, CA
Meeting: Hospital Medicine 2007, May 23-25, Dallas, Texas
Abstract number: 66
Background:
Subcutaneous (SC) administration of human recombinant hyaluronidase (rHuPH20) temporarily increases the permeability of connective tissues by degrading hyaluronan and facilitating dispersion of coinjected molecules. SC administration of morphine + rHuPH20 in healthy volunteers and palliative care patients has been shown to enhance morphine absorption, resulting in phar‐macokinetics (PK) that favorably compared with intravenous (IV) morphine administration. We report here the safety and tolerability of this regimen compared with that of SC morphine + placebo and IV morphine.
Methods:
Three placebo‐controlled, double‐blind, crossover studies were performed that evaluated PK and safe‐ty/tolerability in individuals (n = 49) randomized to a sequence of SC morphine + saline, SC morphine + rHuPH20 (150 units), and unblinded IV morphine on consecutive days. Two of these studies were performed in healthy volunteers (n = 36), and 1 study was performed in the palliative care setting (n = 13). The safety/ tolerability assessment was based on the monitoring of adverse events in all subjects who had received at least 1 dose of drug.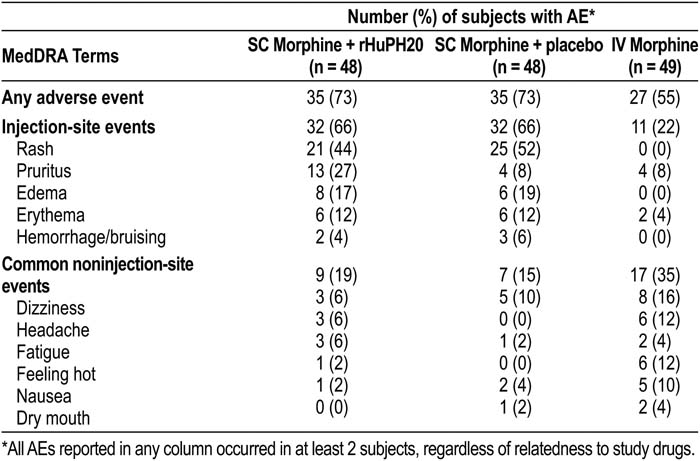 Results:
No serious or severe adverse events (AEs) occurred in any of the studies. The most common AEs were SC injection‐site observations. The frequency of injection‐site AEs was similar with and without rHuPH20, except for pruritus (see table). All AEs were transient and mild or moderate in severity. The next most frequently reported AE was nervous system disorders, reported in 39% of subjects, including dizziness (24%) and headache (14%), which occurred more frequently after IV administration. Other notable IV‐associated AEs were feeling hot and nausea. No trends or differences in AE frequency or severity were observed between volunteer participants and palliative care patients, except that the incidence of pruritus in patients receiving palliative care was the same (17%) with rHuPH20 and saline.
Conclusions:
The most common AEs were transient injection‐site events, which were mild to moderate in severity. These data indicate coadministered rHuPH20 is well tolerated and increases the rate of absorption of morphine.
Author Disclosure:
J. Thomas, None; R. Yocum, Halozyme Therapeutics, Inc., employment (full‐ or part‐time); M. Haller, None; C. Von Gunten, None.
To cite this abstract:
Thomas J, Yocum R, Haller M, Gunten C. Safety and Tolerability of Subcutaneous Administration of Morphine + Human Recombinant Hyaluronidase (rHuPH20): Pooled Data from 3 Pharmacokinetic Studies. Abstract published at
Hospital Medicine 2007, May 23-25, Dallas, Texas
Abstract 66.
Journal of Hospital Medicine.
2007; 2 (suppl 2). https://www.shmabstracts.com/abstract/safety-and-tolerability-of-subcutaneous-administration-of-morphine-human-recombinant-hyaluronidase-rhuph20-pooled-data-from-3-pharmacokinetic-studies/. Accessed April 4, 2020.