Roundly Debated: Building Best Practices for Attending Rounds at a Teaching Hospital
1University of California, San Francisco, San Francisco, CA
2University of California San Francisco, San Francisco, CA
Meeting: Hospital Medicine 2014, March 24-27, Las Vegas, Nev.
Abstract number: 125
Background:
Attending rounds, defined as ward rounding with an attending physician, take place every day at teaching hospitals around the country with remarkably little consensus around best practices. At our institution, there is also no clear standardization of rounds from one team to the next. The rounding literature suggests that there is room for improvement in areas such as communication with patients and nurses, efficiency in workflow, and teaching at the bedside. Thus, we set out to identify best practices for attending rounds.
Methods:
The study took place between January and April 2013. We solicited the opinions of six care provider groups that were significant stakeholders in the process of attending rounds: residents, attendings, medical students, case managers, pharmacists, and nurses. A qualitative approach to data collection was undertaken, including one‐on‐one interviews, group meetings, and e‐mail surveys with open‐ended questions. Data were transcribed and de‐identified and content analysis was performed. This involved at least two reviewers independently coding stakeholder practice recommendations. Consensus for a practice was designated when a majority of one stakeholder group or two or more groups recommended the same practice.
Results:
In total, 60 care providers participated in an interview, group meeting, or responded via e‐mail, including 23 attendings, 24 housestaff, seven medical students, two medicine team pharmacists, and four nurses. A list of the 15 consensus best practices for rounds is listed in Table 1. We organized these recommendations into four major categories: patient‐centered care, interdisciplinary team, education, and efficiency/productivity.
Conclusions:
This study provides concrete, actionable best practice recommendations for standardizing rounds at a teaching hospital. The successful implementation of these best practices requires deliberate training and systems changes, especially for significant interventions such as patient‐centered rounds and real‐time order writing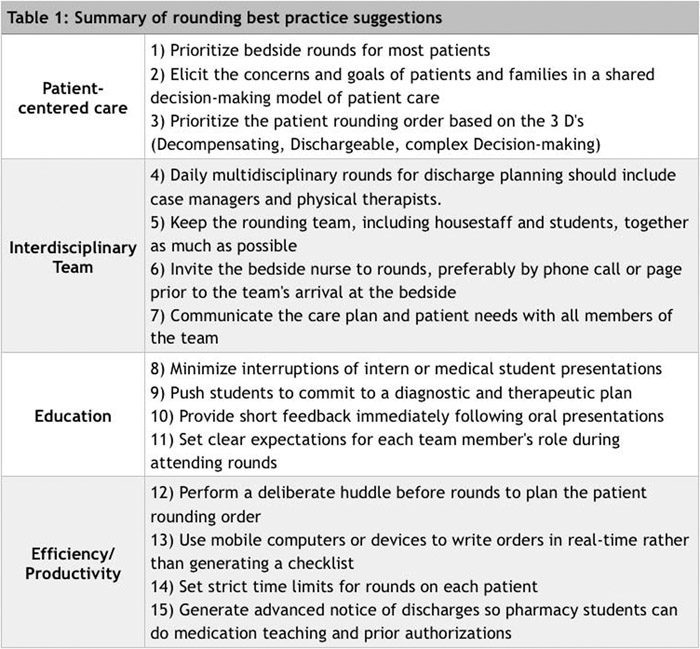 To cite this abstract:
Najafi N, Monash B, Mourad M, Ding Y, Glass M, Burrell G, Harrison J. Roundly Debated: Building Best Practices for Attending Rounds at a Teaching Hospital. Abstract published at
Hospital Medicine 2014, March 24-27, Las Vegas, Nev.
Abstract 125.
Journal of Hospital Medicine.
2014; 9 (suppl 2). https://www.shmabstracts.com/abstract/roundly-debated-building-best-practices-for-attending-rounds-at-a-teaching-hospital/. Accessed April 4, 2020.
« Back to Hospital Medicine 2014, March 24-27, Las Vegas, Nev.