Background:
Interventions to reduce inappropriate urinary catheter use are implemented using lists of appropriate and inappropriate criteria (e.g., CDC's 2009 catheter‐associated urinary tract infection guideline), informed by limited evidence without substantial multidisciplinary input. Implementation is challenging due to broad interpretations of indications (e.g., "critical illness") and common catheter uses not addressed in lists (e.g., patient request). Our objective was to refine criteria for "appropriate" use (i.e., benefits outweigh risks) of Foley catheters, intermittent straight catheters (ISC), and external "condom" catheters in hospitalized adults on medical services.
Methods:
Using the RAND/UCLA Appropriateness Method, the literature was systematically reviewed to summarize risks, benefits, and potential catheter indications. A 15 member multi‐disciplinary panel of physicians, nurses, and infection preventionists assessed 299 catheter indications (e.g., urinary retention, urine collection to diagnose/monitor, etc.) on a scale of 1 (highly inappropriate) to 9 (highly appropriate). Scenarios accounted for incontinence, illness severity, difficulty turning, and catheter placement issues. Catheter use was assessed by median scores, as inappropriate (1‐3), appropriate (7‐9) or uncertain (4‐6 or having 5 appropriate and inappropriate ratings, regardless of median [termed "disagreement"]).
Results:
Overall, 253 (85%) ratings were scored as appropriate (88) or inappropriate (165); 46 (15%) were uncertain. Catheter appropriateness of each catheter type was summarized in algorithms for clinical use as illustrated in the Figure.
Conclusions:
Refined appropriateness criteria will inform large‐scale collaboratives focusing on avoiding placement and prompting removal of unnecessary catheters. The algorithms further refine indications and non‐indications for Foleys, in addition to appropriateness for ISCs and condom catheters as alternatives in each clinical scenario.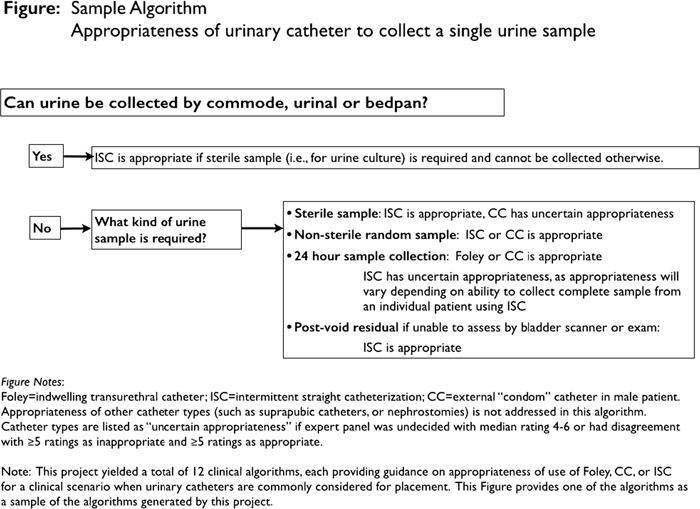 To cite this abstract:
Meddings J, Saint S, Fowler K, Gaies E, Bernstein S. Refined Appropriateness Criteria for Urinary Catheters in Hospitalized Patients. Abstract published at
Hospital Medicine 2014, March 24-27, Las Vegas, Nev.
Abstract 83.
Journal of Hospital Medicine.
2014; 9 (suppl 2). https://www.shmabstracts.com/abstract/refined-appropriateness-criteria-for-urinary-catheters-in-hospitalized-patients/. Accessed April 9, 2020.
« Back to Hospital Medicine 2014, March 24-27, Las Vegas, Nev.