Reducing Delays in Reporting of Routine Morning Laboratory Tests
1VA Boston Healthcare System, Boston, MA
2VA Boston Healthcare System, Boston, MA
3VA Boston Healthcare System, Boston, MA
4VA Boston Healthcare System, Boston. MA
5VA Boston Healthcare System, Boston, MA
6VA Boston Healthcare System, Boston, MA
7VA Boston Healthcare System, Boston, MA
8VA Boston Healthcare System, Boston, MA
Meeting: Hospital Medicine 2010, April 8-11, Washington, D.C.
Abstract number: 172
Background:
Delays in reporting inpatient routine morning laboratory tests to physicians lead to dissatisfaction and affect clinical decisions and safety and discharge plans. Test reporting limes and customer satisfaction have therefore been suggested as performance measures in laboratory medicine. A study of 334 laboratories found a median rate of 75% moming labs reported before 10 am. At our hospital, house staff dissatisfaction and reports of suboptimal patient care from inpatient lab delays were identified as a systems issue during palienl safety rounds.
Purpose:
To reduce delays in reporting inpatient routine morning labs.
Description:
Baseline data showed 31.9% of morning labs were reported by 10 am in July 2009. A new self‐imposed aim by our interdisciplinary clinical practice committee was to have 100% routine morning labs reported in our EMR by 10 am. A team consisting of the phlebotomy nurse‐manager, laboratory information manager, laboratory quality manager, patient safely officer, nursing quality manager, 2 industrial engineering students, and a hospitalist addressed the problem. The entire process from physician order entry to availability of labs in our EMR was studied using process maps, statistical analysis, and time studies to identify process inefficiencies, botllenecking operations, and process requirements to attain our goal. The nurse‐manager identified inefficiencies in staffing and morning preparation of phlebotomy equipment. The process bottleneck was the lab machinery used to process blood samples. The lab machines processing time was dependent on balch size. Phlebotomists delivered samples lo the lab after they completed all draws by ward, resulting in large batches arriving later in the morning. Last, there was no flexible route plan in place for phlebotomists. First, existing nurse responsibilities were expanded to include am phlebotomy. In August an overnight LPN was added who would also be available to draw mornino labs. In September a similar LPN was added for weekend coverage. In October time studies and statistical analyses were conducted for accurate forecasting to occur. In November, route planning and batch combinations were implemented to maximize the efficiency of the lab machines.
Conclusions:
The incremental effects of these process improvements, shown in Figure 1, resulted in 82.9% of morning labs reported by 10 am in November 2009. Causes and solutions to delays in reporting routine morning labs are multifactorial and not apparent unless addressed using process improvement techniques. Combining traditional approaches and engineering techniques can result in dramatic improvements in select inefficient health care processes.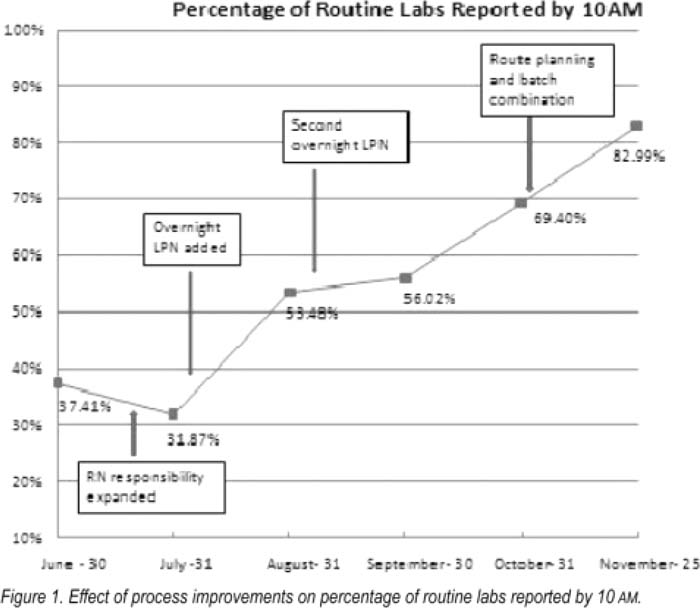 Author Disclosure:
B. Colonna, none; R. Miller, none; A. Kartha, none; P. Bellino, none; L. McDonald, none; V. Holsinger, none; S. Bennett, none; J. Rosario, none.
To cite this abstract:
Kartha A, Colonna B, Miller R, Rosario J, Bennett S, L , P , Holsinger V. Reducing Delays in Reporting of Routine Morning Laboratory Tests. Abstract published at
Hospital Medicine 2010, April 8-11, Washington, D.C.
Abstract 172.
Journal of Hospital Medicine.
2010; 5 (suppl 1). https://www.shmabstracts.com/abstract/reducing-delays-in-reporting-of-routine-morning-laboratory-tests/. Accessed March 30, 2020.
« Back to Hospital Medicine 2010, April 8-11, Washington, D.C.