Case Presentation:
A 51 year old male patient with a history of injection drug use was admitted with MRSA bacteremia and lumbar epidural abscesses. He reported developing new neck pain on hospital day two. Urgent cervical MRI revealed an abscess in the posterior soft tissues of the neck at C1-C2 level which extended into the spinal canal through C1-C2 foramina. There was also inflammatory epidural enhancement along the posterior aspect of the cord at C1-C5 level. Retropharyngeal abscess extending from the skull base to C5 was also noted. An ill-defined cord signal at C1-C2 level was felt to be related to myelopathy secondary to intra- spinal extension of the infection. (Figure 1.) Despite treatment, on hospital day three he had progressive weakness and ultimately developed quadriplegia, poor rectal tone and sepsis. Later that day, he suffered cardiac arrest with pulseless electrical activity (PEA) with the spontaneous return of circulation during advanced cardiac life support (ACLS) measures after approximately 8 minutes of care. Post-resuscitation ECG analysis revealed no evidence of ischemia. Repeat cervical imaging the following day showed worsening cord edema and cervical dural enhancement with intracranial extension. He went on to have extreme bradycardia and PEA arrest multiple times brought on by movement related to his care.
The patient ultimately had an episode of refractory hypotension that resulted in poor long term neurologic prognosis and his family elected to pursue comfort-oriented care. He died on hospital day fourteen.
Discussion:
It was hypothesized that the extension of the abscess to the carotid baroreceptors may have resulted in bradycardia and asystole with movement (see Figure 2). Alternatively, involvement of the spinal canal may have caused excess parasympathetic tone resulting in bradycardia, minimal pulses, and the diagnosis of PEA arrest.
"Cardioinhibitory Reflex Cardiac Arrest" or (CiRCA) has been described in situations where pressure was exerted on carotid baroreceptors externally from various traumatic insults to the neck (strangulation, hanging) but there is little evidence in the literature of intrinsic stimulation resulting in extreme bradycardia, hypotension or asystole.1,2 Traumatic injury to the cervical spine has been clearly linked to autonomic dysfunction but this is less common with infectious or inflammatory insult .3
Conclusions:
This case illustrates the potential for infectious insult to the neural circuitry governing the cardioinhibitory reflex to precipitate bradycardia, hypotension and even cardiac arrest. High parasympathetic tone should be anticipated in such circumstances.
1.Anscombe et al Case report. Delayed death after pressure on the neck: possible causal mechanisms and implications for mode of death in manual strangulation discussed. Forensic Science International 78 (1996) 193-197
2.Schraget al. Death caused by cardioinhibitory reflex cardiac arrest—A systematic review of cases.Forensic Science International 207 (2011) 77–83
3.Sadaka et al. (2012). Bradycardia Secondary to Cervical Spinal Cord Injury, Cardiac Arrhythmias – New Considerations, Prof. Francisco R. Breijo-Marquez (Ed.), ISBN: 978-953-51-0126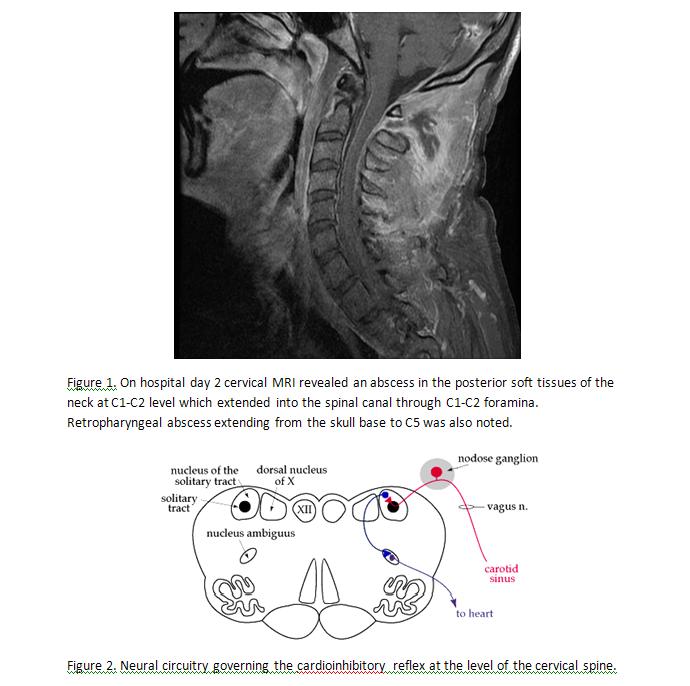 To cite this abstract:
Seymour P. Recurrent Cardioinhibitory Reflex Cardiac Arrest Due to Infection of the Neck and Spine. Abstract published at
Hospital Medicine 2015, March 29-April 1, National Harbor, Md.
Abstract 680.
Journal of Hospital Medicine.
2015; 10 (suppl 2). https://www.shmabstracts.com/abstract/recurrent-cardioinhibitory-reflex-cardiac-arrest-due-to-infection-of-the-neck-and-spine/. Accessed November 18, 2019.
« Back to Hospital Medicine 2015, March 29-April 1, National Harbor, Md.