Case Presentation:
A 76 year old male presented to the Emergency Department with weakness 2 days after discharge from a hospitalization in which he was treated for pyelonephritis. His urine culture from that admission revealed Fluoroquinolone resistant E. coli. He received several days of Piperacillin/Tazobactam in the hospital and was prescribed Trimethoprim/Sulfamethoxazole at discharge to complete treatment for complicated pyelonephritis. His past medical history is significant for recurrent urinary tract infections and nephrolithiasis.
His vital signs on presentation were notable for tachycardia, but he was otherwise afebrile and normotensive. Physical exam was remarkable for an 8cm x 12cm mass over the left flank with no associated tenderness, warmth, erythema, induration, or fluctuance. His abdominal exam was otherwise benign. A urinalysis revealed pyuria, CBC revealed a leukocytosis to 32,000 with a left shift, and chemistries revealed normal renal function and hypercalcemia.
Treatment was initiated for sepsis secondary to urinary tract infection with IV antibiotics. A CT abdomen and pelvis was obtained, which revealed multiple large calculi within the left kidney, a multiloculated abscess within the lower pole of the left kidney, and an associated fluid collection that extended into the posterior abdominal wall. The radiologic findings were concerning for a diagnosis of xanthogranulomatous pyelonephritis (XGP). He underwent CT guided drainage of the left renal abscess which yielded purulent fluid that grew E. coli.
He was continued on 4 weeks of IV antibiotic therapy and was discharged with urology follow up for a left nephrectomy.
Discussion:
XGP is a chronic, destructive disease of the kidney, which is associated with urinary tract infections (commonly E. coli) and urinary tract obstruction (often staghorn calculi). Common laboratory anomalies seen in XGP are: pyuria, leukocytosis, and anemia. Common CT findings include: hydronephrosis, renal calculi, cortical renal atrophy, abscesses, and perinephric fat stranding. While certain lab and imaging findings are characteristic of the disease, pathology provides a definitive diagnosis. Imaging findings can actually mimic several other disorders of the kidney, including renal cell carcinoma. Treatment for XGP is antibiotics and decompression followed by a nephrectomy. It is important to have a high suspicion for this entity in the correct clinical setting, as if left untreated patients are predisposed to sepsis, regional necrosis and hemorrhage, and fistula formation.
Conclusions:
XGP is a rare but important association with urinary tract infection and obstruction. Maintaining a high suspicion for this entity is important because, in order to minimize the risk of complications, medical and surgical treatment modalities need to be employed.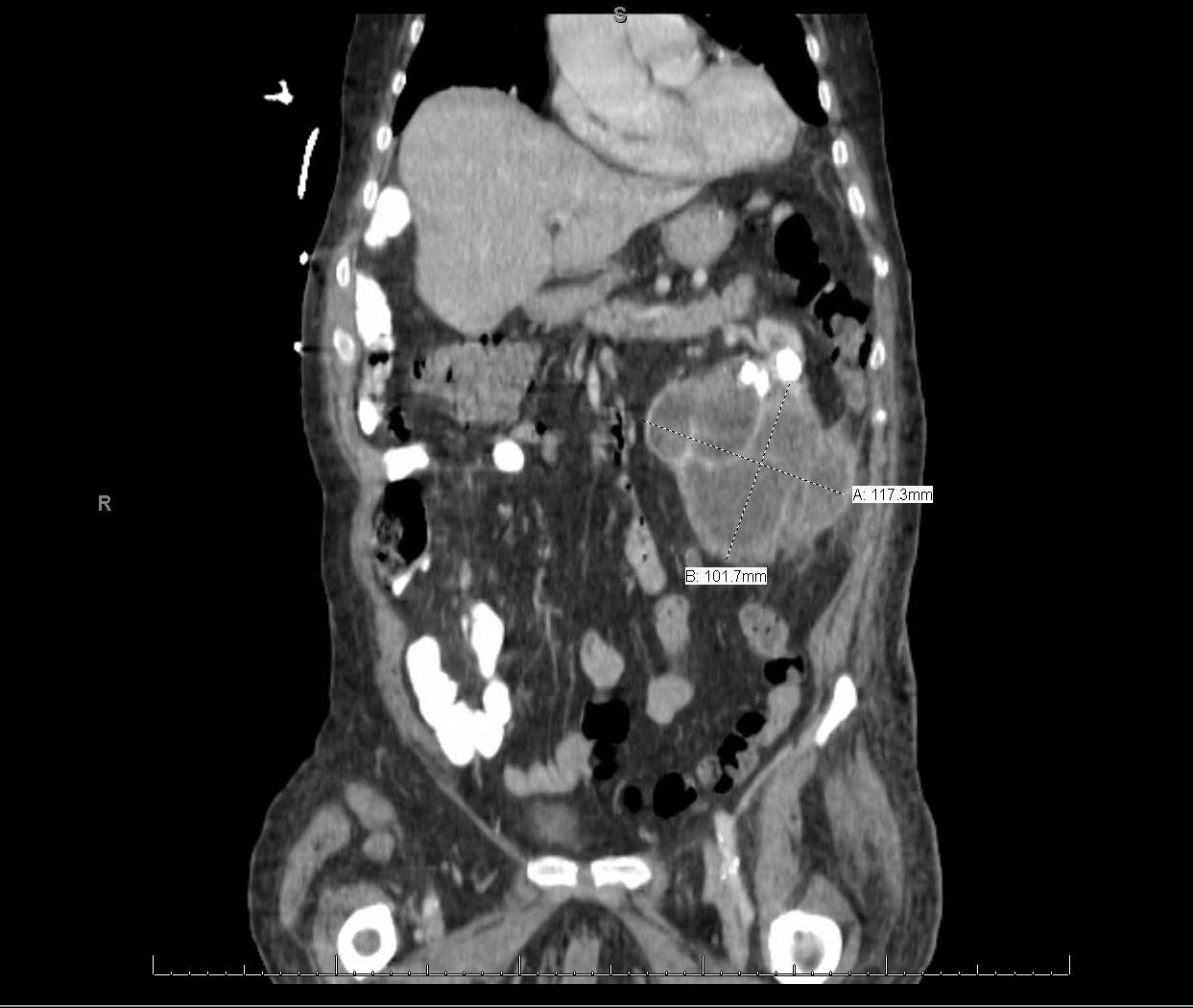 To cite this abstract:
Craig J, Lynn L, Maletsky-Smith S. Recognizing Xanthogranulomatous Pyelonephritis: A Rare Condition Associated with Urinary Tract Obstruction. Abstract published at
Hospital Medicine 2015, March 29-April 1, National Harbor, Md.
Abstract 493.
Journal of Hospital Medicine.
2015; 10 (suppl 2). https://www.shmabstracts.com/abstract/recognizing-xanthogranulomatous-pyelonephritis-a-rare-condition-associated-with-urinary-tract-obstruction/. Accessed March 31, 2020.
« Back to Hospital Medicine 2015, March 29-April 1, National Harbor, Md.