Pulmonary Talc Granulomatosis Mimicking Malignant Disease 30 Years After Last Exposure
1Interventional Pulmonology, Franklin Square Hospital Center, Baltimore, MD
2Interventional Pulmonology, Franklin Square Hospital Center, Baltimore, MD
Meeting: Hospital Medicine 2008, April 3-5, San Diego, Calif.
Abstract number: 139
Case Presentation:
A 53‐year‐old man with a history of emphysema and hepatitis C presented with a 4‐month history of dyspnea and weight loss. He had a 35‐pack‐year smoking history and reported intravenous heroine abuse 30 years previously. A chest x‐ray showed a density close to the right heart border and a CT scan confirmed a 4.5 × 2.2 cm opacity with further spiculated opacities in both lungs. The patient underwent bronchoscopy, and the airways appeared normal. Ultrasound located the echodensity, and a fine‐needle biopsy was performed with further biopsies from the surrounding echodense areas. Histology showed bronchial epithelial cells with giant cell reaction and polarizable birefringent foreign bodies. A diagnosis of talc granulomatosis secondary to previous IVDA was made.
Discussion:
Talc granulomatosis occurs in drug abusers who inject tablets intended for oral use. Talc embolization causes an initial inflammatory arteritis with later development of a foreign body granuloma. This reaction is highly variable, with some patients developing granulomas in the in‐terstitium and others in small pulmonary arteries. Symptomatic patients typically present with nonspecific complaints, but more serious presentations may involve adult respiratory distress syndrome. Physical exam is usually unremarkable, and the most common chest x‐ray finding is widespread 2‐ to 3‐mm well‐defined nodules. As the disease progresses, nodules coalesce, and massive fibrosis can occur. High‐resolution CT may reveal a diffuse ground‐glass pattern with emphysema. Bronchoscopy and biopsy are necessary for definitive diagnosis. There are no established treatments for the condition. Patients must stop intravenous drug and any tobacco use. Successful steroid use has been reported, but extensive data are lacking. Associated pulmonary hypertension should be treated with vasodilators. Lung transplantation is reserved as a last resort for patients with end‐stage disease.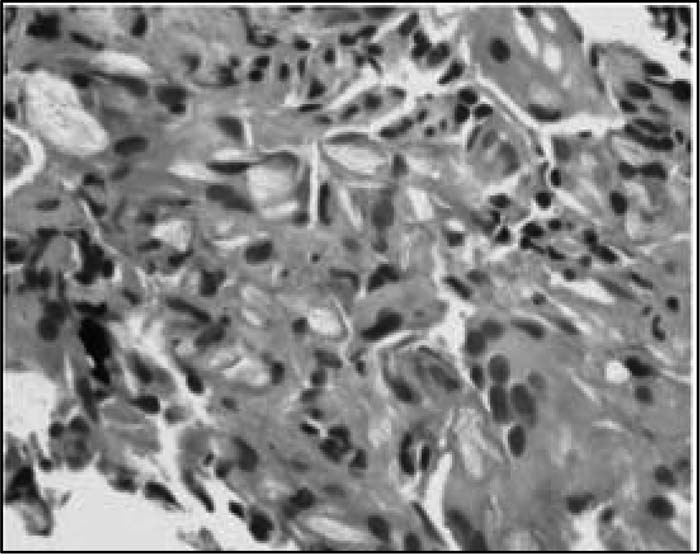 Conclusions:
This case demonstrates a rare presentation of talc granulomatosis 3 decades after the last exposure. The history and imaging findings were initially strongly suggestive of malignant disease, and we recommend that talc induced lung disease is considered in any patient with multiple scattered pulmonary lesions and a history of IVDA. Confirmation of the disease by biopsy is essential, but unfortunately there are few successful proven management options, and the prognosis is poor.
Author Disclosure:
S. Dhand, none; W. S. Krimsky, none.
To cite this abstract:
Dhand S, Krimsky W. Pulmonary Talc Granulomatosis Mimicking Malignant Disease 30 Years After Last Exposure. Abstract published at
Hospital Medicine 2008, April 3-5, San Diego, Calif.
Abstract 139.
Journal of Hospital Medicine.
2008; 3 (suppl 1). https://www.shmabstracts.com/abstract/pulmonary-talc-granulomatosis-mimicking-malignant-disease-30-years-after-last-exposure/. Accessed April 9, 2020.
« Back to Hospital Medicine 2008, April 3-5, San Diego, Calif.