Background: While studies have shown that physicians are limited in their ability to accurately self-assess, many continue to believe that they have reasonably good insight into their own capacity and performance. Because of this incongruence, high quality and reliable feedback is crucial for one's professional growth. Quality of hospitalist's care is often measured by patient satisfaction surveys such as the Hospital Consumer Assessment of Healthcare Providers and Systems (HCAHPS) survey. Scores obtained through such surveys may not have accurate attribution, although they are frequently considered in the bonus calculations. Given such validity concerns, it is unknown whether they would have merit as a feedback tool for hospitalist providers.
Purpose: To solicit the hospitalist provider's impressions and utility of patient satisfaction surveys as a feedback tool using a newly validated patient satisfaction survey metric that has undeniable attribution accuracy, TAISCH.
Description: TAISCH is a 15-item survey metric that is administered at the bedside and asks patients to assess the individual hospitalist provider's care quality after the provider cared for them for at least 2 consecutive days. The patients are invited to complete TAISCH only if they could correctly identify their hospitalist provider. After collecting TAISCH data for 27 hospitalist physicians, we prepared individualized, 6 pages long, colorful reports that summarized the hospitalists' rankings compared to peers – for each of the 15 reported items. These were shared with each doctor and reflection was encouraged. We then conducted phone interviews and administered online surveys to solicit their inputs about the quality of the reports and the utility of this feedback tool. The majority reported, with 73% agreeing or strongly agreeing, that TAISCH report was a helpful feedback tool to reflect on the quality of their care. With respect to each hospitalist's overall TAISCH performance as it was shown relative to their colleagues, 15 physicians (58%) felt that their TAISCH scores were somewhat or much worse than they expected, 8 (30%) admitted that they were as expected, and only three (12%) disclosed that their scores were either somewhat or much better than they expected. For every question in the online survey, those who perceived that they were assessed more favorably than expected thought that the information provided by TAISCH was more valuable. Phone interviews highlighted providers' deep reflections about the quality of their care and their strength and areas needing attention. Most (58%) agreed that TAISCH survey should be administered regularly to provide ongoing feedback.
Conclusions: Hospitalist providers welcomed receiving feedback that reflected their own performance. Several suggested that introducing personalized coaching into the process may enhance the value of the process.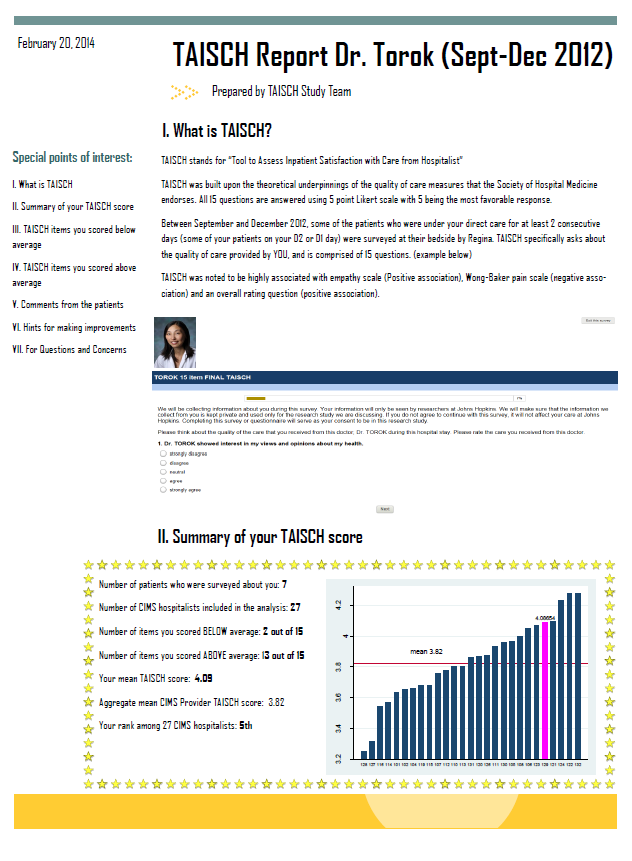 To cite this abstract:
Torok H, Kotwal S, Landis R, Howell E, Wright S. Providing Feedback on Clinical Performance to Hospitalists: Experience Using a New Metric, Tool to Assess Inpatient Satisfaction with Care from Hospitalists (Taisch). Abstract published at
Hospital Medicine 2015, March 29-April 1, National Harbor, Md.
Abstract 31.
Journal of Hospital Medicine.
2015; 10 (suppl 2). https://www.shmabstracts.com/abstract/providing-feedback-on-clinical-performance-to-hospitalists-experience-using-a-new-metric-tool-to-assess-inpatient-satisfaction-with-care-from-hospitalists-taisch/. Accessed February 25, 2020.
« Back to Hospital Medicine 2015, March 29-April 1, National Harbor, Md.