Problems in Care Identified in Post‐Discharge Telephone Follow Up by Hospitalists
1Denver Health, Denver, CO
2University of Colorado School of Medicine, Aurora, CO
3Presbyterian St. Luke's Medical Center, Denver, CO
4Rocky Mountain Poison Center, Denver, CO
Meeting: Hospital Medicine 2014, March 24-27, Las Vegas, Nev.
Abstract number: 703
Background:
Reducing hospital readmissions is a target for improving quality and reducing costs of health care. We studied whether a structured, post‐discharge follow‐up call at 48 to 72 hours by the same physician who cared for the patient during their hospitalization could identify problems that might contribute to re‐hospitalization, solve them during the call and identify areas in which the discharge process could be improved.
Methods:
All patients had to speak either English or Spanish, be between 18‐89 years of age and be discharged by one of 20 participating Hospitalists. All patients also had be insured in our own Managed Care program as this allowed access to patient navigators who could respond to selected problems identified by the call. Three attempts were made to reach the patient, two at 48 hours and one attempt at 72 hours. The telephone interaction utilized a structured template that was based on the components of Project Red and employed a teach‐back style of interaction. Topics investigated included medical issues, knowledge deficits surrounding discharge or follow‐up care, medication problems, and system navigation issues. The severity of the problems was rated by the Hospitalists on a visual analog scale of 0 to 100 with 100 being most severe.
Results:
From March 1, 2012, to October 31, 2013, a convenience sample of 174 patients met eligibility criteria. Their demographics are summarized in the Table. Calls were completed to 133 (76%) of these patients and 81 (61%) had concerns following discharge. The most commonly reported problems related to medications and inability to access recommended follow‐up care but these two categories only accounted for 31% of the problems identified (Table). Phone calls lasted a median of 10 minutes (IQR 6, 15) and 28 patients (21%) had to be referred to managed care as their problems could not be solved over the phone. Hospitalists rated the severity of the problems encountered as a median of 20 units (IQR 18, 64). 51 patients (38%) had problems thought to have a severity > 50.
Conclusions:
Within 48‐72 hours following discharge most patients have problems or questions related to their hospitalization. No single or few problems account for the majority of concerns. Most of the problems could be adequately resolved during a short phone call from the physician that treated the patient in the hospital but patient navigators were also needed to resolve many of the concerns.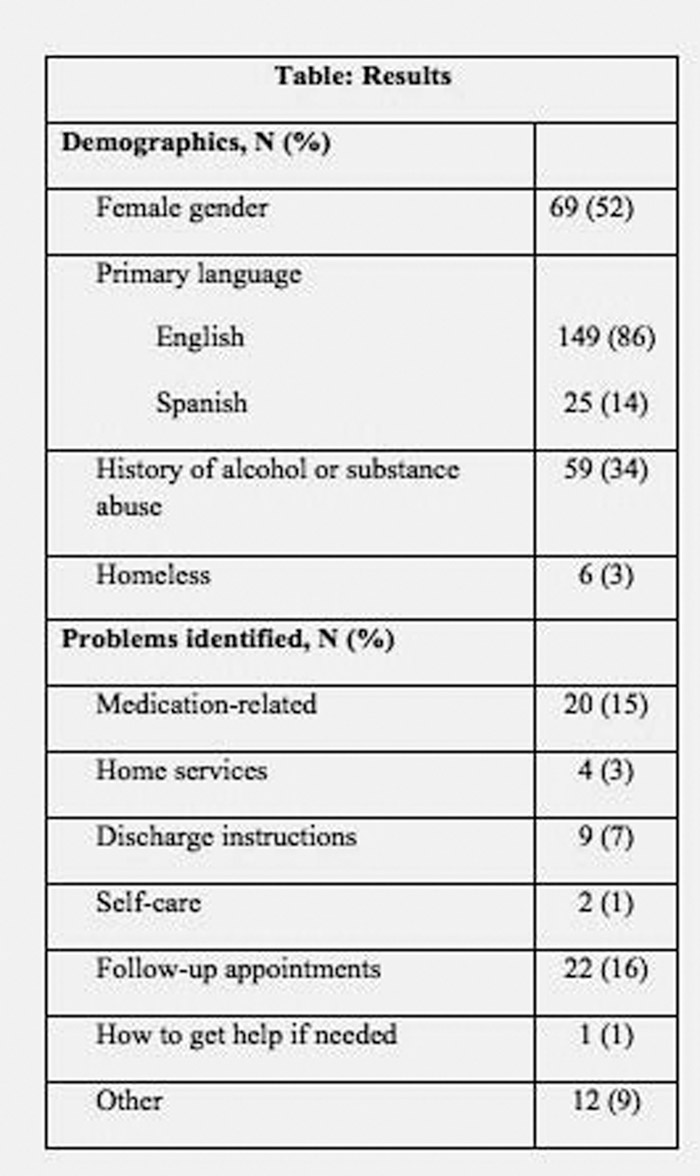 To cite this abstract:
Burden M, Stella S, Keniston A, Frank M, Heppe D, Mastalerz K, Lones J, Brody D, Albert R. Problems in Care Identified in Post‐Discharge Telephone Follow Up by Hospitalists. Abstract published at
Hospital Medicine 2014, March 24-27, Las Vegas, Nev.
Abstract 703.
Journal of Hospital Medicine.
2014; 9 (suppl 2). https://www.shmabstracts.com/abstract/problems-in-care-identified-in-postdischarge-telephone-follow-up-by-hospitalists/. Accessed April 2, 2020.
« Back to Hospital Medicine 2014, March 24-27, Las Vegas, Nev.