Case Presentation:
A 71-year-old African American woman with history of coronary artery disease, hypertension and sulfa allergy, presented with indolent onset retrosternal chest discomfort which was positional, pleuritic, and unresponsive to sublingual nitroglycerin. Her medications included hydrochlorothiazide (HCTZ) which was started three months ago. Cardiac examination was unremarkable. Significant laboratory parameters included erythrocyte sedimentation rate of 47 mm/hr, and elevated troponin that peaked at 0.26ng/ml. An electrocardiogram revealed normal sinus rhythm with nonspecific ST-T wave changes. Transthoracic echocardiogram (TTE) revealed preserved ejection fraction with no segmental wall motion abnormalities; however, it showed moderate pericardial effusion without temponade physiology (figures 1 and 2).
Patient was diagnosed as acute myopericarditis; with the potential etiology being HCTZ, given her history of known sulfa allergy and recent initiation of this antihypertensive medication. She was treated with high dose aspirin, and was advised to avoid HCTZ in the future.
Discussion:
Myopericarditis is diagnosed when diagnostic criteria for pericarditis is met with concurrent elevated cardiac biomarkers, evidence of myocardial inflammation by cardiac magnetic resonance, or new focal or global left ventricular systolic dysfunction on TTE. The cause of pericardial disease differs according to the epidemiology, patient population and clinical settings. Due to benign prognosis of myopericarditis, further investigations in immunocompetent patients are warranted only if there is an apparent correlation or potentially treatable medical condition. Pericardiocentesis is necessary only in the presence of pericardial tamponade or large effusion refractory to conservative management. Drugs are one of the rare etiologies of pericardial diseases with different mechanisms including idiosyncrasy, serum sickness, and foreign substance reactions. Thiazides, with their sulfa group, fall under the idiosyncratic reaction category. There is a scarcity of literature regarding HCTZ as an etiology for pericardial disease, with only one case reported as presumed hydrochlorothiazide-induced pericardial effusion. Management involves discontinuation of the possible causative agent and starting anti-inflammatory therapy.
Conclusions: We hypothesize that this myopericarditis could be due to HCTZ allergic reaction. In any pericardial effusion with unknown etiology, it is very important to review all medications carefully to address the potential culprit medications.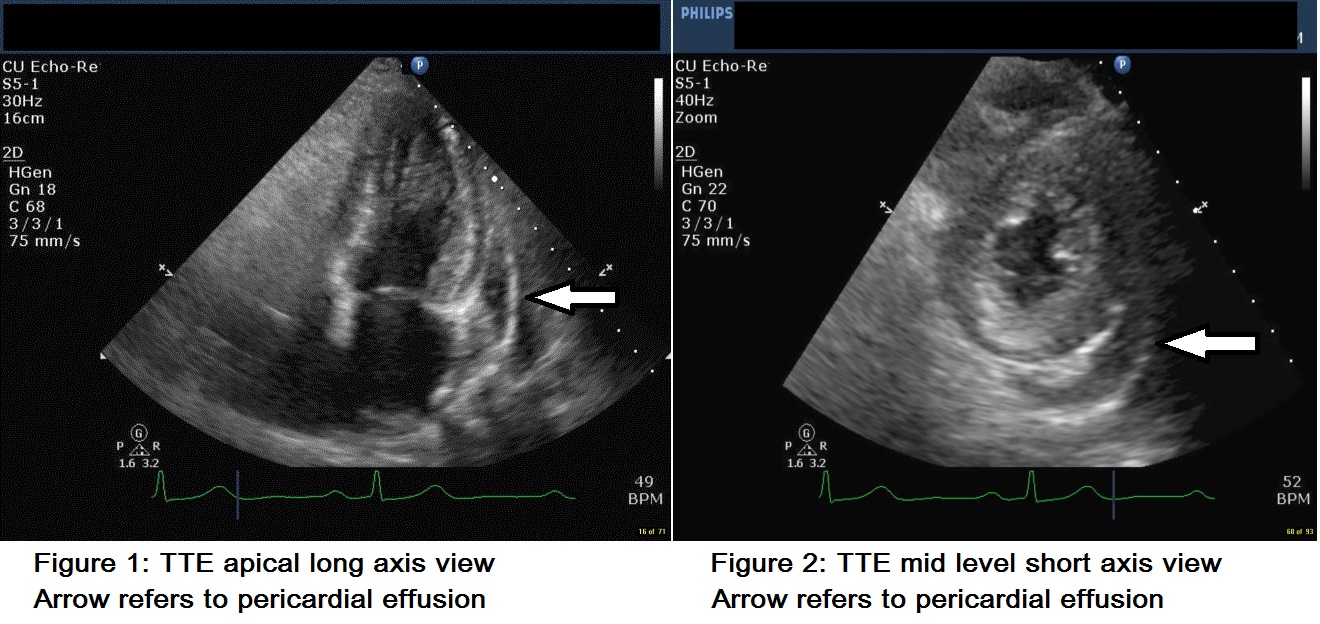 To cite this abstract:
Haddad T, Nawaz M, Abuzaid A, Upadhyay S, Bellamkonda P, Mooss A. Probable Hydrochlorothiazide-Induced Myopericarditis: First Case Reported. Abstract published at
Hospital Medicine 2015, March 29-April 1, National Harbor, Md.
Abstract 636.
Journal of Hospital Medicine.
2015; 10 (suppl 2). https://www.shmabstracts.com/abstract/probable-hydrochlorothiazide-induced-myopericarditis-first-case-reported/. Accessed April 4, 2020.
« Back to Hospital Medicine 2015, March 29-April 1, National Harbor, Md.