Case Presentation:
A 57 year-old African-American male with past medical history of osteoarthritis, opioid dependence secondary to arthralgia, and chronic bilateral lower extremity venous thrombi secondary to both protein C and protein S deficiency, presented with acute altered mental status resulting from synthetic cannabinoid intoxication. The pain was so severe; he was only able to tolerate it by lying with his arms and legs flexed, in the "fetal" position. Physical exam revealed right upper extremity ulnar deviation and a Dupuytren's contracture. His medial and lateral epicondyles were hyper-prominent, with fatty nodules over the olecranon processes, bilaterally. There was no swelling, tenderness or crepitation of the joints themselves. Lab work including CBC, electrolytes, LFT's, ESR and CRP, ANA and CCP antibodies, were unremarkable. X-rays of his joints revealed severe osteoarthritis in both knees, but nothing remarkable in the hands or wrists. There was no evident sacro-iliitis, however x-rays of the spine revealed hemi-ossification and calcific joint-bridging of the vertebrae on his right thoracic spine. The patient was diagnosed with advanced Diffuse Idiopathic Skeletal Osteotosis (DISH) and started on fluids, pain management, and intensive physical therapy.
Discussion:
DISH is a non-inflammatory degenerative joint disease, classically characterized by calcific bridging of the peri-articular spinal vertebrae on one side – usually the right, as well as surrounding tendons and ligaments. Clinically, DISH presents with painful, restricted movement and lateral flexion of the thoracic spine, however cervical and lumbar involvement have been documented. Occasionally, appendicular manifestations, from hyperostosis of the shoulder, elbows and knees, to dysphagia have also been reported. DISH is not associated with HLA-B27 positivity. The risk for DISH increases with age, ranging from a prevalence of 0.4 per 100 person-years in young adults, to 10.1 in patients over 70. DISH is associated with rheumatological and endocrine conditions, particularly rheumatoid arthritis, gout, Paget's disease, obesity, diabetes mellitus, and acromegaly. Hemi-ossification of the peri-articular, vertebral joint space is pathognomonic. Treatment is Tylenol for pain and intensive physical therapy.
Conclusions:
Although rare, DISH carries tremendous morbidity, and timely diagnosis and treatment are essential to combating its progression. If considered in the differential, a simple radiograph would have revealed the pathognomonic vertebral changes and allowed for earlier intervention, preventing significant morbidity. Furthermore, DISH has not been found to be associated with the osteoarthritis and clotting factor deficiencies present here. The advanced stage of DISH also makes this case remarkable adding to the growing body of DISH reports, hopefully providing further insight into a poorly understood disease.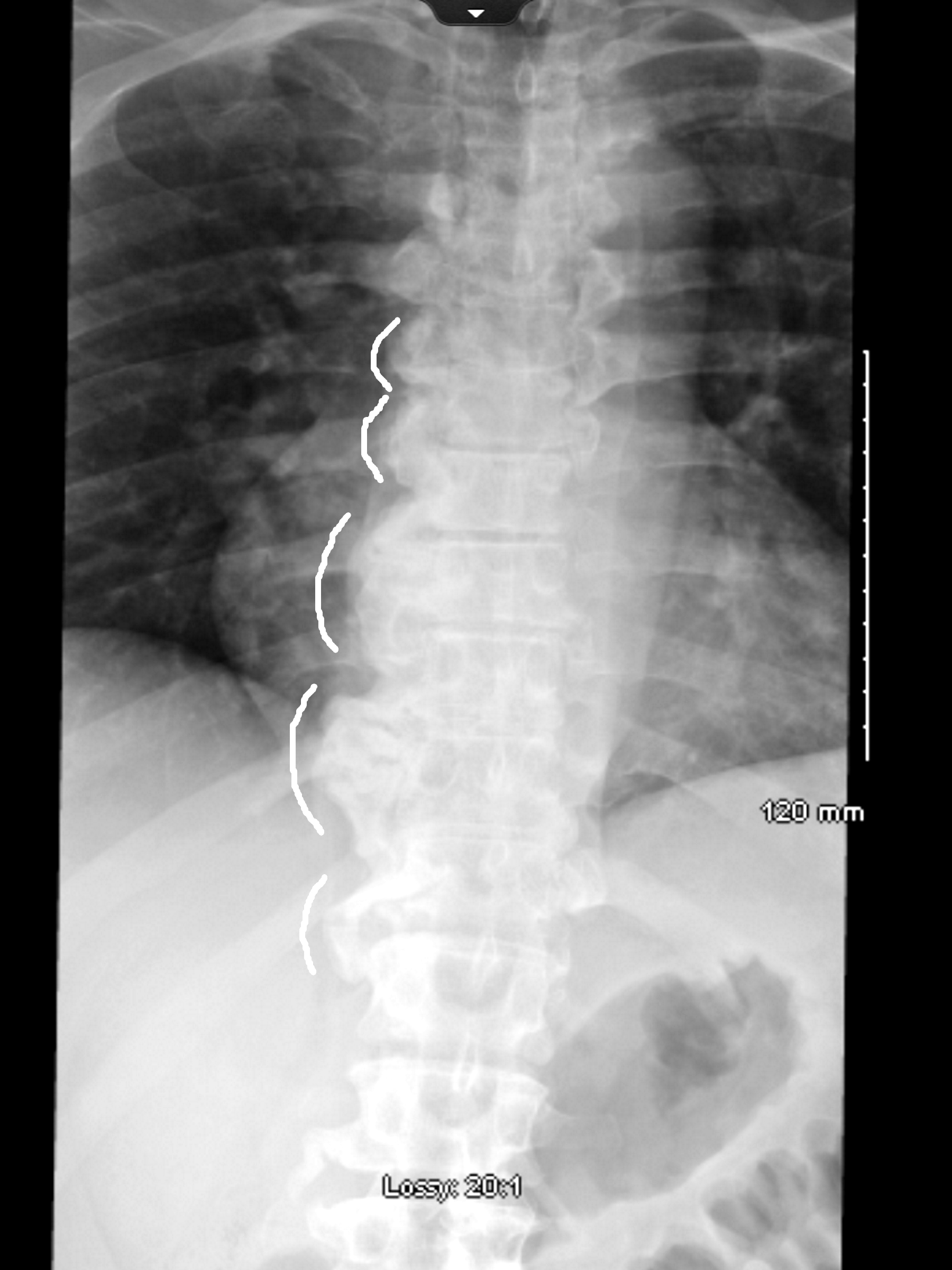 To cite this abstract:
Dominguez LW, Valentine M. Previously Undiagnosed Diffuse Idiopathic Skeletal Hyperostosis (Dish) in a Patient with Osteoarthritis and Both Protein C and S Deficiency. Abstract published at
Hospital Medicine 2016, March 6-9, San Diego, Calif.
Abstract 495.
Journal of Hospital Medicine.
2016; 11 (suppl 1). https://www.shmabstracts.com/abstract/previously-undiagnosed-diffuse-idiopathic-skeletal-hyperostosis-dish-in-a-patient-with-osteoarthritis-and-both-protein-c-and-s-deficiency/. Accessed March 31, 2020.
« Back to Hospital Medicine 2016, March 6-9, San Diego, Calif.